How to eat food and actually get laid on Valentine's day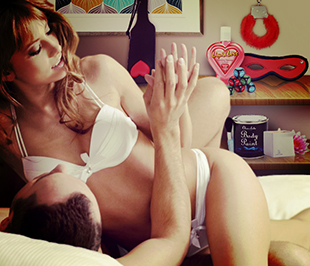 It's Valentine's day and couples up and down the country are clambering over each other to book that all-important table for two. Every year they arrive two-by-two desperate to escape the floods of the unlucky and ill-fated in love. Or at least in table bookings.
Once seated across from their date, they intimately enjoy the elbows and eye contact of an ark full of lovers wondering, yet again, how they ended up at this sexless, over-priced orgy of mass catering, instead of terrorising the neighbours with their banshee like orgasms.
Meal done they head home, both pretending that Valentine's Day is anything other than a way to make single people feel grateful that they can just go home and have a wank while watching House of Cards. (Tip: If you don't have Netflix then the news is pretty much the same storyline, but without the steamy threesomes*).
Stop. There is another way. Do not, repeat NOT book a restaurant. If you already have it is probably not too late to cancel. Fake a death in the family if you have to because here is a guide to eating in (and if you're lucky out) without stepping out the front door.
Despite what films and people that run restaurants would have you believe, a three-course slap up meal never leads to great sex, if any. You are overstuffed, tired due to aforementioned overstuffing and all your clothes now feel too tight. Plus, let's face it, there's nothing less arousing than feeling like you are about to become the proud new parent of a healthy-weight food baby.
Keeping it relaxed, fun and hands-on not only leaves more budget for wine, but also will get more than just the oral juices flowing.
Fundue
Yes, it's cheese and cheese is heavy, but only if you have eaten your weight in starters and puds too. Skip the foodie foreplay and make cheese the main event.
You can get a cheap fondue in Argos for less than the price of restaurant wine. Next you need cheese and lots of it. If you want it to taste sexy, but don't want to remortgage the cat then get a small piece of artisanal gruyere and top up with supermarket-own organic cheddar; organic cheese not only tastes miles better than the mass-produced stuff, it is also good for animal welfare and after all, it supposed to be all hearts and flowers tonight.
You also need white wine, this will lubricate the cheese, conversation and anywhere else that needs it too. If your partner doesn't like cheese you can do the same with chocolate; if they don't like that either then one can only assume they have a mouth like a Dyson, in which case you probably don't need to read on.
For those of us without super human sexual powers, the great thing about fondue is that it's for dipping, sharing and slathering: bread, crudites, limbs. Just make sure it's cooled down before you go any higher.
S.Y.O. Oysters
Oysters are an excellent aphrodisiac: the salty flavour, the texture, that act of delicately removing it from its vaginal-shaped shell: you get the picture. They are also incidentally the best hangover cure, so maybe save a couple for the next-day commute.
Restaurants hike the prices of oysters at the best of times, but never more so than in the month of cupid. What many people don't know is that you can get these horny little sea creatures delivered straight to your door at a very reasonable price. All you will need is an oyster shucker and a quick YouTube tutorial. Buy in batches of 50 for best value, they last for three days in the fridge so are perfect for a Valentine's weekend-erthon or for those with more than one lover's mouth to feed.
Sloppy Cupid
If you fancy mixing food and sex in a nutritionally satisfying way (because chocolate body paint is great , but it's not exactly a square meal), then there's nothing sexier than hot, spicy mince. Stay with me. Take some high-quality mince and flash-cook so it is hot but still fairly rare, hence the need for high-quality. If you don't do meat then lentils will work too.
Add in some seasoning and, if you are feeling like inflicting some tantalising tingling, red pepper or chilli flakes. Important: only add spice if you and your partner want to experiment with inflicting pain; you know when you get chilli in your eye? That is what it feels like in other orifices too. You are aiming for tingle, not single so if you are not sure then stick with the oregano and leave the figging for another day. You want sloppy not scalding so stick to the meat and skip sauces or veg. Then spread your meat/lentils/legs and get messy. Finish off with a shower session/ice bath depending on how the chilli flakes went down.
There you have it. More sex, less clothes and a whole lot of money saved to spend on naughty Valentine's presents. Be a good neighbour and pop some ear plugs through the letterbox for the neighbours too. Happy Valentine's Day.
*true at time of publication