10 Reasons Bullet Vibrators Are Brilliant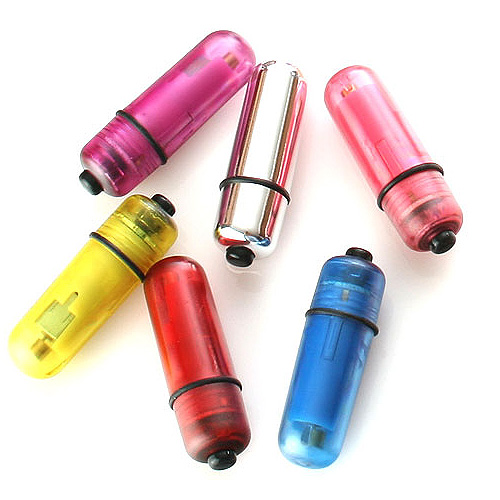 Whether you're new to sex toys or a vibrator connoisseur, once you've had a go with a bullet vibrator there's no turning back. There are so many variations, but the bottom line is that each one will aim straight for your hot spots and hit the target every time. We're sure there are more than 10 reasons as to why you should load, and reload, your pleasure chest with bullet vibes, but here's why we think no sex toy fan should be without one. All hail the bullet vibe!
1. They're small
Bigger isn't always better and bullet vibes prove exactly that. Being small means they're easy to toss into handbags or pack discreetly away in your luggage when travelling, plus they don't take up much space.
2. Simple to control
Generally speaking, most bullet vibrators work by pressing a single button on the base of the toy, or use an attached remote control. This turns it on and off and if it's multi-speed easily allows you to scroll through the different modes, which is ideal when in the throes of passion as there's no faffing around with loads of buttons!
3. Have a friendly price tag
It's easy to get a lot of pleasure for your pound. Simple single or three speed bullet vibrators can be as cheap as £5.99, like the Power Bullet.
4. They're very versatile
Many women love bullet vibrators because they're perfect for clitoral stimulation, but there are a lot more uses for bullet vibes that go beyond her pleasure. Instead hold it in the palm of your hand when giving an erotic massage to help ease those tense spots, or use it on him by gently massaging his perineum (the area between his scrotum and anus) to send his orgasm to a whole new level. Really, there's no wrong way to enjoy this little beauty.
5. Can be battery operated or rechargeable
Different bullets take different batteries and some are even rechargeable through USB ports on your computer, like the LELO Mia 2, which is ideal if travelling on a business trip. Others take the little watch batteries (LR44), AA or AAA all of which are easy to pick up when you buy the toy or at supermarkets for replacements. You'll never have to suffer a power-outage mid-pleasure ever again!
6. Made from a myriad of materials
From super soft silicone to firmer TPR plastics and even silicone, there are so many textures to choose from to suit different preferences.
7. They're waterproof
Many of the bullet vibrators these day come with a waterproof guarantee, meaning they're the ideal sex toy for bath or shower fun.
8. Super powerful
Bullet vibrators may be small, but good grief they're powerful! Having something so little that is able to hit the spot every time is what often makes them a bedside table favourite with women and couples.
9. Not intimidating
Perfect for first time toy users, bullet vibrators are cute looking thanks to their size and can be stored away discreetly. Alternatively, during couple play they are a lot less intrusive than a dildo or larger vibrator, so bullet vibes enhance, rather than encroach, sex with a partner.
10. Utterly orgasmic
Whether you're using your bullet vibrator alone, or with a lover, there's no doubt that it will get you on the road to orgasm, fast! Power and shape means whichever bullet you choose, you won't be disappointed.
See our full range of bullet vibes here.