Personal Lube Guide: which lubricant is best?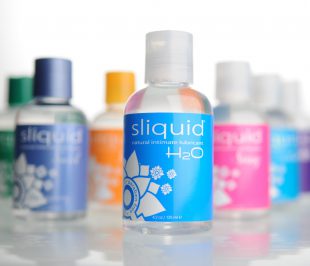 Your personal lube guide - how to pick the best lubricant for you
Here in Harmony we believe that getting hold of a good personal lubricant is a super simple way to enhance your sex life. It can be budget friendly too! Use a high-quality one and it will become a pleasure object in its own right that can improve sex with a partner, playing solo or when using a sex toy.
There are loads of brands and types of lubricants available, so knowing where to start can be mind boggling. We've put together a simple guide to give you the low-down on which lubricant is best for your needs and to put you on the right road to better, wetter sex.
Types of Lubricant
There are three main lubricant categories: water-based, oil-based and silicone. Yep, although there may appear to be lots, that's it!
Each has different qualities and depending on what type of sex your having, some are more suitable than others.
are great all-rounders. They can be used for sex, masturbation, with sex toys, are ideal for sensitive skin (look for hypoallergenic labels) and thicker ones are good for anal too.
Sensation lubricants, like tingle and warming, and flavoured lubricants are often water-based as they're safer to kiss and lick. There's also the perk that they wash away easily or absorb without a trace.
are much thicker, so last longer making them perfect for anal play or male masturbation. Often they have a silkier texture.
These lubricants should be avoided when using condoms or playing with sex toys as the ingredients in them can rot rubber, causing them to deteriorate or even break. Women should also avoid oil-based products in or around the vagina as it can cause uncomfortable dryness and thrush.
are known for being super-slippery and a little bit will go a long way, so despite being a bit more expensive, in the long run, getting one of these could be more economical. Practically water resistant, silicone lubes are perfect for sex in water as it won't wash off as easily.
The thicker consistency makes silicone the lube of choice with anal fans, but when it comes to sex toys two silicones don't make a right. Often, this lube on your quality sex toys can weaken and damage the material. Best avoided.
Lubes, Sex Toys & Condom Compatibility
So, now the three types have been outlined, which sort should you use with which toys?
As touched on above, some lubricants can actually damage sex toys. Put simply, this is because the toy may be made of a porous material, so it absorbs/bonds together and becomes difficult to clean off. The end result is that the material may peel, become sticky and rot, rendering it unusable.
Use our helpful chart to quickly look up the best lubes that will suit your favourite pleasure objects. And because condoms can be used as sex toys in their own right, we've even noted which lubricants are best to use with condoms too.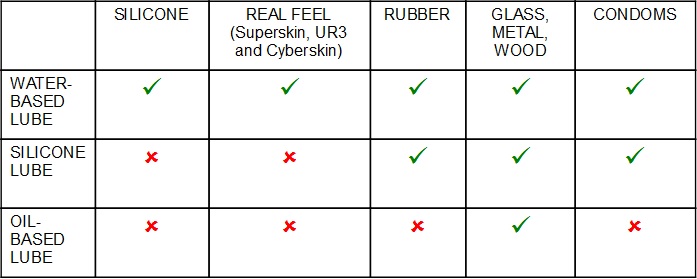 Which lube to use?
If you're totally new to lubes, then we advise going for a good all-rounder and one that won't break the bank, like ID Glide Lubricant (£2.49). Once you get the feel for it, it might become clear that you want something thicker for toys; a lube just for male masturbation; or a tasty lubricant to share.
There are so many different textures and sensations that experimenting with new lubes is a quick and easy way to spice up your lust-life, so let your lubberly imagination run free!