How To Clean Your Sex Toys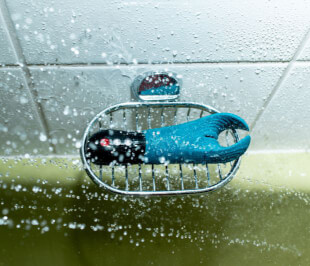 We love talking about getting down and dirty, but when it comes to keeping our sex toys nice and clean, we're equally as obsessive!
The sex toys you buy are an investment in your sexual pleasure and treating them with care means they'll last longer and perform better. But can you whack everything on the top shelf for a hot wash, or is keeping your collection clean more complicated than that? In the latest in our 'How To…' series, we get down and not so dirty with the do's and don'ts of cleaning your sex toys…
The Basic Rule For Keeping Your Sex Toys Clean
The most important rule when it comes to keeping your sex toys spotless is to clean them before and after use. Particularly if you're enjoying multiple sexual partners (lucky you!), all kinds of different bacteria can gather in the nooks and crannies of your sex toys, causing anything from yeast infections to UTIs and STIs. Not sexy, but easily avoidable with a quick clean using either mild soap, warm water and a damp cloth or a cleaning spray.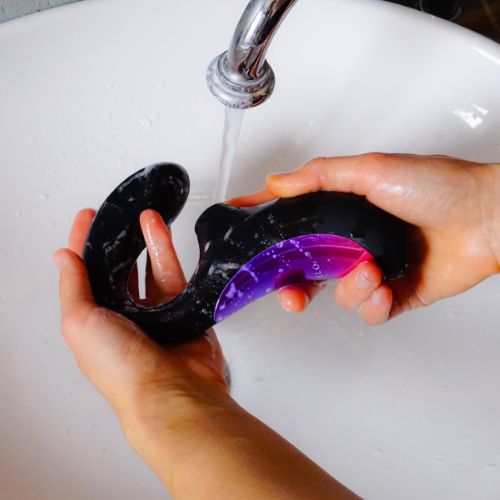 Sex toys are made from a range of different porous and nonporous materials: medical-grade silicone, jelly rubber, hard plastic, metal, leather, and pyrex. Particularly with porous sex toys, it's important you keep them clean as a whistle. Porous materials can let all kinds of icky stuff through the toy's outer membrane. If you don't develop simple habits like disinfecting your toys after each use, they can quickly become breeding grounds for all kinds of nasty bacteria. Keeping a bottle of sanitising spray handy is an easy way to stay on top of things. Just pop it in your bedside cabinet next to your lube and you're good to go.
Take the Lelo Antibacterial Cleaning Spray. Killing 99.9% of all known germs, you might be tempted to use this in your bathroom and kitchen, but we wouldn't recommend it. The bottle is beautifully stylish and contains a fast-acting alcohol and paraben-free formula. If you're a size queen, then the System JO Antibacterial Foaming Sex Toy Cleaner might be the one for you. Its body-safe formula is perfect for anyone who has particularly sensitive skin, and its non-greasy formula is odourless and free from harsh chemicals like alcohol, parabens, and glycerin.
If you're using leather to get up to no good, bear in mind that it's one material that's more porous than most. From dildo harnesses to BDSM cuffs and straps, clean your leather goodies using a washcloth, warm soapy water, and gentle soap, and wipe down any areas that have come into contact with bodily fluids.
Toys made of nonporous materials (100% silicone toys, glass toys, stainless steel toys), that don't include an electrical or battery-operated element can be plunged into boiling water for up to 3 minutes to completely sanitise and eliminate any nasties. You can leave them out to air dry if you don't have a clean towel to hand but remember to put them back in the drawer once they've dried!
If you're cleaning battery-operated sex toys like your vibrator, make sure you take the batteries out before you put them under the tap. Always fully tighten the battery compartment, and don't submerge them fully underneath the water, or you'll be left with more of a damp squib rather than a pocket rocket!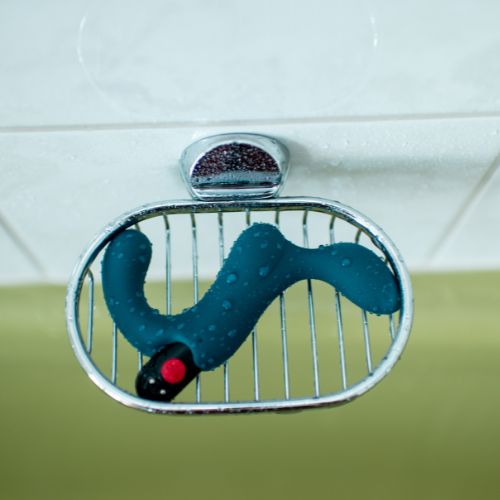 One particular toy that's worth looking at a little closer is the iconic Fleshlight or other masturbators like Fleshjack. A fantastic toy used predominantly for masturbation, Fleshlights are coated in a light powder that gives them their unique, skinlike quality. However, after frequent use this coating tends to wear off, leaving you with a rather 'tacky' feeling, not the hyperreal sensation you're after.
Unsurprisingly, Harmony has everything you need to keep yours in good working order. Use the Fleshlight Cleaning Spray first, then a liberal sprinkling of Fleshlight Renewing Powder, which will restore the original feel of your Fleshlight, so you can enjoy that brand-new feel over, and over, and over again.
Pump It Up, Then Clean It Up
Penis pump kits can cost a pretty penny, so if you've got one and you want to extend its working life and keep it squeaky clean, the Bathmate Penis Pump Cleaning Kit is the one for you. With two super-soft Bathmate towels, a cleaning brush to reach the very end of the pump cylinder, and two brush heads so you can keep everything hygienic, this is an essential tool for something you regularly put arguably your most precious bodily part in! Use one of our antibacterial sex toy cleaner sprays and some warm water for the best results.
If you're a fan of electro-play or like to indulge in a spot of medical roleplay, then the toys and equipment you use will need sanitising. Harmony favourites ElectraStim provide a pack of 10 Sterile Cleansing Wipes ideal for cleaning medical devices and ElectroStim toys like the Metal Electro Mini Butt Plug or the Luxury Metal Halo ElectroSex Clitoral Stimulator. Alcohol-based, they'll keep your play safe and clean, and allow you to play with multiple partners.
Treat Your Toys With Love And Care
If you're serious about your sex toy collection (and who isn't?), taking care of it should become second nature. Take a little time before and after every session to give them some loving attention, and you'll ensure your toys last years, not months.
For more information, visit our Sex Toy Cleaners page. If you're unsure about which cleaning product is right for your sex toy, speak to one of our friendly Customer Services team for help.