Manta Vibrating Penis Stroker Explained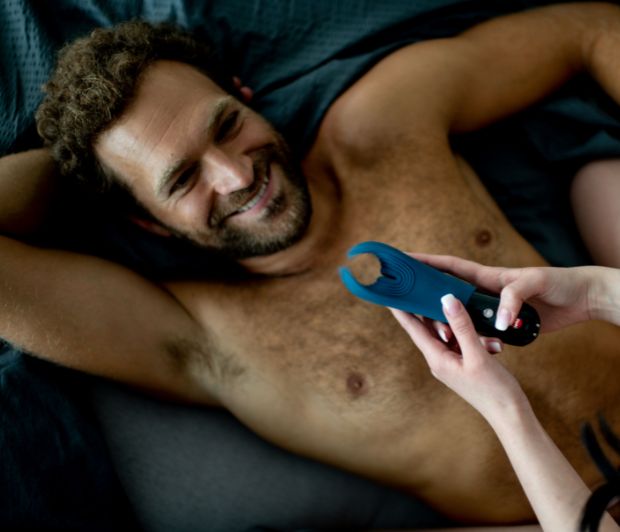 Because toys are for boys too. If more intense, longer-lasting orgasms sound like your kinda thing, keep reading…
Key features of Manta
Sleek, flexible, vibrating penis stroker
3 simple push-button controls
Unique design for solo and partnered play
Crafted from body-safe hypoallergenic silicone
6 variable speeds and 6 vibration patterns
Travel lock function
USB rechargeable
Waterproof
What is Manta?
Manta by FunFactory is a vibrating penis stroker, perfect for spicing up solo play or introducing sex toys into partnered sex! Vibrators like this also fall under the category of male masturbators or 'guybrators'.
Who is Manta for?
Designed primarily to pleasure the penis but with partnered sex in mind, this powerful toy promises to deliver toe-curling sensations. Super simple and intuitive to use, Manta is ideal for sex toy beginners and offers a modern twist on the classic stroker for those well-seasoned in masturbating with toys!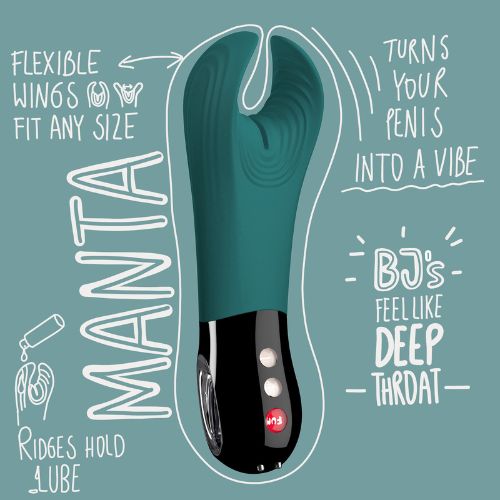 Do penises need sex toys for pleasure?
Most people with penises that wank, do so with their hands. They're always, well… on hand, clean up is easy enough and getting handsy likely offers the sensations that you're familiar with and work so well every time.
Research carried out by Appinio on behalf of Fun Factory found that of the population surveyed, just 12.6% of men use sex toys 'about once a week'. When asked why they chose not to use sex toys, around 40% of respondents said they didn't feel they needed a sex toy to find masturbation fulfilling.
And we get it, if it ain't broke, don't fix it!
But it might be worth bearing in mind that habituation (that's always stimulating yourself in the same way) does lessen the intensity of orgasms.
Yes, there's definitely something to be said for the humble handjob but ultimately there's one drawback - and we might be biased here - but your hands can't quite vibrate…
What if we told you you're missing out on more intense, longer-lasting orgasms and targeted stimulation to your penises hot spot, the frenulum…
Now you're listening.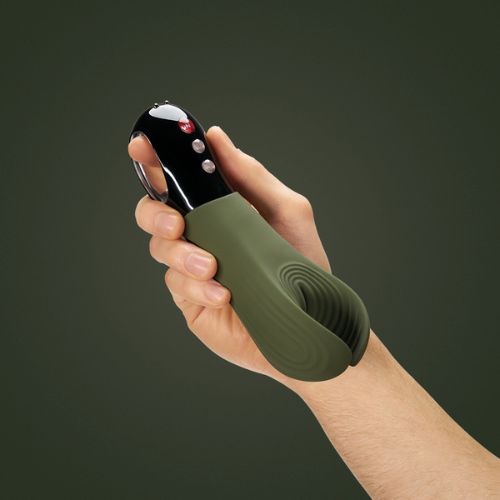 What makes Manta different?
The true beauty of Manta has got to be its versatility! By some stroke of Fun Factory genius, not only can it be used solo as a masturbator but this bad boy has been intentionally designed to fit perfectly between bodies for thrilling couple's play! Sleek versatile and innovative, with this powerful toy, Fun Factory has rethought the classic masturbator, giving a new lease of life to your steamy escapades.
One size fits all
Typically, penis masturbators or strokers come in a sleeve form which can at times be a pain to clean up and might mean the fit isn't quite right. You won't have this problem with Manta.
Its 2 firm yet flexible wings that wrap around and hug the penis can simply be pushed open for easy cleaning. Plus, this design feature also means Manta can comfortably accommodate all sizes.
Lube holding
Manta's intelligent design also boasts a section of velvety soft silicone ridges which grip onto your lube, evenly distributing it with each stroke for smooth gliding throughout your session.
Erectile Dysfunction
Wanna know a Fun Fact… Manta is the ideal masturbator for those struggling with erectile dysfunction as it can be used with or without an erection.
And that's not where the play options end…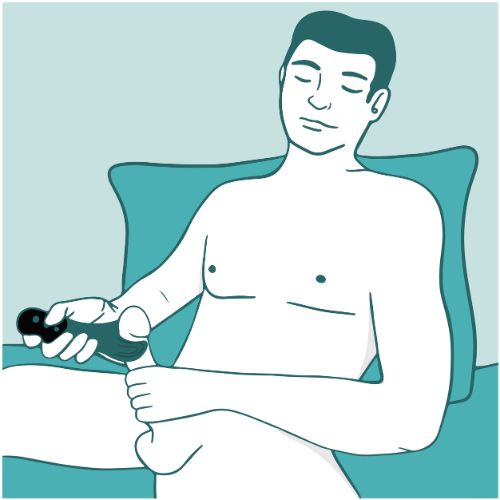 Different ways to use Manta
Frenulum targeting
Manta is designed to target the frenulum- one of the lesser-known hotspots on the penis for pleasure potential. We don't gatekeep at Harmony, so if you haven't tried tickling your frenulum before - we strongly urge you to try it with Manta.
Of course, you can use Manta to stroke away as you normally might do but we'd suggest holding it in one particular spot on the underside of the penis between the foreskin and the shaft. Here it offers targetted pressure and rhythmic massage that promise unprecedented pleasure. Stimulating this V-shaped bit of skin offers an intensely stimulating feeling during play and deeper, longer-lasting orgasms when you do climax.
And there is some science behind why this sweet spot is so sensitive. The frenulum is surrounded by multiple highly sensitive 'corpuscles' which perceive vibrations to the skin particularly sensitively.
The cherry on the cake? The F-Spot is for so many, the key to multiple orgasms. All it takes is the right toy and a little patience.
As they say, good things come to those who wait.
If edging or stamina training is something you're considering, Manta is the best weapon to have in your arsenal.
Thanks to its powerful G5 motor, rumbly bass-tone vibrations are emitted at 12 variable speeds and patterns either massaging the entire shaft or pinpointing specific pleasure points - whichever takes your fancy. Start on one of the lower settings and build up the intensity before reducing the toy's vibration and then increasing it again until you cum explosively. By delaying your climax in this way you can increase the intensity of your orgasm tenfold.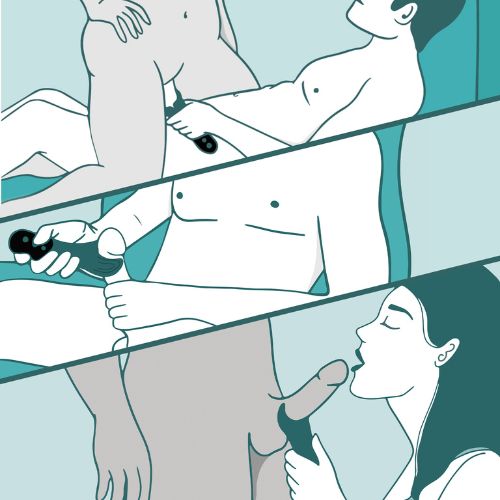 Oral
If the promise of targetting your sweet spot with pinpoint precision wasn't enough already, Manta is also perfect for upgrading the classic blow job. Pop Manta at the base of the penis during oral sex and sink into the most incredible deep throat sensations.
Our only word of warning is that if you're indulging in oral as foreplay and you're trying to hold out on cumming before penetrative sex, try a low-vibration setting.
Vibration for two?
Carefully designed for easy handling, Manta is sleek enough to comfortably sit between your two bodies during sex, essentially transforming the penis into a vibrator. Vibrations travel along the shaft offering tantalising stimulation for both partners. What's not to love?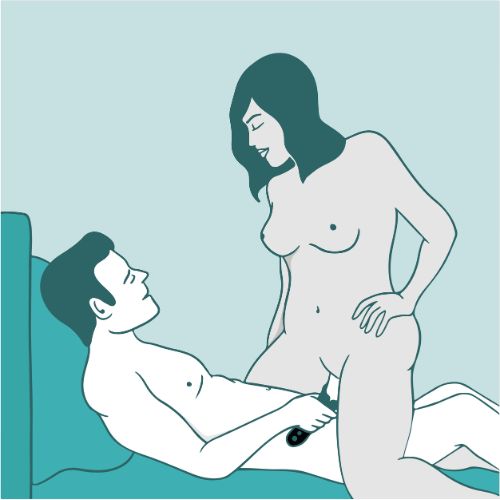 Why invest in Manta?
Manta is a premium vibrator and is somewhat of an investment in your pleasure but trust us, the return on this investment is well worth it.
The appeal of premium sex toys is not only their sexy aesthetic and clever engineering but the quality and longevity of the toy. Paying slightly more for a vibrator like Manta means you'll likely spend less on toys in the long run because you won't be wasting money buying cheaper replacement toys. Manta comes with a 2-year warranty so you can rest assured this silicone-coated companion will serve you well and for a long time.
Finally, nothing feels as good as cumming with a clear conscience. Designed, manufactured, packaged, and shipped from a single location, Fun Factory sex toys create a minuscule CO2 footprint. Get your end away with the peace of mind that the environmental impact of your orgasms is minimal!