Sexy Valentine's Day Gifts 2023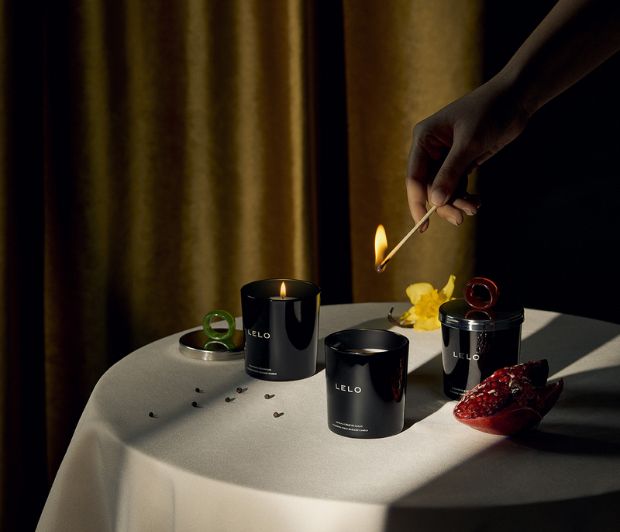 The Harmony Sexy Valentine's Day Gift Guide
Is that Cupid's arrow in your pants, or are you just happy to see us?
It's that time of year again, certainly one for our diaries at Harmony!
Red roses, chocolates, and Valentine's cards. What's not to like about sexy Valentine's Day?
If you're single it's an excuse to splurge on yourself and if you're taken bacon it's the perfect opportunity to spoil your lucky lover with a Valentine's Day gift.
Whether you're indulging in steamy escapades with a partner or it's a solo session, our gift ideas from lingerie to sex toys and everything in between promise to take your V-Day pleasure to new heights.
Take the pressure off
Yes, of course it's important to convey to the one(s) you love just how loved they are (especially if gifting is their love language). But remember, Valentine's Day gifts can be fun and playful and if you're looking for something to bring you closer together, they can definitely be sexy. So don't put too much pressure on buying the 'perfect gift'.
Maybe you've considered buying them a copy of the kama sutra as a keepsake but decided perhaps that's not the most subtle way of saying you'd like to get laid...
For ever so slightly more subtle ways of saying 'more sex please', browse our list of Valentine's Day gifts, packed with gift ideas that won't break the bank but certainly will put a smile on their face long after Valentine's Day.
Here's a roundup of our favourite gift ideas for Valentine's Day 2023.
Sharing is Caring: Great Gifts to use Together
We-Vibe Jive Wearable Bluetooth Vibrator
Using a sex toy together is a powerful way to increase intimacy in your relationship, but if this year you find yourself apart from your significant other, that doesn't mean you can't still indulge in some distanced date night play. Whilst this beautifully shaped love egg vibrator can undoubtedly be enjoyed solo, connect it to the smartphone We-Connect app and have your lover control the vibrations through their own phone, from anywhere in the world! Or if you're lucky enough to be spending Valentine's Day 2023 together and are curious about indulging in a spot of public play, slip this wearable vibrator inside you and get ready for a dinner date that's pleasurable in more ways than none.
Highlights:
Suitable for couples and solo play
App-controlled vibrator
Perfect for public play
10 tantalising vibration patterns
Me You Us Bound To Please Blindfold, Wrist and Ankle Cuffs Set
If you're using this Valentine's to explore the world of BDSM and get a bit kinky, this set is the place to start for bondage beginners. With soft silicone wrist and ankle restraints, you can keep your sub exactly where you want them in the most compromising of positions. Have them completely submit to your every whim as you tantalise and tease them, all while their senses are heightened thanks to the sight-depriving satin blindfold! If you dabble in DIY and fancy adding to this bondage set at home, take a look around your kitchen for some spanking paddle inspiration... you won't look at that wooden mixing spoon the same way ever again.
Highlights:
Perfect for easing couples into BDSM/kinky play
Super stretchy silicone to fit various sizes
Non-slip finish for extra hold
Padded blindfold for ultimate comfort
Happy Rabbit Double Cock Ring
A vibrating cock ring is such a great gift that your partner will never suspect you've bought it for your own benefit too! While the soft stretchy silicone rings keep him harder for longer by containing the flow of blood within the penis, the vibrations and rabbit ears stimulate the clitoris, resulting in a mind-blowing orgasm for you both. Cumming together on Valentine's Day, is there a better gift?
Highlights:
Ultra soft and stretchy silicone
Double ring to stimulate the penis and testicles
Vibrating rabbit ears stimulate the clitoris
3 vibration speeds and 9 patterns
Bijoux Indiscrets Lucky Love Dice
These Lucky Love Dice are perfect for adding a bit of naughty fun to your V-Day foreplay, letting you and your partner roll your way into a variety of sexual positions and steamy scenarios. Rather than standard dice, these can be personalized to spice things up and suit your preferences, ensuring each roll means you get lucky!
Highlights:
Fun and playful foreplay
Perfect for exploring new sex positions
Ideal for increasing intimacy in your relationship
Solo Gifts for Celebrating Self-Love
Lelo Smart Wand Vibrator
Celebrate your singledom and treat yourself to full body relaxation this V-Day with the Smart Wand by Lelo.
One of the world's best-selling premium wands, designed for use all over the body as part of a sensual massage, this vibe delivers deep and powerful vibrations that relax tired muscles. Focused on the clitoris and vulva, however, this massager does more than merely relax you, delivering unrivalled orgasmic intensity sure to have you clutching your bed sheets. A pretty sexy Valentine's Day gift then we'd say.
Highlights:
Whisper quiet technology for complete discretion
8 pleasure settings from a teasing murmur to a satisfying pulse
Coated in premium ultra-soft silicone
Innovative technology that reacts to your movements
Tenga Spinner 06 Brick Textured Male Masturbator
Whether you're playing alone or together, the Tenga Spinner will take your masturbation play to a whole new level! Innovatively designed, this climax-enhancing male masturbator sleeve is filled with a spiral of bold geometric tiles for maximum stimulation. As you glide in, the flexible textured nodes encompass your length delivering waves of pleasure throughout the whole body.
Highlights:
Features an internal coil making Spinner gently twist upon entry
Snugger fitting Spinner, perfect for enjoying a tighter gripping sensation
Includes a sample of Tenga lubricating location
Rocks Off Chaiamo Vibrator
The best gifts tend to come in the smallest packages and the Chamiamo vibe from Rocks Off is the perfect example. If you're looking to introduce toys into your bedroom play, a trusty bullet vibrator is the ideal place to start and this powerful silicone-coated pocket rocket has it all, from elegant design to premium features. Reach for this vibe in the heat of the moment to tease the nipples and perineum, or use it on the clitoris for powerful eyes-rolling-to-the-back-of-your-head orgasms.
Highlights:
Sleek and petite portable bullet vibrator perfect for pleasure on the go
Offers 10 tantalising vibration patterns to experiment with
Tapered tip for optimal comfort upon insertion
Perfect for stimulating erogenous zones like the nipples, clit and perineum
Rene Rofe Unwrap Me Satin Bow Teddy
Make yourself the gift that keeps on giving this V-Day in this gorgeous satin bow teddy! Perfect for some truly naughty V-Day play, slip into this silky lingerie and wrap yourself up so you're the sexy Valentine's day gift, ready and waiting to be unwrapped! Featuring a thong and gorgeous bow detailing to draw the eye to the bust, this barely there racy red number from Rene Rofe is sure to set pulses racing.
Highlights:
Ideal romantic gift- wrap yourself up and become the present
Alluring teddy with large satin bow detailing
Strappy barely there thong
Le Desir Lace Sleeved Bardot Bodystocking
Exude sensuality in this beautifully detailed bardot lace body stocking. Featuring long sleeves this off-the-shoulder one-piece also boasts open crotch detailing making it incredibly erotic and certain to satisfy your desires. This extremely naughty lingerie is perfect for gifting to your lover this V-Day, hugging their curves, defining their silhouette and leaving oh so little to the imagination.
Highlights:
Perfectly figure-hugging to accentuate your curves
Intricate lace detailed lingerie
Features seductive off-the-shoulder design to expose the neck and collar bones
Crotchless design for bodystocking for easy access
Sexy Valentine's Day Gifts: Bedroom Essentials
Shunga Strawberry Edible Body Powder
Break the rules and enjoy a little desert before your Valentine's Day dinner! Spice up your love life and tantalise your tastebuds with a naughty gift that's entirely edible. Make V-Day 2023 a little different by swapping out the old-school body paints for some edible body powder, perfect for sprinkling all over your lover's sweet spots and then licking off - there's no better aphrodisiac.
Highlights:
Delicious strawberry body powder
Playful and exciting foreplay idea
Easy clean up (with your tongue)
Lelo Massage Candle - Vanilla & Creme de Cacao
Nothing says 'I love you' more than a sensual massage and lighting a few candles to set the mood. But this one's a little different! Light the flame and allow the candle to burn down a little, creating a warm pool of massage oil to drip over your lover's skin for some truly sexy foreplay. Lelo's luxury massage candles are ideal for setting the mood for pleasure and come in a number of intoxicating scents including Snow Pear & Cedarwood and Vanilla & Creme de Cacao.
Highlights:
Set the scene and create the V-Day ambience with some mood lighting
Subtle and sensual scent
Made from all-natural ingredients with no chemical additives
Non-greasy and long-lasting massage oil absorbs into the skin
Need more inspiration?
Hopefully, this sexy Valentine's Day Gift Guide has given you some food for thought but we know finding a Valentine's gift can be tricky, so if you've not spotted something you know they'll love then why not explore Harmony's handpicked range of Valentine's Gifts? There's more lingerie in our Sexy Clothing collection along with all the bondage accessories you can think of and a huge range of sex toys to satisfy every kind of desire. Don't forget those all-important lubes, condoms and other essentials to make Valentine's Day 2023 your best yet.
---