A Quick Guide to Kegel Balls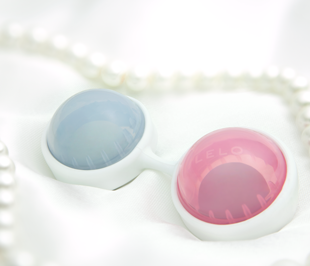 Improve your orgasms AND your sexual health with our best kegel balls
What are kegel balls?
Often referred to as ben wa balls or love balls, kegel balls are small circular weighted balls that are inserted into the vagina (a bit like a tampon), to help strengthen the pelvic floor muscles. When the balls are inserted, the vaginal muscles contract to keep the balls in.
What are the benefits of kegel balls?
It's natural for the muscles in the vagina to naturally weaken over time or after events like pregnancy, and weak pelvic floor muscles lead to urinary incontinence - ie, peeing yourself!
No one wants those embarrassing moments when that little bit of pee comes out when you cough, sneeze or laugh. But there are ways to prevent it, and that's why kegel exercises are so important. To exercise your pelvic floor, clench the muscles as if you're trying to stop yourself from peeing. Then release. And repeat.
Think of it as a daily workout for your vagina, but without the need to go to the gym. You can do pelvic floor exercises wherever and whenever you like - at your desk, on the train, wherever and whenever you think about it! Start doing a few a day and gradually build things up.
For even more impact, that's where kegel balls come in. In the same way you use exercise weights at the gym, using kegel weights will lead to stronger pelvic floor muscles.
But that's not all...
There's more to having better pelvic health than increasing your bladder control. It can have a fantastic impact on your sex life too!
Your pelvic floor muscles are the ones that contract during orgasm - so stronger muscles = stronger orgasms. And who's going to say no to that?
But even better, the feel of kegel balls inside your vagina gives a tingly, jiggling, orgasmic feeling too. Which is why they're so often used as a sex toy themselves. This feeling is intensified as you move - when you walk, bend down or reach up. But one of the best feelings is knowing that no one else knows your little secret!
How to use kegel balls
To insert your kegel exerciser, give it a wash with a little antibacterial soap or toy cleaner and plenty of warm water. Then give them a quick dry with a clean towel.
Apply plenty of lube to both the balls and the opening of your vagina, then slowly insert them. Most kegel balls will come with a string or loop for easy retrieval, so make sure this remains outside the vagina - as you would with a tampon.
They should feel comfortable within your vaginal canal, if not, push them in a little deeper.
Then feel free to go about your daily life! You can leave them in for anything up to 6 hours and your vaginal muscles will naturally contract, getting their own little workout while the balls are resting inside you.
Many kegel exercise balls will come with different weights or interchangeable balls. If you have this, start with the lightest and after a few weeks using the lower weight, increase the intensity moving up to the heaviest as you feel your muscles getting stronger.
Which kegel balls should I get?
Kegel exercisers come in lots of different sizes and materials, from soft silicone to heavier metal ones. Here's a quick rundown of a few of our favourites.
The beginner
For your first time, start with something easy and light like the Minx Super Soft Orgasmus Love Balls. Ideal for the kegel ball beginner, they're comfortable to wear and the internal free-roaming weight inside each ball will roll around as you move, providing ripples of sensation whilst strengthening your muscles.
Add some weights
To take things up a notch, look for a set of love balls that offer various weights, so you can increase how much you're lifting as you get stronger. Made from luxuriously soft medical grade silicone, the Je Joue Ami Kegel Toning System allows you to start off small with the single ball, then gradually build up to the heaviest double-ball once you feel ready.
Complete Workout
For the woman that is serious about her pelvic floor muscles, the Lelo Luna Beads offer a full workout with four interchangeable weighted balls. Each coloured pair is a different weight. The pink balls weigh 28g each and the blue a slightly heavier 37g. Start off with just one ball and mix and match to your desired weight.
Heavy Metal
Need more weight? For women that require a new kegel toning challenge, try the very weighty Fifty Shades of Grey Inner Goddess Silver Pleasure Balls. Part of the official Pleasure Collection approved by author E L James, this duo of smooth, cool, solid metal balls have a combined weight of 221g. If you've had experience using pelvic floor toners before, then these are what you need to take your intimate exercises to another level.
Double Pleasure
Cleverly combining different weights for exercise and a vibrator for enhanced pleasure, the Royal Fantasies Iduna Vibrating Egg by Dream Toys has it all. With interchangeable 9g, 32g, and 41g balls you can train your vaginal muscles moving up through the weights as you desire. For added stimulation, work your way through multiple vibration settings for an orgasmic experience. Wear your Vibrating Egg out for a date night and give your partner the remote control for some fantastic foreplay!