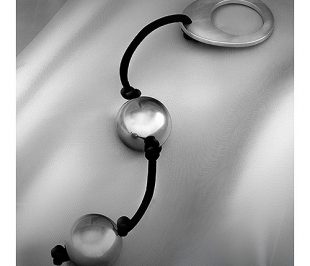 There are many different styles and variants of love balls, or Kegel toners. Here is our run down of what's what, so that you can pick the right set for your needs.
The Beginner
As with all new things, you'll want to first test the waters to see if you'll actually enjoy it. There are some great basic range love balls, like the Minx Silver Touch Love Balls. Not too heavy, joined together using string and with a retrieval cord for safe and easy removal, these are a great set to get started with.
Free Roller
For those that feel a little more confident about the strength of their pelvic floor muscles, there are sets like the Fifty Shades of Grey Inner Goddess Glass Balls. Although worn inside the vagina in the same way, these don't have a central or retrieval string, so you will need to use your own flexing movements to take them out. Great for fetish, or power play in true Mr Grey style.
Complete Workout
For the woman that is serious about her pelvic floor muscles, look for a set of love balls that offer various weights, so you can increase how much you're lifting as you get stronger. A perfect example is the Lelo Luna Beads set (£29.99), which comes with two 27g balls and two 38g balls. The central silicone holder allows you to swap the weights, so the stronger your muscles become, the more you lift.
Heavy Metal
Need more weight? Opt for a larger set of metal love balls like the Rocks Off Steel Love Balls. The metal will also create more of that much needed friction, compared to plastic Ben Wa Balls.
Wand-hit Wonder
For something all together different to balls, try a glass wand, like the Adrien Lastic Kegel Pelvic Exerciser. Here, the steel balls are inside the wand, so it's a great alternative shape and the weight of the glass will add to the overall strength needed to lift it.
Whichever set you choose to roll with, it's always advised to clean them before and after each use and to use a good quality lubricant to ensure insertion and retrieval is comfortable.
Discover more about what Kegel balls are for and see our extensive range of Pelvic Toners here.