ITV This Morning feature a bondage for beginners masterclass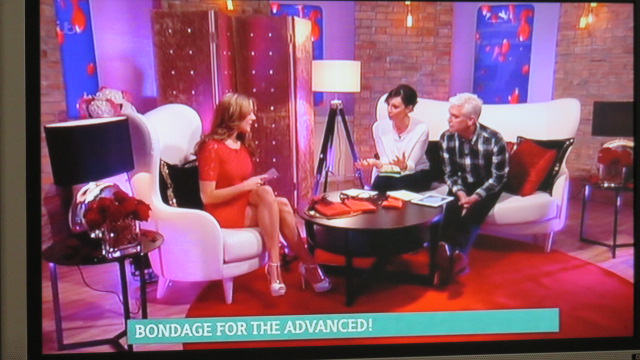 This Morning - Bondage For Beginners Masterclass
With the first Fifty Shades of Grey film release only a week away, it seems that no one is able to resist exploring their kinky side.
If you tuned into ITV This Morning, then you'll have seen Phil and Christine getting educated on some beginner, intermediate and advanced bondage accessories. It was both funny and mildly uncomfortable to watch (especially if your Nan was visiting for a morning cuppa), but excellent that a topic which has intrigued so many is getting covered on daytime TV.
A recent survey revealed that a whopping 85% of women identify more with FSOG dominant Christian Grey, than they do with the meek and mild mannered Anastasia Steele. Not only that, but 81% admitted that they are more likely to experiment with bondage inspired sex toys.
Throughout the show, the This Morning team explored some of the more popular S&M products used by couples and fielded them out to This Morning viewers (affectionately called the 'Ladies of Leather') to really put the items through their paces. We were super pleased when This Morning asked Harmony Store to provide some kinky, sexy pieces to be tested and were interested to see what the Ladies of Leather had to make of them...
From light bondage to harder play
The Bondage for Beginners Masterclass gave loads of excellent ideas of what to try if you're "brand spanking new" to bondage play, as well as suggestions on what to use if you're looking to take the next step.
Bondage For total beginners
When approaching something new in your sex life, it's best to start slow and be comfortable with it. That way you'll have a more enjoyable experience and want to return to it.
Items like feather ticklers, satin blindfolds and massage candles – like the Lelo Massage Candle featured – are brilliant soft bondage items to explore with. Use these to work out what type of sensations you like, or dislike. Whether you feel more comfortable seeing what pleasures are coming your way, or if being blindfolded and the exhilaration of not knowing what's next really heightens your enjoyment.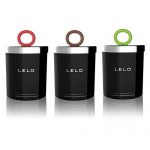 For intermediates
If you've already dabbled in bedroom BDSM then you may want slightly more advanced accessories.
Collars and leads, whips and paddles and bondage rope allow you to further explore your dominant and submissives roles and push your boundaries. It's important to remember though, and as the This Morning team pointed out, when playing with restraints or whips, you should always agree a safe word or signal to indicate that play needs to stop or slow down.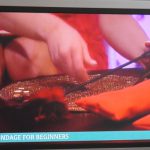 For advanced BDSM play
Taking fetish play up a notch, this was the bit of the show that we were really keen to see. Just what were This Morning's hard limits?
Their choice of items proved that they weren't afraid to shy away from pain and firmer forms of sensory play. Both the Wartenberg Pinwheel – designed to bring blood to the surface of the skin, making you more sensitive to touch – and our gorgeous Bound To Please Adjustable Beaded Nipple Clamps made it into their Bondage for Beginners Masterclass.
It was certainly interesting to see Phil and Christine's reactions as the wheel was prickled over their skin and Phil vouched for how much of a pinch the nipple clamps offer as he attached one to his ear lobe, before turning away from the camera and putting it on his nipple. (Nan finally left the room!)
Unsurprisingly, he said, "That really hurt!". Clearly he pushed his limits too far, too fast and should have used clamps with adjustable screws to find a pressure that was more pleasurable. (Phil, if you read this, pop in store and we'll show you how to use nipple clamps safely!)