Behind the Brand: The Fever Collection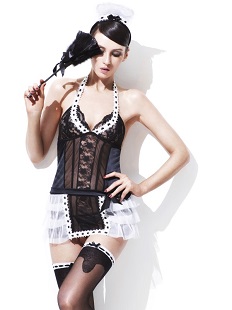 Take a look through the designs and styles in the Fever Collection and you may notice these common symptoms: raised pulse, breathlessness and an overwhelming sexual desire. That'll be down to Fever's range of fashion and fantasy inspired bedroom costumes that allow you to explore your erotic imagination.
Fever have created inspirational designs to fulfill many popular bedroom role-play characters: nurse, convict, nun and French maid are just a few. What we really love about the Fever Costume Collection is that they cater for all tastes, styles and sizes.
For each 'role' there are three different costume options, each one that bit more daring and risque than the last. How naughty your character is, or how far you want to push the boundaries of your fantasy, may dictate whether you go for the sexy sheer dress option, the figure hugging peek-a-boo bodysuits, or the barely there bondage string styles.
Whichever design you pick there's no doubt they ooze sex appeal! While many enjoy the revealing elements of the Fever Collection behind closed doors, there will be some brave souls out there that won't be able to resist flaunting these kinky designs at the next fetish night and we don't blame you! Outfits like the Queen of Hearts Dress Set (£34.99), Feline Wild Cat Leopard Print Dress (£34.99), or Maid Room-Service Set (£24.99) lend themselves perfectly to be used as the basis of a kinky and daring fetish outfit.
The Fever Collection is all about escapism. While we have the costumes and matching hosiery online, we also stock their professional wig collection in Harmony Charing Cross Road, so you can really complete your character's look making it even easier to turn the fantasy into a reality.