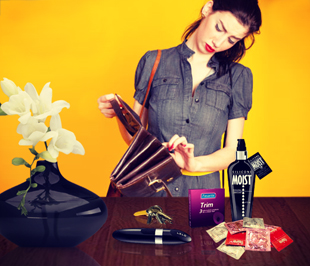 1. Rubber Up
There's no doubt that safe is sexy and do you know why? Because condoms offer so much variety and sensation to your lovemaking that you just don't get going bare back! Pick from ribbed and dotted, tingling or flavours.
2. Lube Me Tender
Too much friction is not fun! Lubricant is everyone's friend and wetter definitely feels better for a smoother more sensual ride. Pack a small tube of lube like the ID Glide 30ml Lube in your handbag. At a glance the small tube will look totally innocent, like hand sanitiser.
3. Take Aim
Date night sex can be such a lusty affair! If you've only got time for a quickie or you want to try toys, take a small bullet vibrator with you. They're discreet, but powerful so can lead to intense orgasms for both of you when used on his or hers erogenous zones.
4. Put A Ring On It
Love Rings or Cock Rings can be a great way to stay harder for longer. So, if you know you're going to be up all night getting to know your date intimately, slip one of these over the shaft of the penis for a marathon session. Get a vibrating one for an extra sexy buzz, or if you don't want to wear it on the penis, slip the ring over your fingers and use it for extra stimulation during an erotic massage.
5. A-Tissue
We're all adult here, so lets not beat around the bush: sex is messy. Keep a packet of pocket tissues, or wet wipes, in your bag or trouser pocket for quick and easy post-sex clean up.