A Soho sex shop made entirely from felt!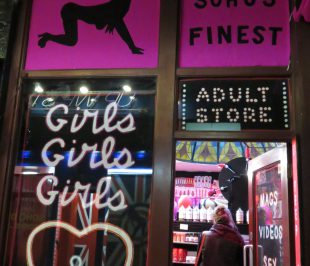 Hot fuzz sex shop made entirely from felt opens in Soho
Fuzzy felt has gone X-rated!
Not a sentence I ever expected to write, but then Madame Roxy's Erotic Emporium isn't your average Soho sex shop. Created by artist Lucy Sparrow the hundreds of R18 DVD cases, condoms, vibrators, butt plugs and bondage accessories in Madame Roxy's store have all been handmade from felt. Being the friendly neighbours we are, we popped in to say hello to Lucy, aka Madame Roxy!
Sew much fun!
It's hard to keep a smile from your face as you browse the shelves and cabinets full of familiar sex toys. Even the jars of STI's make you go "aww" in a creepy kind of way.
Our favourite creations were the wall of whips and BDSM restraints (so that's what's meant by soft bondage?!) and the condom dispensing machine.
While the exhibition certainly adds an element of fun to sex which we wholeheartedly agree with Lucy's exhibition is also raises an important point about how there is still a dated stigma around shopping for intimate items.
She explains, London's Soho [is] undergoing sterilisation with old strip clubs and seedy sex shops being swept away in favour of trendy wine bars and hipster coffee shops, so Britain's laws on pornography are also being cleansed.
Madame Roxy's is declaring a war on prudery as Lucy calls it and as an advocate for all things sex positive we hope the right message gets across…while having fun of course.
It felt sew good
Before busting out the needle and thread, Lucy told me she'd popped into the Harmony Oxford Street store to find inspiration for her creations. It certainly showed as I was able to spot many Harmony favourites stocking the shelves of Madame Roxy's.