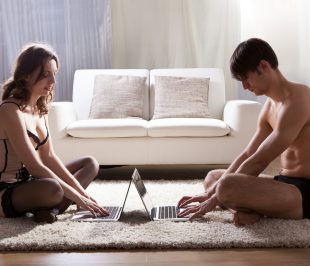 It was inevitable, really, wasn't it? First was those pesky self-service machines at your local supermarket (and I would still rather queue, thank you very much) and then you realised your phone had become a genuine substitute for real friends… in was only a matter of time before tech took over our sex lives. In fact, there are some murky corners of this industry where real life sex between real life people with real life orgasms all round is little less than a distant memory, and the trend is only set to accelerate.
Depressing, you say? Morbid? Potentially, but sex, like every other part of our lives, was destined to move with the times. It makes sense that such a mind-bogglingly profitable industry would be one of the most committed to a hardware upgrade. It wasn't too long ago that vibrators were medical grade, or that porn was enjoyed strictly via the stuck-together-pages of top shelf mags.
So maybe there's not too much to be scared of, after all. If science and tech industries are hell-bent on delivering the next generation of orgasms, who are we to argue? The future is most definitely here, and it's time to take a look at some of the incredible (and terrifying) ways that tech is invading our sex lives…
The Software
One of the biggest and most obvious sex updates over the past few years has been the way that what has traditionally been thought of as a sleazy, underhand industry is now merging seamlessly with the glitterati of Silicon Valley and the like, bringing sexual pleasure out of the shadows and finally offering it the celebration it deserves. This has been insanely profitable for the sex industry, in many ways simply because having our sexual wellbeing quite literally on the same platform as our social media is breaking down long-held stigmas about what it means to be in charge of our own orgasms.
Quite apart from the Tinders, Thrinders and Feel'ds of the day (another blog post, I think) the app-iverse has offered us everything imaginable to facilitate healthy, happy sexual decision making and mind-blowing encounters. Teledildonics (sounds sexy, right?) is the term given to new-fangled tech which connects a new generation of sex toys to the tech already in your life, for customizeable orgasms at any time or place. Even Facebook has taken helping us to connect with other people to a whole new level, by teaming up with a sex toy company to produce the world's first 'fitbit for you dick'.
The LovelyBot will pop up innocuously enough on the humble Facebook chat, in conjunction with the toy, to offer genuine sex advice from a registered sexologist (sex therapist, to you and me.) For couples, the WeVibe is wearable tech that your partner can control from anywhere in the world (with internet access) via the app on their phone that comes with the toy. And the O-Cast, dubbed quite eloquently 'the i-Tunes of Cunnilingus', allows users to literally lick their i-Phones to the exact pattern they want their vibrator to 'lick' their genitals (the clips can last from 5 seconds to 5 seconds, and you can even download patterns uploaded by other users, including porn stars.)
Other notable platforms include the OMGYes app, championed by Emma Watson, an instructional website 100% committed to unpicking the under-studied realm of female pleasure, championing unedited, un-pornified anatomy and interviews with real women. And there's loads of the most personal of personal trainers available on the app store, to help you to keep on top of your pelvic floor.
The Hardware
Tech is taking over our toys, too, with some major-shakeups to the tried-and-tested vibrations that have been rocking our worlds for decades. Lelo, an established brand which has brought us the likes of the Liv 2 rechargeable vibe and the Lelo Tiani 3 Couples Vibrator, has recently developed new technology, simply Insert the thicker end into the vagina and it will push upwards against the G-Spot, while the larger head remains outside of the body and sits comfortably against the clitoris.
And suction-based toys have been around for a while in the form of clitoris pumps, marketed toward the more extreme fetish crowds but the basic principle is a failsafe route to orgasm. There's now some companies dedicated to female pleasure that have developed new, intimidation-free toys that use suction, rather than vibration, to help you come, and the results are way more intense.
The virtual reality
Never ones to be outshone, porn producers have raced to the forefront of tech advancements and virtual reality porn is making serious waves in the industry. Coming to a headset near you soon, porn has taken over the platform initially developed for gaming and can now offer a way more authentic porn-viewing experience, putting users in the 'seat' of the porn star, and experiencing the action happening 'to' them. At the moment, a VR headset will still set you back some serious cash, but expect your usual channels to have a 360 degree make-over in the not too distant future the big streaming sites already have VR categories, all you need to watch it is the gear.
The Bot
Sex dolls have been around for quite some time, but the 21st century tech-takeover leaves no stone unturned and the humble sex doll means infinite possibilities when it comes to advancing technology.
Made from the same kind of realistic silicon as popular sex dolls already on the market, Harmony Doll (no relation) is the worlds first fully functioning sex bot, who can learn to speak, develops her own personality and remembers exactly what gets you off. She can blink, move her head and mouth and even has seriously realistic orgasms and, customisable down to eyelash length, Harmony has the capacity to be every man's dream woman. Lifelike genitalia, a hinged jaw and soft, stretchy lips and tongue, she has some real potential to develop a meaningful relationship with or even at the more extreme ends of the spectrum to fall in love with.
So with all the technological advancements being made in the sex industry at the moment, is Harmony more than a toy, or just an inevitable extension of the trusty fleshlight? It seems like our sex lives like every other part of our lives is due a tech upgrade, and we're pretty excited about what could lie in store…