The Rules: How to watch Fifty Shades Darker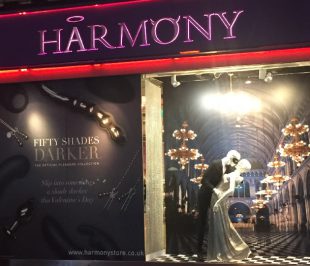 The cinema is a lousy choice for a date. There, I have said it. Think about it, you and someone you want to have sex with go and sit in a dark room — which you are not allowed to talk or move in — with a hundred other people crunching popcorn and slurping drinks and tutting at each other. It's like a sexless detention, and not the good kind.
You both come out smelling of sugary sweets or soggy popcorn, having stuffed down a pizza before or straight after the film because in order to eat anything other than overpriced snacks a meal has to be wedged into either the sacred hour between work/film or after between film/bed. Forget sex. There. Is. No. Time. As a rule never go to the cinema for a date the timmings are inconvenient: for dinner, for sex... just rent the film.
That said, exceptions can be made and the latest in the Fifty Shades trilogy, Fifty Shades Darker, is not your average cinema trip. If you are looking to open up that awkward first conversation with your partner about trying out some S&M, or want to resurrect your inner sub or dom then fine.
But there are some rules.
The Rules 1. Obedience
Sex things up from the trailers with some discreet remote-control toys . Give your partner a lesson in obedience by subjecting them to sporadic pleasure during the film, without making a single sound to upset the surrounding shhh brigade. Alternatively, warm your partner for the post-film play by using your toy to signal when something tickles your fancy on screen that you would like to try out later.
Sleep
Snoring in the cinema is not good foreplay. It is also embarrassing. Get at least eight hours sleep the night before. You will want to be awake and raring to go as soon at those credits roll!
Food
Never trust people that don't like the smell of garlic on the breath, there's nothing sexier than someone who can stick their tongue down your throat and simultaneously ward of colds and the undead. That said, avoid a classic pizza or stodgy meal; the only coma you want to end up in is post-coital. Set clear, hard limits on popcorn distribution with a safe word for when the food envy gets too much. Prepare a post-play picnic of approved snacks that can be microwaved in under a minute. See appendix on corner shop shelf.
Clothes
When you get down to sex Mr. Grey style you want to look the part. Invest in some sexy lingerie or bondage outfits, depending on what takes your fancy, you already have some budget from skipping that meal for two. Alternatively, treat each other to exactly what you want them to wear and make sure they do. For the film itself think loose and relaxed, probably best to leave the whips and paddles at home. If you are feeling more interactive, you could always slip some crotchless underwear on, for those idle fingers post-popcorn.
Exercise
This is crucial. Anyone who has read the books or seen the first film in the trilogy will know that there is a lot of a pacing around over the course of Christian and Anastasia's sub/dom adventure. Make sure that your thighs are up to the gig and limit strenuous toilet trips, which come with both trip and kick hazards, by setting hard soft drink intake limits.
Personal hygiene/beauty
Yes, it's dark in there, but foyer and public transport lighting is unforgiving. Make sure you both visit the bathroom as soon as you see the credits, this way you can skip the queues. Take a toothbrush too, or floss to dig out any unwanted snack folliage. Do not, and this bit is crucial, attempt to shave or wax in the cinema toilets. It will piss people right off and it's pretty vile.
Personal safety
Don't get hammered during the film. Yes, drinking in the cinema is fun and a glass or two is fine, but you want to remember what you are supposed be doing when you get back and five large glasses of red is a sure-fire way to pass out before you can say leg spreader.
Personal qualities
It goes without saying that the aim of the date is to end up playing with the person or people you have arranged to play with. Don't spend the entire film talking about how hot Mr. Grey and Miss Steele are. Of course they are; they're actors in a film about S&M. Same goes for your neighbour.
You will see Mr Grey now.