Motörhead Pleasure Tools Rock Harmony Oxford Street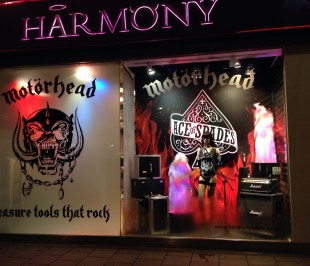 Official Motörhead sex toy Pleasure Tools totally rock our Harmony Oxford Street store
Things just got a little hotter and a whole lot heavier in the Harmony Oxford Street store, because the official sex toy collection inspired by metal legends Motörhead has just moved in.
Easily the loudest window display we've had in Harmony, the band's Snaggletooth skull mascot, hellfire flames and rock amps announce that the Motörhead Pleasure Tools are in the building. Step inside and our rotunda circle pit display has all of the vibrators on show for you to touch and try.
Even the Harmony staff have been kitted out in their own Motörhead shirts, showing support not just for the band and collection, but for any shoppers that have questions about the vibes too.
Lemmy satisfy you
With one of the songs on their debut album being titled Vibrator, it was only a matter of time before the band got their own range of branded vibrators. There are 4 styles to choose from, but there's no gamble involved because when using a Motörhead Pleasure Tool you're guaranteed an Orgasm(atron).
The official collection has got the band's seal of approval and includes 2 mini bullet vibes and 2 larger torpedo shaped classic vibrators. Each style is embossed with Motörhead's logo and either their famously menacing Snaggletooth skull or Ace of Spades artwork and boasts 7 or 10 hammering speeds and settings to amp up the pleasure levels.
A must-have for Motörhead fans you can shop the range in one of our stores, or online here.