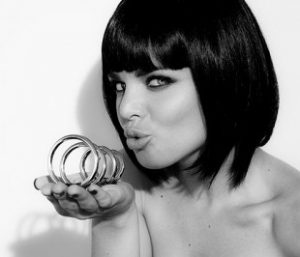 A common question asked about cock rings is, why do guys use them? Well, let me explain...
Cock rings are a sex aide designed to be worn by men around the base of the penis, or over the shaft and scrotum at the same time. Although worn by the man, couples can enjoy playing with cock rings together too.
By slipping a cock ring on when he is soft or semi-erect, the pressure of the ring around the penis stops the blood flowing back out of it as his erection continues to increase. This can mean greater firmness, a longer lasting hard-on and more sensitivity to the head of the penis. It also gives the appearance of the penis looking larger and adds an attractive red blush to the head.
Using a cock ring can be a great alternative to using delay sprays or taking libido enhancing tablets. When worn around the scrotum cock rings can delay ejaculation, because the ring will pull the testicles away from the body. When a man is about to ejaculate the testes move up and into the body. Pulling them gently downwards means it can be delayed.
Without a doubt, donning a cock ring is a great idea for when you want a marathon session!
Will cock rings hurt?
We get asked this question a lot in Harmony by first time cock ring users and it's a completely understandable query. Naturally you'd assume that putting something tight around the penis is going to feel uncomfortable, right? However, ensuring correct measurements to get a cock ring that fits, or using a softer, stretchy jelly or silicone one means that the wearer won't experience any discomfort whilst wearing.
It's advised that a cock ring shouldn't be worn for more than half an hour. Allowing normal blood flow to resume after this time will ensure that you don't suffer any lasting damage or bruising. When wearing a cock ring, if you see a narrowing of the penis head, feel any pain or discomfort whatsoever, or it turns a purple or bluish colour, remove the ring straight away.
So, now you know check out our range of cock rings and couples' cock rings and really treat yourself. Or if you're still not sure then check out our 5 reasons why you should own a cock ring (or several!).