5 Reasons Why You Should Own A Cock Ring (or several)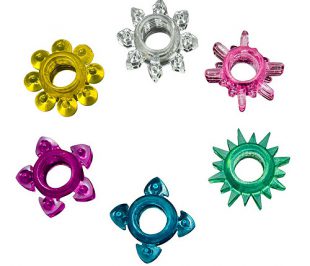 Here at Harmony HQ, we're loving cock rings this week and here are just five reasons why we think every pleasure chest should have at least one.
1. Dong Decoration

Dress it up with silver or leather rings for those big fetish nights out. Alternatively, slip into something a little more comfortable like a silicone or stretchy, jelly ring. Whatever style you go for, there's something very sexy about donning a cock ring. For more elaborate styling, try a cock cage, where there are several rings for his member to slip into. This is especially sexy if he likes to play the submissive.
2. Great For First Timers

If you and your partner are dipping your toes into the world of sex toys for the first time then buying a cock ring might be a good way to go. They're small, discreet and not intimidating. Also, the jelly ones are really stretchy and malleable, so they are easy to grab and slip on without interrupting the moment.
3. Pocket Friendly

Cock rings can be inexpensive. In Harmony Store we have a selection like the Screaming O Ringo or the Loving Joy Vibrating Ring.
4. Harder, Longer, Stronger

A great alternative to libido enhancing pills or delay sprays, a cock ring can help maintain an erection, delay ejaculation and make the penis appear bigger and longer. This is all made possible because of the light pressure a cock ring places around the base of the penis.
5. Huge Variety

Vibrating, textured, single ring, double ringed, non-vibrating, metal, silicone and jelly. These are just some of the styles and materials used to create the perfect cock ring. With so many different choices to try, either solo or with a partner, there's no way your play can get dull!
See our collection of Vibrating cock rings or Cock ring sets to find your perfect match.