Anal Sex Tips - 5 steps for a comfortable first time experience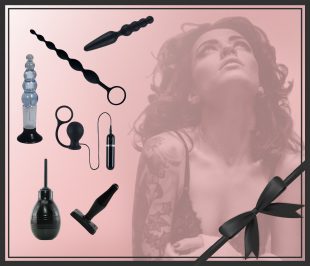 While sex trends come and go, there's still something about anal that totally divides opinion. It's the Marmite of all sex acts. You're either keen on the idea, or you're not, but there's a great reason why you may decide to give it a go: the anal area is full of orgasm inducing nerve endings. In terms of sensitivity, the anus is second only to the clitoris and tip of the penis. Get it right and stimulation of this pleasure zone can offer new and intense erotic experiences. But there are some must-follow anal sex tips you should take note of before plunging straight in.
We've put together this anal sex tip starter guide with couples in mind, but there are some general anal play rules that should be followed whether playing alone, or with someone else.
1. Get Clean
Lets not beat around the bush here. We all know what comes out of our bottoms and it's one of the biggest worries: that some of 'it' will come out.
Don't worry though. There are steps you can take to try and decrease the chances of this happening, saving you both from potential blushes (although sometimes it's unavoidable, so if it does happen try not to make a big deal of it).
Take a bath or shower and have a thorough wash. Many first-timers also like to use an anal douche to ensure any lingering bits are removed. This certainly sets you up for more hygienic anal play, not to mention how much more confident you'll feel knowing you're as squeaky clean as can be.
2. Just Relax
The sphincter is a muscle and as with all muscles when you're tense, stressed or panicked, they tighten up. Trying to insert anything at this point will feel uncomfortable and could put you off anal play, so it's mega important to take the time to relax and build up to anal sex. There are several things you can try:
Take a warm bath, or shower. This helps with the cleanliness factor, but the warm water will help to relax your muscles too.
Give your partner an erotic massage. A massage will help your partner unwind and get used to the feeling of your touch. It'll help build the sexual tension between you both. As they become more comfortable, slowly and gently start to introduce touches around the bum and anal area.
Use an anal relaxing spray. These are specially formulated to help the muscles around the anus relax, without causing loss of sensation.
3. Apply Lubricant
Anal play of any kind should never be attempted without a healthy application of the wet stuff. Unlike the vagina, or tip of the penis, the anus does not produce natural lubricant, so if you don't lube up before play, you could risk tearing. Ow.
There are lots of lubes that have been created specifically for anal play like ID BackSlide(£15.99), Sliquid Sassy (£12.99) and System JO (£14.99). These are thicker, longer lasting lubes that won't go sticky or dry out, so you're play won't be interrupted by having to reapply. Silicone lubes are also great for anal sex, but best avoided if using sex toys like beads, butt plus or anal dildos.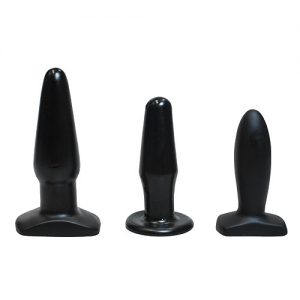 4. Start Small & Go Slow
Fingers, mini butt-plugs and the first few beads on a string are the ideal starting point. You can read more here about choosing the right first time anal toy. If you're worried about what might show on the toy then opt for a black anal probe. Apply lube to the tip of the finger, end of the toy and the anus.
Begin slowly circling the hole and inserting just a little bit at a time. Allow yourself to get used to these new sensations. Communicate with your partner: tell them how it feels, if you want more, if they need to slow down or even stop for a moment.
If you feel any pain, then stop. Pain is your body's way of telling you there's something wrong, so if you feel uncomfortable then you may have reached your limit for the time being.
With a bit of luck you'll be enjoying pleasurable, fuller feelings. Keep going with fingers or toy until it's fully inserted. Spend time teasing other erogenous zones, like inner thighs, clitoris, penis and nipples. We don't recommend going straight in for full on anal intercourse without experimenting with smaller items first.
When you become more accustomed to the sensations of anal play you may want to progress and be comfortable with penis to anal penetration, or moving onto larger toys. There are some great anal training sets, like the Beginners Butt Plug (£9.99) or the Twirly Trio Jelly Butt Plug Set (£17.99) that includes three different sized butt plugs.
5. Clean Toys
Once your session has reached it's pleasurable climax, it's important to thoroughly wash fingers, toys, the penis and the anal area.For anal toys, use an antibacterial sex toy cleaner and warm water so they're ready to go for next time.
Find the ideal first-time anal sex toy
Not all anal sex toys are ideal for beginners, so to help you make the best choice we've put together an Beginners Anal section. Included are butt plugs and anal beads that are a suitable size and shape for experimenting with.