What's better, anal beads or butt plugs?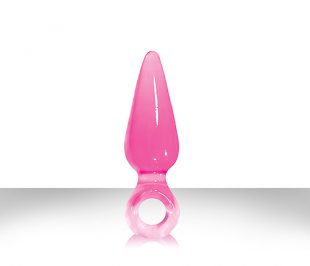 Which anal sex toy is better: butt plugs or anal beads?
There are two main styles of anal toy: beads or plugs, sometimes called probes. If you're new to anal play it can be tricky to know which one to choose first. To answer, 'which one is better' is really difficult as both designs offer different sensations when inserted, so really it will come down to personal preference.
Read on to discover how to use them and the sensations you can expect to feel…
Anal Beads
Strings of anal beads can come in a variety of different shapes and textures and are made from various materials including silicone, metal or plastic. Often, one string will have several beads all of different sizes, starting off small and then increasing in size the further you go. The smallest beads are sometimes only slightly bigger than a pea, which makes them an attractive option for people just beginning to experiment with anal play, because they look less intimidating.
Although it looks like there are a lot of beads and some strings measure 11 or 12 inches in length, not all of the beads have to be inserted at once. Only go up to a size and number that feels comfortable and pleasurable to you.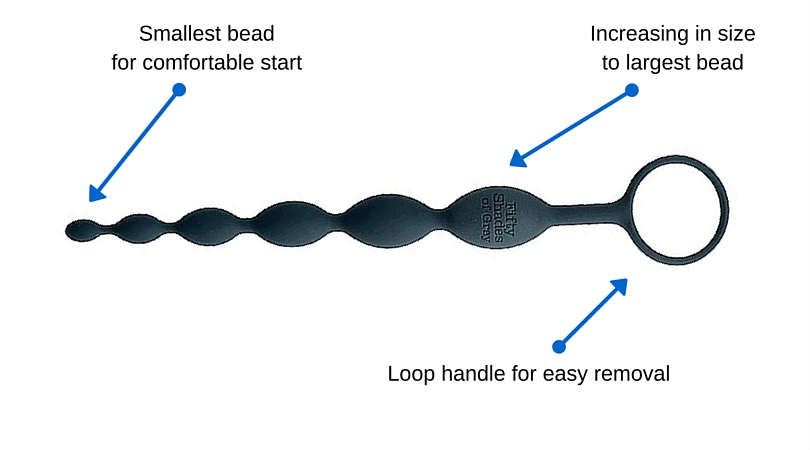 Anal beads will always have a handle or loop. Use this to retrieve the beads after play and to manipulate them during. Strings are often very flexible (even when made from a firmer plastic) so you can move them around to increase pleasure.
During penetrative male to female sex, both partners will be able to feel the beads as the wall between the anus and vagina is quite thin. As he penetrates her, he'll feel the firmer, rolling texture of the beads through and she'll be able to feel them as he moves in and out.
For added orgasmic sensations, gently pull the beads out close to climax. The movement will further stimulate the sensitive anal muscles and add an extra wave of pleasure.
Butt Plugs
As with beads, butt plugs are made from many different materials including silicone, ABS plastic, rubber or metal. It's possible to find something smooth and soft for beginners, or go for bigger, firmer or heavier if you like a challenge.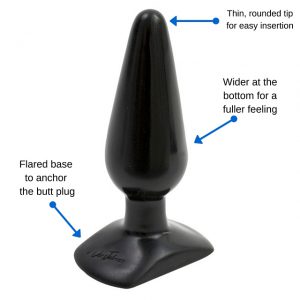 A smooth, tapered butt plug like this Doc Johnson Classic is comfortable and practical[/caption]Butt plugs are not limited to one particular shape, like beads, meaning there's more to experiment with. Most people are familiar with the classic tapered plug, but they're also available in spheres, or they look more like phallic dildos and some even have many curves to them as they contour in and out.
There are lots of sizes to play with too. If you're just starting then you may prefer something small without much texture so it will feel more comfortable when inserting. Buying a kit that includes a small, medium and larger plug is a great way to measure your progress and really take things at your own pace. For seasoned pros, there are Extreme Anal butt plugs, which we only recommend you use if you've had a lot of experience with anal sex, otherwise they can make handy door stops.
Those that regularly use butt plugs do so because they enjoy the feeling of fullness they offer. Butt plugs are also easier to wear for sustained periods of time, because they're designed to stay put once inserted. Wear one during sex to stimulate the sensitive nerves in and around the anus. Either move it around gently using the flared base, or leave it in it's place.
There are other reasons why people prefer butt plugs: as they can be worn for a long time it can make them a favourite for those indulging in power play, or for those want to secretly explore their pleasure beyond the bedroom.
Whether you decide to use anal beads, use a lubricant when inserting any anal toy. As the anus isn't self-lubricating, it can be painful and even dangerous to use anal toys without lube.