Debunking the myth: lubrication!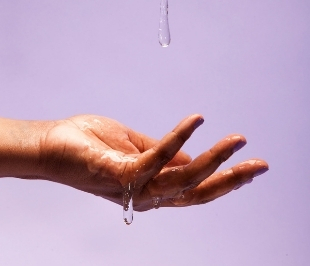 The suggestion that a woman shouldn't need lubrication is a myth.
So is the perception that if she does, there is something wrong with her.
The reality
Using lubricant leads to a better sex life. It's as simple as that.
When people ask us what sex toy we recommend, the first thing we'll always suggest is lube. Probably not the answer most people expect, but to us, it's a bedside drawer essential for increasing sexual pleasure.
Studies have shown that 70 per cent of women say sex is more comfortable and pleasurable when using lube. For men, too, having a well-lubricated penis enhances enjoyment and prevents abrasion on delicate tissues.
Lube isn't just for use with a partner either. An essential for masturbation when inserting a dildo or vibrator, keeping things sliding can be the difference between a thigh-crumbling orgasm and a tingling tease.
It's a woman thing
Pretty much all women will experience vaginal dryness at some point in their lives. It has nothing to do with their sexual arousal, but can be down to a whole host of reasons, even just as simple as where they are in their monthly cycle or whether they've drunk enough water!
The level of natural lubrication the vagina produces varies from woman to woman and can be affected by:
Stress, anxiety and relationship issues
Dehydration
Hormonal changes due to menstruation, breastfeeding or pregnancy
A drop in oestrogen due to menopause
Medical conditions such as diabetes or immune disorders
Medications such as the contraceptive pill, anti-depressants and allergy treatments
Chemical products including washing powders, harsh soaps, feminine sprays or douches and perfumed toilet roll
Cancer treatments such as chemotherapy
Lack of foreplay - women usually need more stimulation than men do.
Any of these factors can play a part in vaginal dryness or pain during sexual activity, known as dyspareunia.
Lubrication is your very easy, very affordable answer.
New sensations
Even if you've enjoyed sex for years without any additional lubrication, a touch of something smooth and slippery can mean new sensations for you and your partner. While lovers have, over the years, experimented with everything from butter to baby oil, we'd recommend choosing a specially made product that's designed for intimate use. This will provide the best level of lubrication and be less likely to irritate sensitive areas.
So which type of lubricant should I choose?
There are hundreds of vaginal lubricants on the market, so choosing one can be overwhelming. Which lube is best for you depends on many factors but they break down into 3 main categories.
Water-based
Pros: A good water-based lube is the closest to your own natural wetness. They're versatile, inexpensive, non-staining and rinse off easily. Plus they're perfectly safe to use with latex condoms. They're also the lube of choice for use with silicone sex toys as they won't break down the silicone.
Cons: After a bit of time, they dry out a little due to exposure to air or simply from the water being absorbed by your body. So just keep the bottle handy to reapply! Being water-soluble, they rinse off really easily, so not ideal for use in the bath or shower.
Our Fave: For a great all-rounder we recommend ID Glide.
Silicone Based
Pros: If you're into marathon sessions or love to indulge in underwater sex in the pool or shower, go for a silicone-based lube that won't dissolve easily in water. Only a small drop of silicone lube goes a loong way, and will provide a super-slippery feel that lasts. These lubes are fine to use with latex condoms.
Cons: Not to be used with your vibrator. (Or any other silicone sex toy for that matter!) The silicone in the lube will react with the silicone in the toy and break it down.
Our Fave: System JO Premium Silicone Lubricant
Oil-Based
Pros: Oil-based lubricants are generally thicker, silkier and last longer. They're great for foreplay too and giving each other an intimate massage.
Cons: Not recommended for use with latex condoms as they weaken the latex which may lead to a condom breaking, risking unwanted pregnancy or a sexually transmitted infection. Best to avoid substances like vaseline or baby oil too which aren't vagina-friendly!
They're good for your sexual health
Help prevent cystitis
The movements during sexual intercourse can cause the bladder to become inflamed leading to a urinary tract infection or cystitis. This is often down to a lack of vaginal lubrication which leads to irritation of the vaginal tissue, vulva and urethra. If you find yourself reaching for the cranberry juice a bit too often, try softening things up with a ph-balanced lube.
Avoid the dreaded thrush
Thrush is caused by bacterial growth, especially where the delicate vaginal tissue gets damaged with tiny tears and grazes- a common side effect without sufficient lubrication.
However - be sure to look at the ingredients. Your vulva and clitoris are highly absorbent so if you're prone to the odd bout of thrush or UTI, go for a ph-balanced water-based lube. Parabens, petroleum jelly, glycerin and glucose can promote yeast infections, leaving your vagina feeling itchy and sore.
If you're slightly sensitive, try ID Moments Hypoallergenic Water Based Lube.
Add some special effects
There are also lubes with enticing flavours for oral enjoyment, or that offer cooling, warming or tingling sensations. Special effects are always fun.
For added sexual arousal and stimulation, try these from System JO. Or if you want to add a bit of flavour, we love the ranges by Sliquid and ID.
No matter your age or inclinations, there are plenty of ways to spice up your love life and keep your partner captivated. Experimenting with lubrication is just one of them.
---