Finding the right BDSM Whip, Crop, Cane or Flogger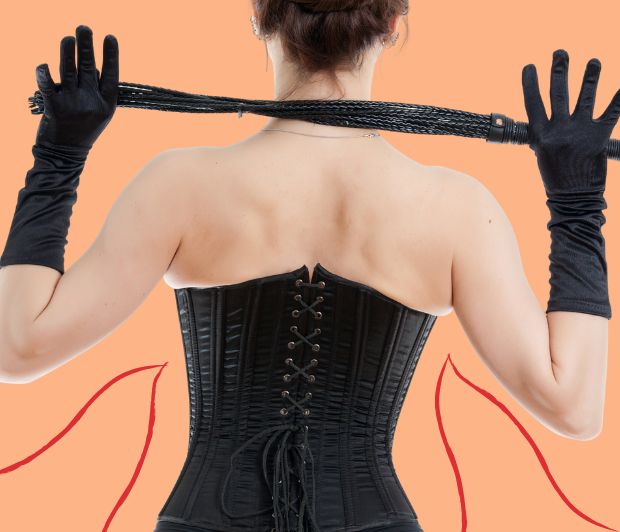 Many find an adult store's whip section the hardest to resist.
There's a certain thrill to be had from picking up different BDSM whips and swishing them through the air. The weight and movement hint deliciously at what it might feel like if allowed to complete its journey and make contact...
Having already explored erotic spanking paddles in our blog How to Choose and Use Erotic Spanking Paddles, this post is dedicated to other tools for impact play. That's BDSM whips, canes, crops, floggers, straps and switches. Some are easier and safer to use than others.
Here I'll run through the types of BDSM whips you might find, offer a couple of words on how to use them, who should use them and what they can feel like.
Floggers
Flogger whips can be identified by their multiple tendrils. These can be used to deliver a deep, thudding spank or a succession of short, sharp smacks using just the tips of the tendrils. Ones made from rubbery elastic or suede and faux leather are a good choice for bondage beginners. The impact is likely to be softer compared to firmer leather. The size of the flogger's head and the number of tendrils will also affect the weight and sensation delivered. The larger it is, the thicker the thudding and the heavier it will be to wield. Leather is the most common material but vegans can opt for rubber floggers which will have a similar effect. Get a handle on the multiple tendrils by rotating your wrist in a rhythmic circular motion. Or swing the flogger in a figure-eight movement. These are great for sensation play and can be a tantalising bit of pre-orgasm foreplay.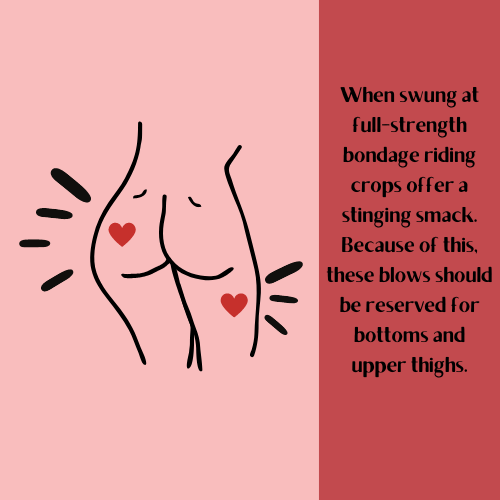 Bondage Crops or Riding Crops
Easily identifiable by their length and single tip for impact. When swung at full-strength bondage riding crops offer a stinging smack. Because of this, these blows should be reserved for bottoms and upper thighs. However, not every spank has to be hard. Put the soft, flexible tip to good use with a succession of light tapping and stroking across more sensitive areas like nipples and the backs of legs. These are great if you have a pony play fetish.
Canes and Switches
Canes and switches aren't for the faint-hearted. Their long, thin shape delivers a sharp spank that stings long after the blow itself and potentially leaves thin, red marks. For some Doms and subs, canning marks provide pleasure in a visual sense. Often made from rattan cane or leather woven around a rod, their severity and appearance make them a choice weapon during corporal punishment and role play. They're also good for making that satisfying whip-cracking sound, providing an element of auditory stimulation and making them a true all-rounder. To achieve this whip-cracking sound, flick your wrist as the cane or switch makes contact. The action and momentum should come from the wrist, rather than a full arm movement.
Bullwhips
Although Indiana Jones made cracking a bullwhip look easy, landing blows in the right spot is actually pretty difficult. The long, single-strand leather whips and bigger handles make them somewhat tricky to control. The chances of whipping an area of the body you didn't intend to are much higher. We'd only recommend these BDSM whips to people with impact play experience and a serious kink for pain. Some people call these sex whips or even fetish whips. Another name they occasionally go by is a single-tail whip. Whatever you want to call them, they inflict the same amount of pain (or pleasure).
The other thing to note about using a bullwhip for BDSM play is that they will definitely leave marks that will last a long time. So not very discreet if you're planning on doing activities that require you to remove some or all of your clothing. Maybe don't have your kinky bullwhip session the night before you go swimming at the beach. Just something to bear in mind. In these cases, it may be better to go for the 'tickle' side of things and use a leather riding crop or something similar which is easier to target than a bullwhip.
Extra Whip Tips
Before using a new BDSM whip on a partner, practice first on a firm cushion or pillow. Experience what it feels like to throw the whip from different heights and varying strengths.
It's worth knowing that different bindings around a whip's stem and handle can affect the performance and level of punishment it can withstand. After all, these things are sometimes placed in the strong hands of professionals! From tassels, and bondage whips, to feather ticklers and leather floggers there is a wide range of impact play toys that you can experiment with.
Sensation-wise, heavier, denser materials like wood, leather or silicone will be much more painful. So even if you know you like silicone sex toys, don't jump to the conclusion that BDSM whips made from this material will feel as friendly. Trust me and my backside when I say that's very much not the case.
Flogging can be a lot of fun in the right hands, especially when combined with other BDSM accessories like blindfolds and nipple clamps. Add a gag if you want to muffle some of the yelps of pain but do have a signal the recipient can use as a 'safe word' if things get too intense.
Want to Know More About BDSM Whips and Spanking?
Then you might also enjoy reading A Beginner's Guide to Sexy Spanking. This explains how to give a pleasurable spanking using your hand.
Keeping any play with BDSM whips safe and consensual is paramount. So if you haven't read BDSM Essentials - Choosing a good safe word check out the post for some great tips and advice.
Rather skip to some shopping? Then head to our Whips, Paddles and Ticklers section. We also stock a wide range of sex toys from bondage kits, harnesses, masturbators and fetish fantasy clothing to clitoral vibrators, dildos, lubes and cock rings. Here to help you add a bit of extra spice to your sex life.