How to use your Fleshlight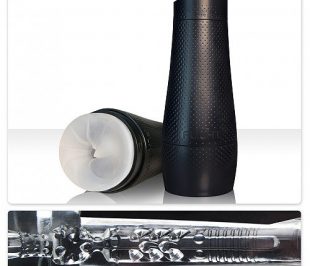 The Fleshlight is, hands down, the biggest selling male sex toy in the world. We're not even exaggerating: over five million have been sold and there are fan sites aplenty if you do a quick internet search.
There are many reasons why the Fleshlight has become so popular: it's portable, concealable and there are many variations to choose from. The patented Real Feel Super Skin inner sleeve is what really clinches the deal though, as it provides an unrivaled lifelike sensation.
If you're new to 'Flying' (as fans call it) Harmony Store have put together 5 simple tips on how to get the most pleasure out of your new Fleshlight...
[1] Fleshlight feels so much better when it's slightly warmed. Do this by removing the sleeve from the case and submerging it in a sink or tub of very warm (not boiling!) water.
[2] Shake off the excess water, run a clean tea towel through it if you'd like? and replace into the case.
[3] Apply a generous amount of high quality water-based lubricant to the entrance of the Flesh light and yourself. We recommend using the specially formulated FleshLube, created by the brand, so you know it'll be safe to use with your tunnel. Using lubricant will prevent friction and enhance your pleasure.
[4] At the end of most Fleshlights is a small cap you can use to adjust the amount of suction on the drawback. The tighter the cap, the more intense the suction.
[5] Start penetrating your Fleshlight and enjoy a thigh quivering orgasm!
After Care
Cleaning after use is super important to keep your Fleshlight in tip-top condition, but it's really easy. Remove the Superskin sleeve and run warm water through it to thoroughly rinse it out. Avoid using soap or detergents as this can damage the Real Feel Super Skin. Instead, for thorough cleaning use an antibacterial spray, or a small amount of isopropyl alcohol.
Towel, or air dry the sleeve before replacing back into the case for storage and to keep it dust free.
Feeling tempted? See our Fleshlights & Fleshjacks range - there are plenty to choose from.