Owning a sex toy is totally normal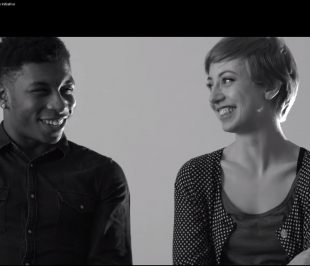 Get rid of the sex toy stigma and it could improve your sex life
Having a crap sex life is no one's idea of fun, so UK sex toy brand Hot Octopuss are challenging those that are unsatisfied with theirs to really take the bull by the horns and join their sexual revolution which, we all hope, will help you have better sex. Woohoo!
The aim of their Sex Not Stigma campaign is to do away with the stigma of using sex toys (here, here!) and encourage couples to talk openly about "doing it", therefore improving their sex lives.
After discovering that 78 percent of people are uncomfortable talking to their partner about what they want in the bedroom, and a further 69 percent feeling unhappy or bored of their current sex lives, the creators of the PULSE II Solo and PULSE II Duo decided that it's time to loosen those lips and get chatting about a subject that's so often on our minds.
Ok, ok, so talking about sex in order to have better sex, might seem like an obvious solution, but it evidence suggests we're still pretty damn bad at it.
A 2014 survey by Durex backs up Hot Octopuss' findings. After quizzing 2,000 adults they found that although over half of people questioned owned and used sex toys, more than a quarter of them said they actively avoided having conversations about them. Revealingly, many admitted that if they had been comfortable enough to discuss sex toys with a friend, then they may have experimented with one sooner.
We're kind of shocked to think about all those missed moments of pleasure with a vibrator or masturbator, because folks didn't feel they could chat with a mate about an issue that they needed advice on. Or were worried that owning a sex toy says said something negative about them. Baloney, we say! It's all just sex toy stigma.
So, let's talk about sex toys…
Hot Octopuss have kick started the conversation on social media using the hashtag #SexNotStigma and by creating a video that shows couples talking frankly about sex and how introducing toys into the bedroom has changed their sex lives for the better.
Sex life complaints we can all relate to
Most respondents to the Hot Octopuss survey complained that lack of excitement and adventure, lack of experimentation with new positions or sex toys and a decrease in romance were to blame for those unhappy lust life feelings. All pretty common issues that many of us have faced, but talking about sex and sex toys could be a simple fix.
Despite the initial embarrassment in broaching the subject of sex toys, those couples that had already used them, or spoken openly to their partners about their sexual desires and needs, were adamant that their sex lives had improved as a result.
Adam Lewis, Hot Octopuss co-founder and designer of Pulse, said: It's a well-known fact that a happy sex life is often key to a happy relationship. For too long there has been a stigma attached to the use of sex toys, stifling people's happiness and holding them back from saying what they really want in bed."
How to talk sexy
Opening up a conversation with a partner about using sex toys in the bedroom, or asking for what you really want, isn't always easy, we know. If you're unsure how to start the convo, then take a look at this Durex guide on four ways to introduce sex toys to the bedroom with your partner.
Still unsure about using sex toys?
Venturing into the world of sex toys for the first time, either as an individual or as a couple, can be daunting, but it doesn't need to be. With so many men, women and couples using sex toys, they've very much become a normal part of sex.
Check out our Beginners Sex Toy Guide, Which Vibrator Should I Buy? and our Beginners Guide to Male Sex Toys for inspiration.
Still unsure or got questions? No problem, we're happy to talk about sex toys, so email us [email protected], tweet us @Harmonystoreuk, or message us on Facebook.
You can also pop into one of our London stores where a trained Harmony sales assistant will be able to help you find the perfect sex toy.
Join the conversation today on Twitter, using #SexNotStigma