Men try sex toys for the first time. Their reactions are priceless!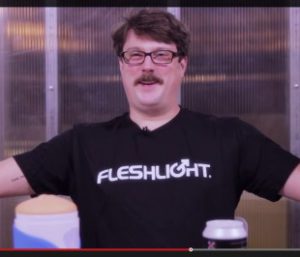 Men try sex toys for the first time. Because women shouldn't get all the fun
While you and I are pretty well versed on male sex toys, there are still some guys out there that are sex gadget virgins. In a funny, honest and revealing video by Buzzfeed, they plonked a selection of male sex toys in front of a group of chaps that are yet to experience the lubey, textured pleasure of a masturbation sleeve.
In a bid to open their eyes, the guys were armed with popular sex toys for men, like Fleshlights, the Autoblow and the Fun Factory Cobra Libra.
Before giving the toys a go for themselves, the men's opinions on boys using toys were certainly very telling: "I don't think men need sex toys," said one. "Dicks aren't complicated," stated another, while one chap stuck his fingers into a Fleshlight and pulled a grimacing face.
Twenty-four hours later…
After an intimate night in with their new gadgets, most of the guys were singing a very different tune.
There were a mixture of reactions though. While some guys were totally converted, ("IT WAS AWESOME!") others were quietly bemused and shocked by their experience. That's cool though: it's different strokes for folks and we know that sex toys aren't everyone's cup of tea.
However, they did acknowledge that the experience had taken away some of the stigma around sex toys for men and even if they didn't enjoy it on a personal level they appreciated that these gadgets could be great for spicing up solo, or couple sex.
Learn more about male sex toys
The fun doesn't stop at Fleshlight's. Read our complete guide to Sex Toys for Men and explore the fun range of pleasure objects for him in out Men's section.