Look! No hands fun with your fleshlight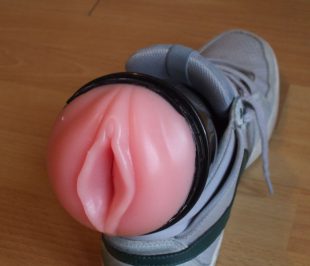 The Fleshlight is the world's most popular male masturbatory aid, and for good reason – it's orgasmically good, packed with sensation and easy to use. But didn't you buy a sex toy in the first place to give your hands a rest? Why are you still holding onto it like you're living in 2008? It's 2020! We're living in the future now!
It's always tempting to just get stuck in ASAP and not bother with any kind of complicated setup when you start eyeing up your favourite toy, but learning and experimenting with playing hands-free with your Fleshlight can be a real thrill and improve your masturbation for years to come!
We've scoured the internet for the best and most imaginative hands-free Fleshlight techniques we can find that are still practical, so you don't have to. Here are the Fleshlight fans' top tips!
The Sole Destroyer
This move has become so popular amongst Fleshlight fans that it even has its own explanation in the FAQ section on the official Fleshlight site! It's simple – slip the narrow end of the Fleshlight into the shoe so the entrance peeks out, making sure the shoe is on a flat surface. The more grip on the bottom of the shoe, the better, so it doesn't slip about during. Your Fleshlight should then be at the perfect angle to penetrate in missionary position as you would a partner.
The Slip 'n' Slide
Fleshlight themselves have even gotten involved with all the hands-free fun. The Fleshlight Shower Mount boasts a powerful suction pad that can stick to the glass door or tiles of your shower for a super steamy session. The benefit of official Fleshlight accessories is that they're a lot easier to get into position – just screw your Fleshlight into the mount (no pun intended) and you're ready to get going right away. There's barely any set-up time required, but all the same make sure to set your alarm a bit earlier if you plan on indulging in the morning before work.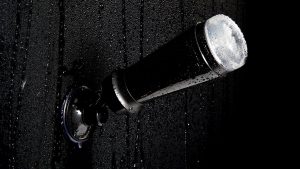 Don't Knock It 'Til You Try It
The toilet isn't the most erotic of places, but if you're craving cowgirl and want to see what your Fleshlight Shower Mount can do, you might like to try this position. If you affix your Shower Mount to the open toilet lid in front of you, entrance angled down, you can take a seat the wrong way round on the toilet and thrust upward to your heart's content!
The Mattress Smash
This position is ideal for when you want to do your Fleshlight doggy-style. Lift your mattress slightly and position your Fleshlight underneath it with the entrance facing outward, before lowering it again and trapping it between the mattress and the bedframe. This might not work for every style of bedframe, but it's especially suitable for divan style beds. Put a pillow under your knees for ease and comfort, or don't if you're feeling well hard (again, no pun intended), and kneel up to thrust into your toy. This also gives you a convenient shelf to hold your porn while you play!
Ooh, Mr Bossman!
This one probably takes the most prep, but – assuming your desk is waist height – this gives you great opportunities for standing up positions as well as letting you have your computer or TV screen right in front of you, making it easy to watch your favourite Harmony Films at the same time!
There are two ways to do this. The first just requires some heavy duty duct tape. Just tape it down 'til it stops shifting, and you're good to go. This is a good method for if you have to share the desk.
If you're especially DIY savvy you could try another option: head down to your local hardware store and pick up a metal hose clamp and a spring clamp. Take one handle of the spring clamp and use the hose clamp to attach it to the head of the Fleshlight. Once you've done this you can easily clip the whole contraption to your desk or any other hard, stable surface. It might involve extra shopping, but the payoff can be awesome.