How to introduce sex toys in the bedroom?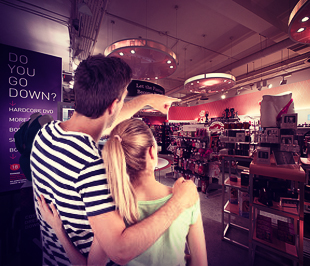 For some folks in relationships, knowing how to introduce sex toys into the bedroom can feel difficult. Having that conversation might feel daunting, especially if you're unsure about how your partner will react to the idea of introducing sex toys into your sex life. An important thing to remember is that lots of couples use and enjoy sex toys together. Vibrators, massagers, even just a bottle of lubricant, can allow couples to experiment with pleasure in new ways and can even help them to discover previously unknown turn on's. It's easy to understand why they're becoming more and more common place.
However, if you're in a new relationship, or are only just starting to consider using sex toys, the big question that so often arises is:
'How can I bring up the subject of sex toys with my partner?'
We've put together some ideas on how you can make that chat a whole lot easier…
Make it a casual conversation
It doesn't need to be a formal discussion. Try approaching the subject of sex toys when you're not in the bedroom, at a time when you're both feeling relaxed and conversation is flowing freely. You could mention that you spotted some sex lubricant in the health aisle at the supermarket and thought it looked intriguing. Or that you read an interesting online article about sex and it mentioned vibrators. Let them know how it made you feel to read about it. At this point, if you have it to hand, you could even let them read the feature too so you're both on the same page.
From here, you'll be able to gauge your partner's reaction to it: whether they respond positively or not. If it's the former, great! Let the conversation continue and check out some sex toys for beginners. If it's the latter, then no worries. It might be that they need a bit more time to consider what you've said.
If face to face is too tricky
Sow the seeds by sending a suggestive text message that mentions sex toys. You could even copy a link to their personal email sending them to an article or product you've spotted in Harmony that you like the look of. To get the discussion going, ask them what they think of it? And whether this is something you can chat about when you get home that evening?
The benefit of texts and emails is that they give the writer more time to think about what they want to say and how best to say it. This could help you both if you find you sometimes get your point muddled up during conversation. Plus it allows your partner a bit more time to process the idea of using sex toys and prepare for a chat on the topic.
Offer some reassurance
Sometimes partners can worry that the reason you're suggesting using sex toys is because you feel your sex life isn't satisfying enough. While you may know this to be nonsense, it's important that your partner understands that too.
Reassure them that's not why you want to use sex toys with them. Explain that you feel really positively about your sex life with him/her and maybe that's why you feel comfortable exploring new pleasures with them. Tell them what you enjoy most about sex with them and make it clear that sex toys are not there to replace anything they do.
Find something you agree on
Shopping together for sex toys can be both fun and intimate, making the experience of introducing that first sex toy into your relationship a lot less daunting. Visiting a sex shop is one option. Getting the help of a sales assistant could be a great positive as they'll know the products inside out, so be able to point you in the right direction to find a sex toy that you'll both enjoy using in the bedroom. Finding something you agree on in terms of shape, price, function and even colour will make a big difference, because you'll both enjoy using it more. Couples cock rings, like the Screaming O 9 Function The Big O Vibrating Ring, or a small bullet vibrator such as the popular So Divine Shine Mini Bullet are good starting points, because they're discreet and easy to use.
If visiting a store seems too much, then there are loads of ways to shop online and take all the browsing time you need. There's also hundreds of blogs that review sex toys too, so it's easy to find out information about thousands of popular sex toys before making a decision.
Worried about the postie knowing what you're up to? Don't be. Order from us and the lingerie and sex toys you've chosen will arrive in discreet, plain packaged envelopes and boxes.
Don't push it
If your partner is still really unsure about introducing sex toys into the bedroom, then let the subject lie for a while. Sex should be fun and enjoyable for both of you, an experience where you both feel comfortable, not pressured. Vibrators and handcuffs might feel like a step too far at this point. Instead, explore more subtle pleasures like dressing up in new lingerie/underwear, or even simply buying some massage oil and performing an erotic massage on your partner.
Need more help and advice?
If you need more tips on which sex toys are the ideal starting place, then contact us by emailing enquiries@harmonystore.co.uk or tweet us @harmonystoreuk.
Alternatively, you can visit us at one of our London stores, where our experienced sales assistants will be able to talk you through a wide range of sex toys that are perfect for first time users and couples.