Behold! Darth Vader made from sex toys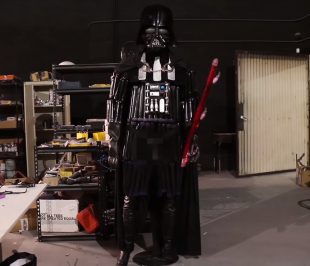 Watch the creation of Darth Vader made from sex toys
We know there's a lot of Star Wars merchandise out there, but we're not sure that when The Force Awakens is released that a Darth Vader made from sex toys is going to be top of the collectors list.
Yep, you heard right. A Darth Vader made entirely from vibrators and sex toys. It's certainly a sentence I never thought I'd hear myself say, but because the Internet is a wondrous thing, someone totally went there.
May the force be in you!
The Darth Vibrader was the ingenious idea of adult content site, Wood Rocket. We're going to make a life size, or bigger than life size, Darth Vader made entirely from sex toys, states host Kayla-Jane Danger before she and her two accomplices head off to a nearby sex shop to stock up on all the kit they'd need to recreate one of cinema's most badass baddies.
Heading to a nearby sex toy shop the team picked up the Electrastim Electrapaddle Leather Electro Spanking Paddle, floggers, bullet vibes, butt plugs and multiple rabbit vibrators to fashion everything from the menacing Dark Lord's helmet and body armour to his evil red light sabre. One of our favourite touches was using the Fun Factory Stronic Surf Pulsator Ll Rechargeable Waterproof Thrusting Vibrator hitting every nerve ending, for a satisfyingly full feeling and surround-sound pleasure.
As the Wood Rocket crew cut, hacked, spray painted and glued various bits of sex toys together, the Darth Vibrader slowly took form.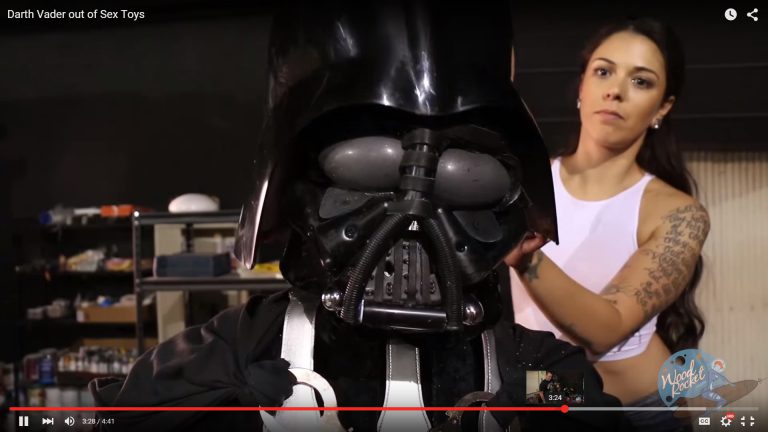 By the end of it they'd used well over 300 vibrators, countless batteries, plus many more bits of sex toys to get the right look. Impressive and very inventive, but we still don't think it will become a Star Wars Collectable.
Watch the video (NSFW)
The Force Awakens is released in UK cinemas on 17th December. If you fancy making your own Darth Vibrader, you can find all the supplies you need in our Sex Toy section. Or you could, you know...just enjoy them as sex toys. The force, sorry I mean the choice, is yours!