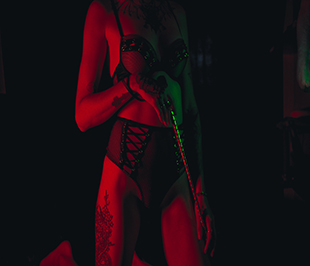 Dabbling in a bit of BDSM has become the norm for many couples, but often the kit can be expensive. However, there are many attractive and sensuous ranges like Sex & Mischief, Fetish Fantasy and even Lelo, that design equipment which doesn't break the bank, but is still comfortable to use, expertly designed and allows you to safely live out your sexier fantasies. It is possible to do budget bondage! Perfect for those new to light bondage play and wanting to experiment, or those looking for the next step up on the kink ladder, our large bondage collection includes equipment for whatever shade of play you're at.
Here is Harmony's guide to the top 5 buys for beginners and those interested in light play, followed by the sexiest 5 picks for when you want something a little harder. Like what you see? Then simply click the link and read a full product description.
Light Play
[1] Beginner's Bondage The perfect starting point for any couple wanting to experiment with bondage. These sashes are so versatile; use them to restrain hands, wrists or even use as a blindfold.
[2] Feather Tickler Bondage is all about sensations. Don't think tickling can be sexy? Think again!
[3] Satin Blindfold Take away your lover's sight and watch the rest of their senses heighten. This satin blindfold is especially soft and comfortable against the delicate eye area.
[4] Riding Crop This mini crop is ideal if spanking is still something you're not sure about. Get great control thanks to its size and deliver light (or hard) thwacks on your lover's bottom or thighs!
[5]Mini Rope This soft yet strong nylon rope offers exciting bondage fun, with a choice of exhilarating or sultry colours for different naughty and submissive looks.
[1] Feathered Nipple Clamps Wear these and you're sure to be all of a flutter. The rubber tip clamps offer a tight pinch, but as you move around the light feathers will tickle. Such a delectable pleasure and pain combination!
[2] Strap On and Silicone Dildo set New to pegging or using a strap on with your lover? Then get a complete set, with everything you need, for well under £35 and experiment until your heart's content.
[3] 3 Ring Cock Cage Allow your privates to be totally dominated by using this attractive 3 ring cock cage.
[4] Ball Gag Donning a ball gag can be a bit hit and miss; some people love how they look and feel, where as others find them quite intimidating. This smaller size, red ball gag is ideal in shape, size and how easy it is to adjust.
[5] Red Rope Flogger Flogging offers a very different sensation to hand spanking or using a crop. It often requires more skill and confidence to ensure each strike lands right where you want it. This lighter rope flogger is perfect to practice with.
These are all brilliant items for getting your bondage toy box started. Shop the entire Harmony Bondage range here, including high-quality BDSM equipment that's ideal for fetish parties, or your own private dungeon.