How to use a blindfold in the bedroom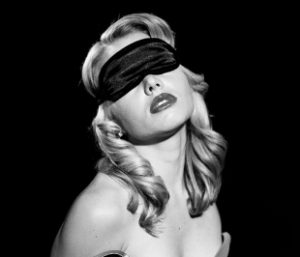 Sexual attraction, arousal and satisfaction is all filtered through our senses and processed in the brain. This makes the brain our most important sexual organ. When one sense is hindered, our other senses – via the brain – attempt to compensate. Experimenting with all the various options can be incredibly arousing.
The art of anticipation
Blindfolding your partner is just one way of increasing a lover's sensory awareness. Because he or she doesn't know what you are going to do next, the anticipation builds. You can heighten this effect by taking things extra slow, using your tongue, an ice cube, a feather, or other objects with different textures or temperatures to slowly trace up and down the skin.
Start softly, as this will excite your partner's nerve endings and makes them far more sensitive. Be careful not to overstimulate the nerve endings, though, because after a while the neurons stop firing with intensity and sensation dulls.
Whisper sweet nothings
It's also a good time for dirty talk, as your lover's sense of hearing will be heightened. Saying your partner's name can be especially powerful. If you're not used to dirty talk in the bedroom, it can end in fits of giggles from either partner. There's no reason sex shouldn't also have a touch of fun, but don't go overboard.
Scents & flavours
You can experiment, too, with the sense of taste and smell, tantalise your lover with strawberries and other sweet fruits, or the scent of sensual oils massaged into the skin.
There's a world of playful possibilities for the imaginative lover. Surprise your lover with one of the following blindfolds and turn your fantasies into real life.
Softly done in satin
The Sex & Mischief Satin Blindfold offers total darkness. Place this elegant blindfold over your lover's eyes and build the erotic tension as your partner is left in the dark as to what pleasures are coming their way.
The elasticated headband on the blindfold ensures that your lover will feel comfortable.
Adjust the nose bridge to ensure your beau has no glimpse of the pleasures coming his or her way.
This blindfold comes in four different colours: grey, pink, black and red.
It makes a perfect blindfold for sophisticated lovers who will appreciate the soft touch of satin. A classic, classy choice for adding eroticism to the boudoir.
The manly choice
It's soft, flexible and comfortable to wear. It's in leather and comes in six different shades: red, black, brown, purple, pink and blue. It's the popular Harmony Leather Blindfold for him and her.
The bridge for the nose and the elasticated strap means it will lie flat against the face and can be adjusted to fit. It completely blocks all vision.
It's an ideal eye mask for first-time or more experienced bondage enthusiasts.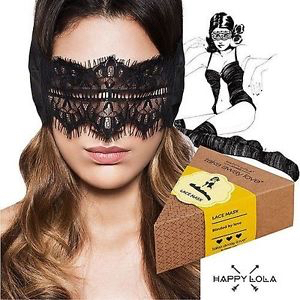 A touch of lace
The other end of the spectrum, this eye mask is all frothy lace and delicacy. Classy, sexy and seductive, the Sportsheets Satin And Lace Lover's Kit won't completely block out what your partner can see, but will obscure her vision.
Ideal for trying blindfolds for the first time, this mask means your lover will catch only glimpses of what erotic action is coming her way. This blindfold comes in a set combined with a pair of satin & lace wrist cuffs.
The mask fits comfortably over the face, fastening around the head using satin ribbon ties.
Whether it's leather, satin or lace, temporarily depriving your lover of his or her sense of sight can open up a world of other sensory delights. A blindfold - so simple, so powerful.