Guide to The Best Sex Toys for Couples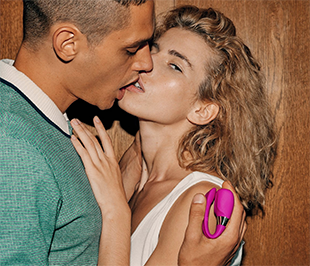 Gone are the days of having to hide away your sex toys at the bottom of your sock drawer like a dirty little secret! Owning your sexuality and experimenting with sex toys is almost a rite of passage nowadays but the real excitement begins when you play together and get double the fun. Couples all over the globe are realising the incredible benefits of couples' sex toys and how vital they are in having a fulfilled intimate life.
We're proud to embrace the world of experimentation and encourage everyone to immerse themselves in discovering all the wonders of the body, without shame. Whether you're a curious newbie or a sex toy aficionado, heightening your pleasure is our business, and that means quite a lot of open conversations about sex toys, especially the best sex toys for couples.
Although largely associated with solo pleasure, sex toys are a fantastic addition for elevating your sex life to new heights, with a partner. We understand that navigating this territory and experimenting with a new couples toy can be tricky, here's our guide to adding all sorts of incredible toys into your sex life.
Having the Sex Toy Chat
So, you're tempted! Maybe one toy, in particular, has caught your eye? Or you're wondering if the thought has ever crossed your partner's mind. Perhaps you're just generally curious about mixing up your intimate time together.
In any case, starting the initial "shall we try a sex toy?" conversation can be slightly daunting but we promise this is the biggest hurdle and once you're over it, pure bliss awaits.
When it comes to enjoying sex and relationships, open communication is essential. Not only does it build trust and intimacy between you both but it creates an environment where you're free to truly explore your desires, whether that's clitoral stimulation, anal play, blindfolds or pegging. Try to be as honest and open with your partner when having these conversations and who knows, you might just find that their response surprises you... in the best possible way.
Talking about things we want in bed is deeply personal so we can understand the initial hesitance but remember, you're talking to someone you trust here. You might actually enjoy speaking freely about your sex life and having the opportunity to bond more and strengthen your connection. Make sure it's not all about you though! Listening in these kinds of conversations is just as important as sharing your views. Your partner may well have their own desires they've been keeping to themselves, so be sure to lend an ear as well as rattling off your own list of wants and needs. Relationships are a team effort and they require continuous open communication. Try to stay open-minded and really hear your partner out.
Not only will this conversation foster greater intimacy and a deeper connection but it can also act as a real libido boost and turn you on. After all, what's sexier than hearing your partner whispering in your ear everything they want to do to you?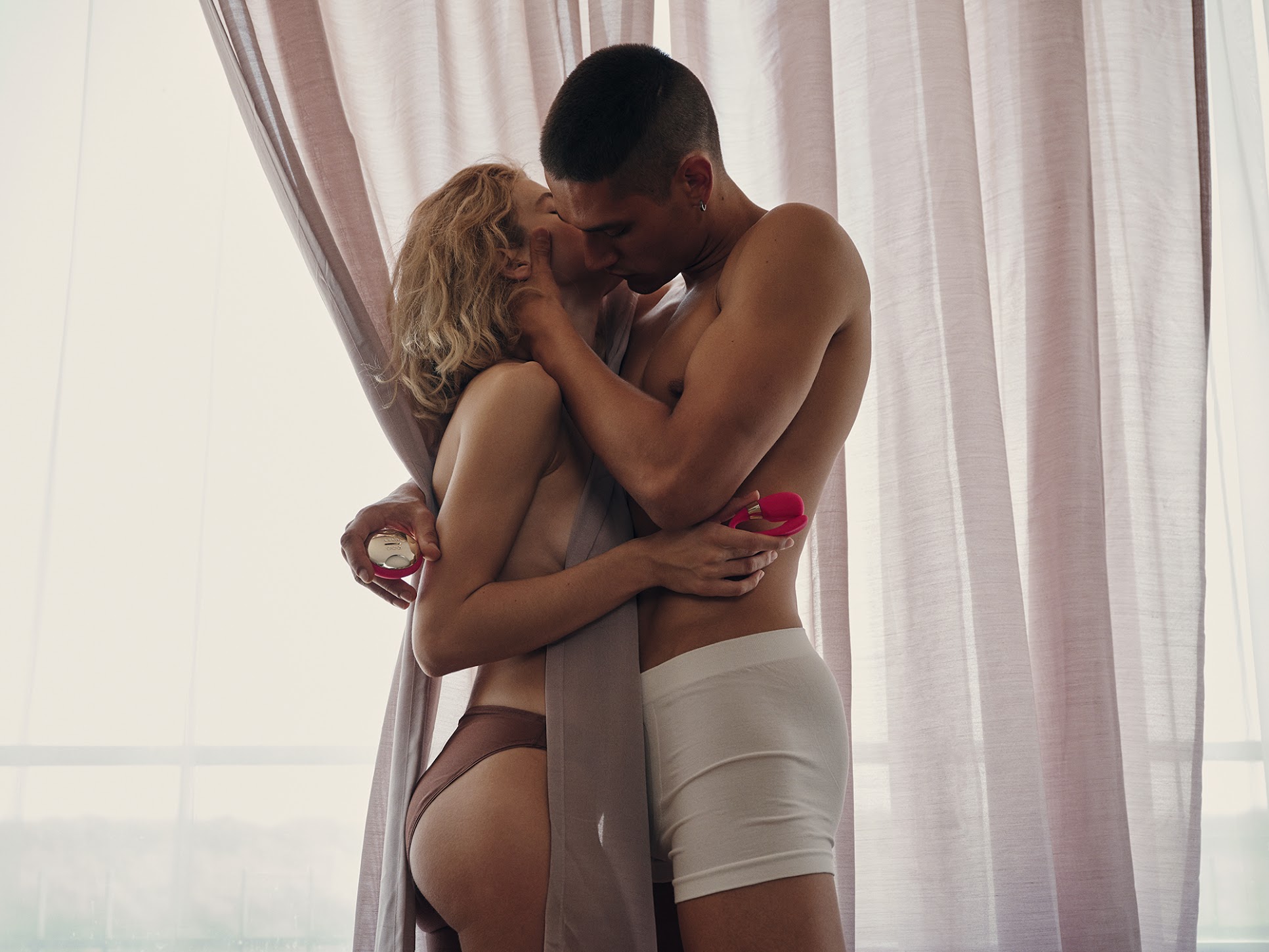 How Popular are Couples Sex Toys?
Extremely. Lots of couples are using sex toys. One key thing to keep in mind when raising the subject with your lover is that it's perfectly normal and you're definitely not alone in being intrigued by experimentation. There's a reason that so many couples use toys to elevate their sex life and that's because they feel incredible.
Introducing sex toys into your relationship really isn't that scary. They're not a replacement for anyone and it doesn't mean that anything is missing. There just might be other sensations out there that you and your partner are yet to experience!
Sex toys are there as an accessory to enhance your sex life in ways that aren't necessarily possible otherwise. Unfortunately, no human comes with lithium-ion rechargeable batteries and 10 different vibration patterns.
Park any doubts at the door because you really won't know until you try and anyway, you're in it together.
What are the Most Popular Sex Toys for Couples?
There are endless options when it comes to adding to your sex toy collection, and choosing the right one all depends on what you're hoping to bring to the bedroom. There are so many directions you could go in, be that hands-free foreplay, penetrative sex, BDSM or butt plugs, introducing sex toys to your intimate life will make date night far more exciting.
For beginners, typically popular choices include toys such as a bullet vibrator or a finger vibrator, which are easily handled and probably the least intimidating sex toys. Intimate toys like the bullet vibe offer incredible stimulation to the vulva, labia and clitoris and often feature various vibration modes from deep rumbling to gentle teasing. Couples with a little more experience might prefer something like a vibrating cock ring, or a couples love ring could do the trick. For those couples who really want to amp things up in the bedroom and push the boundaries, a strap-on for pegging could bring some exciting role reversal into your playtime.
Put simply, it's all about finding what works for you as a couple. Pleasure for you both is the priority here. Part of your open discussion should cover what you'd like to try, any fantasies or kinks you have and at what point you'd draw the line. Setting out these expectations and limits early on will help you introduce toys that suit both of your preferences.
Below are a selection of our recommended and most loved couples toys. Have a browse and simply click the link to shop.
Couples Vibrators
Experience nothing but good vibrations and enter a whole new world of rumbly buzzing stimulation with our extensive collection. From bullet vibes and G-spot vibrators to vibrating cock rings, there are numerous options when bringing a vibrator into couples play.
Take the We-Vibe Tango X, for example. Petite and discreet with 7 vibration modes to explore, this small bullet vibrator is ideal for your first time and as one of the world's most powerful bullet vibrators, it really packs a punch. Bullet vibes are small enough as to not feel intimidating but when held against any of the erogenous zones such as the nipples, clitoris or penis they provide sensational stimulation. What's more, their compact and easy to handle design means they can be used during foreplay as well as in various sex positions.
A vibrating alternative to the bullet vibe is the vibrating cock ring, otherwise known as a couples cock ring. These beauties are designed with both partners' pleasure in mind and that's what makes them quite so delightful.
Simultaneous stimulation for you both, what more could you ask for?
Cock rings sit at the base of the penis and tend to keep him harder for longer whilst sending out waves of sublime vibration for both to enjoy. What's more, many couples cock rings also feature a pair of clitoris stimulating flickering silicone rabbit ears, ideal for anyone who enjoys centring their play around clitoral stimulation.
Remote Control Toys
On a similar rumbling note, some of the latest phenomena within the realm of couples sex toys are the sensational remote control, Bluetooth and app-controlled toys. Not only are they an ideal alternative to sexting for long-distance couples but they also offer a perfect excuse for close by couples to try taking things outside of the bedroom. Mercilessly tease your partner from anywhere, watching them writhe and hold in gasps as you take control.
The We-Vibe Jive App Controlled Love Egg Vibrator is one of Harmony's most popular Bluetooth controlled wearable silicone G-spot vibrators. Controlled by the we-connect app it offers g-spot stimulation for the wearer every time without fail. Its elegant and innovative design means it holds in place until climax, no matter how you move, making it a perfect addition to any couples sex toy collection.
Why limit yourself to the bedroom? Remote control toys add a whole new dimension to the intimate landscape taking things outside the boudoir and are a no brainer for those in long-distance relationships. Remote control toys such as the LELO Lyla 2 Remote Control Love Egg wearable vibrator can be inserted internally before you hand over the remote and head out for the night. Then you can simply sit back and let your significant other tickle your erogenous zones and drive you wild.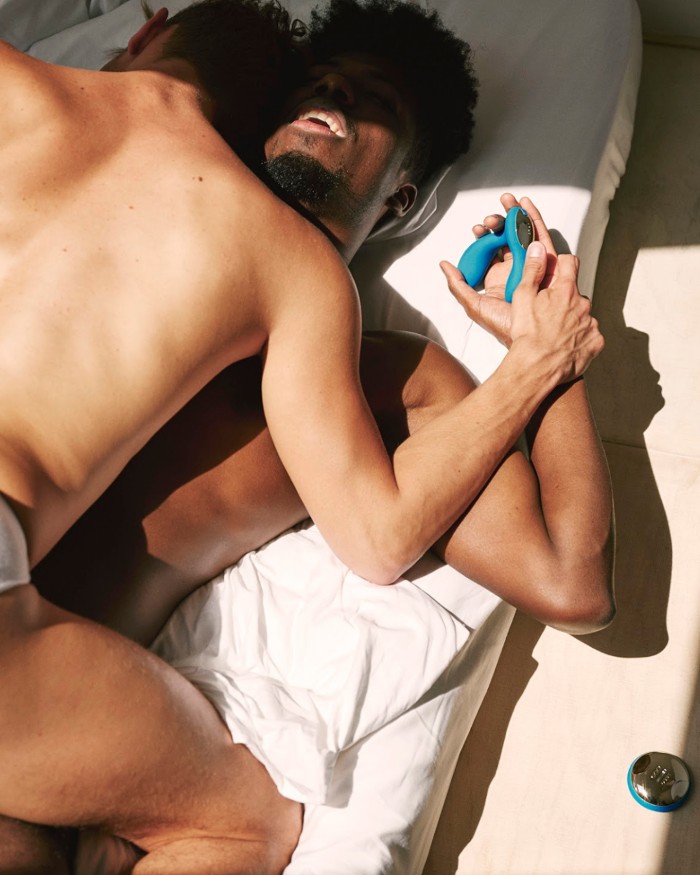 Enjoying the View
Sure, masturbation and solo play is fun but have you ever tried doing it in front of each other?
Watching your partner stimulate themselves is an amazing form of foreplay and a great alternative to oral sex if you want to mix things up in the bedroom. In this sense, almost all toys can be used as couples toys allowing you to satisfy yourselves or just warm yourselves up in front of each other whilst you enjoy the view...
Part of the beauty of our collection of dildos, vibrators and male masturbators is that they can be used by yourself or you can lie back and savour the sensations as your partner takes the reins.
An incredible toy for this kind of play is Fun Factory's Stronic Petite Mini Pulsator Vibrator. With 5 speeds and 3 vibration patterns, firm yet supple velvet-textured silicone pushes back and forth, delivering both a sensationally slow build-up of intensity and a mind-blowing internal massage. Designed with a hands-free experience in mind, its wavy rippled shape means it holds in place allowing you to busy your hands elsewhere on yourself or your lover, as you experience a toe-curling sensation like no other.
Sharing the love couldn't be any easier with LELO's Smart Wand Medium Massager Vibrator. Crafted from body-safe silicone, the LELO Smart Wand is high powered, whisper-quiet and boasts 8 settings. Using ground-breaking technology, the Smart Wand reacts to the movement of the body to intensify vibrations as you near your climax. Hand over the control to your significant other and have them tease and stimulate you to satisfaction, we're sure it's something you'll both enjoy.
Finally, although not necessarily a couples toy, all this talk of massagers has us thinking about our delightful range of sensual massage oils which also work wonders as an accessory for couples looking to take their intimacy to the next level.
If it's your first time using massage oils, my word you're in for a treat. An excellent form of foreplay, elevate your date night by lighting some candles and oiling up. Embrace your sensuality as you slip into ultimate relaxation whilst your partner caresses every inch of your body in delicious warming massage oils.
Anal Sex Toys for Couples
Curious about anal play? You're in the right place.
Anal play is less of a taboo now than ever and experimenting with anal sex toys to help explore the hidden depths of anal pleasure is a great option for couples seeking to ignite their sex life.
When it comes to anal play, comfort is key so, listen to the experts on this one and start small, especially if it's your first time or you're a beginner. Having said that, Harmony prides itself on having something for everyone, so for those more well acquainted with backdoor fun, there are plenty of larger and more intense anal toys to choose from.
For anal play beginners, we advise you to start slowly and liberally apply lube before penetrative sex. Using a butt plug can be a great way to get started and a silicone butt plug set offers a collection of varied shapes and sizes, perfect for introductory experimentation. You'll be spoilt for choice!
Once you and your partner are comfortable with anal play, you can explore bigger and more extreme anal toys. Pegging has become one of the latest sex sensations offering stimulation of the orgasm powerhouse - the p-spot- so if role reversal is your thing, why not give a strap-on dildo a try?
If you're looking to intensify your pleasure, add variety and turn up the excitement in your relationship couples sex toys are a must. Not only do adult toys for couples help you to connect better, but they could actually help you to be a better lover. These toys can teach you exactly how your partner wants to be pleasured and act as the perfect tool to tip them over the edge. We strongly believe there are 'different strokes for different folks' and our range of adult toys reflects that which is why we're confident you'll find something to satisfy both of you!
Shop our range of couples toys now, always delivered discreetly.