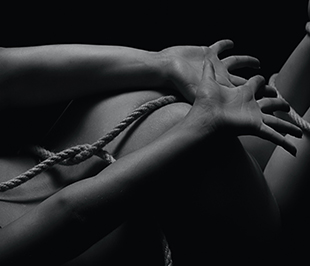 Most of us have read 'those' books. Some of us may also have seen the movie, and many of us may still wonder what the fascination is with BDSM. It's fairly well known that the connection between pleasure and pain is very real.
For those who have not delved into the depths of bondage or 'kinky' sex it can be difficult to imagine what the benefits are. Can physical restraint and pain actually be a good thing and improve your relationship? Yes it can and here is how.
Increased Trust and Intimacy.
We all know that you cannot have a relationship without trusting your partner. When we think about trust it is usually in a general way; we trust that our partner will not be unfaithful; we trust that they will be honest and caring and that they will always be there when we need them. This is a great foundation for a relationship but trust can go so much further than this alone.
When we think about BDSM the image that comes to mind is being tied and punished. While this is not always the case, let's focus on this for now as these are two separate activities.
When you are tied, either simply by the wrists or restrained more fully, you are allowing your partner to have full control over your body as well as your physical and emotional wellbeing. You trust your partner to know and understand your limits, what you like and what you don't. From your partner's perspective, they trust that you have confidence in them to know when to stop but also to tell them when to stop if they go too far.
What could possibly be intimate about being tied up, naked and exposed? This is kind of the point here. There are few things more intimate than giving yourself completely and unconditionally to your partner and trusting that they will not hurt you physically or emotionally.
Better Body Image.
Most of us have some issue with our body – scars, stretch marks or a few extra pounds. While this is a society perceived issue, made worse by media advertising, stepping out of your comfort zone with BDSM can go some way to help with this.
Allowing yourself to be exposed in this way gives your partner the opportunity to show how much they appreciate your physical appearance. If your partner tells you how great you look naked it can be easy to dismiss it, but it is harder to do this when they show you. They say actions speak louder than words and when they are focusing their attention solely on your body it is very loud and clear.
Better Sex.
BDSM doesn't have to end up with sex, but it's great if it does. For many couples, BDSM is used as a form of foreplay. While this may seem unconventional for some, it can work wonders when it comes to intercourse.
Indulging in BDSM as foreplay makes the whole experience longer and increases anticipation for what is to come. We all know what better sex leads to………
Better Orgasms.
There are many theories about what makes a great orgasm, but the combination of the above can lead to the best, most intense orgasms for both partners.
The higher level of trust and body image will help you to feel more relaxed with each other and this is great for reaching orgasm. The build-up of anticipation leading to the final release can often be very intense and satisfying.
If you have thought about introducing BDSM in to your bedroom but are still feeling restrained, give it a go but go slowly. You have nothing to lose and everything to gain