How to use a Massage Candle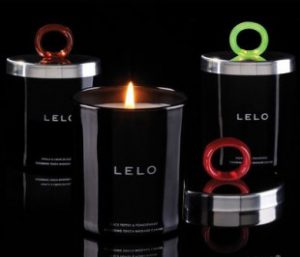 Giving your partner an erotic massage is a great way to connect with them on a physical and emotional level. So many of us see touch as a highly arousing and essential part of foreplay. Running your hands over each other's body and known hot spots can be an intimate introduction to help you relax in one another's company and build up to the main event.
Whether you're looking for a sexy gift, or something new to experiment with in the bedroom, massage candles allow you to safely and sensually explore erotic massage. They carry with them the added tantalising promise that your partner is about to lavish attention on your body and who could resist that?
The feel of the warm massage wax on your skin is a wonderful alternative to using an oil from a bottle and may help to soothe those tense spots just that little bit more.
They're also an ideal bedroom accessory if you're just easing into the thought of using couples sex toys, because if you accidentally leave it out then it will simply look like a scented candle. Using massage candles can also give your sex play a kinky edge, as demonstrated in the ITV This Morning Bondage for Beginners feature.
How do massage candles work?
Usually massage candles are made from a blend of natural waxes and oil (like soy wax and shea butter) and infused with exotic aromas to help get you in the mood. For example, Lelo's Black Pepper & Pomegranate is thoroughly invigorating and racy. Some massage candles are even flavoured and safe to lick off your partner's body.
The key difference between specially created erotic massage candles and regular candles is that massage candles will burn at a lower temperature. This means the natural waxes don't get as hot so is safer to put directly onto the skin.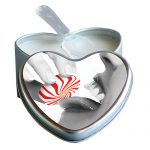 How to use a massage candle
Before giving an erotic massage it's important to set the scene to get you both in the right frame of mind. Although you want it to be a relaxing environment, you also don't want your partner to be so relaxed that they fall asleep (awkward!).
So make sure you get the ambiance just right…
Dim the lights and close the curtains; have some calm, but sexy and upbeat music softly playing in the background; clean the room of clutter; turn off that phone and laptop so there's no chance of being interrupted and finally, make sure it's not too cold. Goosebumps and shivering because of cold is neither sexy nor relaxing!
It's also a good idea to light the massage candle at this point. Depending on the size of the candle and how long you want the massage to last, it can take between 10 and 30 minutes for enough of the wax to melt and pool.
Spend the time kissing, undressing each other, or even sharing a shower to help build the erotic tension. By the time you return, enough of the candle should have melted.
Once liquefied, blow out the flame and dip your finger into the pool of massage lotion to check the temperature is to your liking. It should feel smooth and slippery, like a warm moisturiser. Now the fun can begin…
Drizzle and pour the liquid onto your lover's body, or into the palm of your hand. Some massage candles, like the Earthly Body 3 in 1 Edible Massage Candle, even come with a small spoon so you can easily and accurately apply the lotion exactly where you want it.
Move your hands in soft to firm circles over their outer erogenous zones – back, shoulders, inner arms, thighs, palms of hands. Remember, this is supposed to be an erotic massage so allow your fingertips and hands to linger around the areas that you know your partner loves to have touched.
Leave the candle to cool and it will solidify, ready for the next sexy session. If you find you need more lotion, then relight the candle and allow more of the wax to melt before blowing out the flame and reapplying the lotion.
Massage candles are not a lubricant
While the lotion from massage candles are wonderful for applying to outer erogenous zones, please note that they are not suitable for use with condoms and should not be used as an intimate lubricant.
If you're looking for a massage lotion that is safe to use with sheaths, then try the Durex Play 2 in 1 Lubricant, or even a thicker silicone lube.