Is Bondage Really that Kinky a Fetish?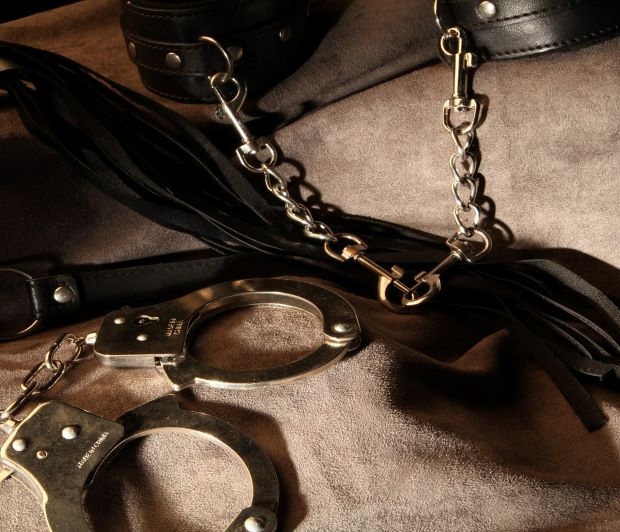 Imagine 'bondage' and your mind's eye may flit across images of blindfolds, spanking, leather and handcuffs. It's a word that has become a catch-all for anything even the slightest bit kinky. That's fine, until needing to talk specifically about bondage as a fetish, because a love of bondage doesn't necessarily include all of those things. A love of bondage is simply finding pleasure in being tied up and restrained. The whipping bit is optional.
Bondage can take many forms, ranging from soft, sensual bedroom bondage using lengths of satin tied to bed posts, all the way through to elaborate Japanese Shibari rope bondage suspensions (when you're in bondage and suspended in mid-air).
Along with being tied up, you may enjoy some consensual BDSM sex, coupled with dominatrix (or dom) play. Bondage sex can be a lot of fun so long as you make sure that everyone is comfortable with the situation and you have a safeword on hand. Some people enjoy quite hardcore or rough BDSM and other folks prefer things to be more slow and sensual. So you need to establish the ground rules for whatever BDSM fetish you are experimenting with prior to beginning play.
Often bondage can be coupled with other activities, such as rough sex, femdom, cuckolding, flogging, facesitting, threesomes, orgies and the use of sex toys such as vibrators, dildos or clamps. As long as everyone enjoys and consents to the experience and you ensure that it is safe and healthy, then whatever kinky sex you introduce is fine. Some people like to dress up in lingerie to provide extra stimulation while others prefer the opposite and enjoy sensory deprivation along with their masochism and sadism.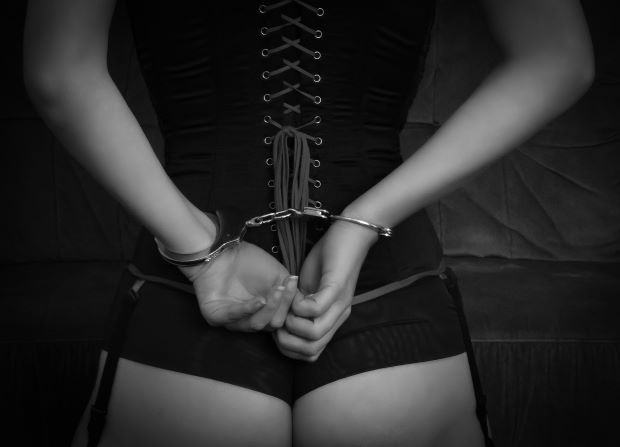 Why is bondage so enjoyable?
Apart from emphasising dominant and submissive roles, bondage can be sexy because of how the bonds feel wrapped around the body and against the contour of the skin. Having movement restricted and struggling against restraints can evoke feelings of helplessness that can lead subs into the all-encompassing subspace land. Although for some, part of the pleasure comes from trying to wriggle free.
Seeing a partner in bondage can also be visually stimulating. Especially if tying someone up using elaborate and beautiful Shibari. For a submissive, light skin marking left by bondage rope or cuffs can be extremely visually satisfying.
Keeping bondage safe
Bondage involves trust. With movement restricted a submissive partner is at the mercy of their Dom. They need to be able to trust that they can keep them safe.
Once restrained, regularly check that the bonds aren't too tight or at risk of cutting off circulation. Try to check that the position you've tied your partner in continues to be comfortable. Should a submissive complain of pins and needles, bonds should be loosened off or removed completely and a different position experimented with.
For peace of mind and in case of emergencies, keep a pair of safety scissors handy (the type you'd find in a first aid kit), in case you need to quickly cut your partner loose or the knots become so tight you can't undo them.
When you're ready to give bondage a go
Pick your restraints. There are many options available. For bondage beginners, silky restraints, basic handcuffs, or a roll of bondage tape are good choices. These are easy to use, affordable and are unlikely to mark the skin.
Practise any knots or fastenings. If using bondage rope or satin ties, do some research beforehand. Learn a few basic bondage knots so you can be confident you're restraining your partner securely and safely.
Have a plan. So one of you is tied up. Now what? To avoid mood-ruining hesitation or any limits being crossed, before play starts discuss what you'd like to try once bound. This could be:
· Exploring a fantasy role play
· Having sex with an added kinky BDSM factor
· Trying other BDSM play like spanking, tickling or wax play
Discover more about your bondage kink
As well as being able to shop for bondage restraints of all varieties, you can also find out more about the practicalities of tie-up and tease play on our blog.
Articles you may also find interesting:
What is BDSM Subspace? We Asked a Submissive