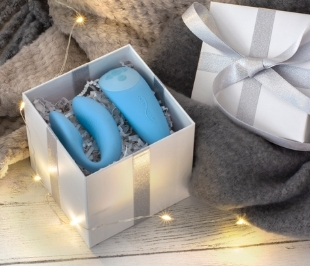 Top tips on how to buy her a sex toy she'll love
There's a common misconception that bringing a toy, lube or a bit of kink into the bedroom is a suggestion that your sex life is lacking. When in fact, it can be entirely the opposite. Buying a sex toy for a woman can be a thoughtful, erotic, sensual gift and potentially increase the intimacy between you. Showing that you want to share even better sex together.
It's not uncommon for people to come in store, or give us a call, asking for advice on how to find the right intimate item for their partner. We know that trying to find the best sex toy that she'll love can be a daunting task, especially if you're wanting it to be a surprise gift, so there's no shame in asking for tips. It's what our Sales Assistants are here for after all! Picking carefully and wisely could be the difference between her loving it, or hating it.
Here's our quick tip guide with everything you need to know about buying her a sex toy.
Options like these are actually brilliant first-time sex toys too, because they're often inexpensive, more discreet than a vibrator or dildo and can be used on her as well as by her. It gives your partner the option to turn the tables and use them on you too, which she might actually find more erotic. It's definitely worth considering that she may want to give, as well as receive, the pleasure delivered by your sex toy choice.
Think about where you want to use it
Depending on which erogenous zone(s) you want to stimulate will influence your decision on the toy you want to buy, so have a think about how you want to use it.
It's a well-known fact that many women don't orgasm from penetration alone, so are you looking to give some clitoral stimulation? Something like a clitoral suction toy from Womanizer gives a completely different sensation on the clitoris, using pulses of air to almost simulate oral sex. Or do you want something to give extra stimulation during penetration? In which case, a cock ring is a perfect choice.
Do you want to help stimulate that elusive G-Spot for a different type of orgasm? In which case, you need a specific G-Spot Vibrator, curved in just the right place to hit that spongy section on the front wall of the vagina.
Have you talked about introducing some anal play? In which case, perhaps starting off with a small butt plug is the answer?
If you're really not sure where to start, a magic wand is an ideal choice. These look a lot less intimidating and can be used across the body as a massager as well as vibrating over your erogenous zones, making it a great tool to introduce into your foreplay. Opt for a rechargeable one so that you don't have a long wire to contend with and you can use it across each other's bodies to your hearts' content - before landing on her clit for a powerful and intense orgasm!
Are you looking to get a bit kinky?
As we said, not all toys need to vibrate. Perhaps you've been watching Fifty Shades of Grey together and are interested in bringing some bondage into the bedroom? If that's the case, have a look at our Beginners Guide to Bondage for some more info.
Do you want to try out some new sex positions? There's a great range of sexual positioning equipment that can be used over a door or under a mattress in your own bedroom, allowing you to get really creative without having to build your own red room.
Go for multiple settings
If you do decide to go down the vibrator route, then pick one that has multiple speeds or vibration patterns. Most vibes, even the smallest bullet vibrators come with at least three speeds these days. This will instantly give her the option to tailor the power to her own specific desires.
Be practical
Try to be practical in your sex toy choice. Rocking up with the biggest, loudest, most powerful vibrator in all the world probably isn't going to be the best idea if she lives in a house share with thin walls and barely enough space to swing a cat.
Think about how or where she might store this lovely new sex toy when she's not using it. If she only has a bedside or underwear draw to stash it in then a bullet vibrator, or discreet clitoral stimulator may be the best option.
How about noise? If she's living with others and doesn't want them to know her vibrator habits then you'll need to pick one that's whisper quiet.
Go for a multi-purpose vibe
While some women are all about the clit stim, others prefer full-on penetration and G-spot play. But then again others require a bit of both in order to reach the Big O. So it's worth looking for something that will cover a couple of bases.
Classic style vibrators allow for a bit of both. Long enough to be safely used for penetration, but often with ends and tips that can deliver focused stimulation to the clitoris or G-spot.
Alternatively, opt for a rabbit vibrator which will simultaneously stimulate the vagina and clitoris. From this she could experience what's called a blended orgasm the stimulation of more than one erogenous zone to reach climax - but more importantly, it gives her the option to experiment further with what style of play she prefers.
Material matters
Sex toys can be made from heaps of different materials: glass, silicone, rubber, latex, plastic…the list goes on. Each texture has its own benefits and drawbacks. For example, glass sex toys feel very firm and rigid, but can deliver amazing stimulating friction and are safe to use with any type of lubricant. Silicone, on the other hand, can feel smooth, warm and be brilliantly hygienic, but can only be used with water-based lubes. Meanwhile, rubber is much more flexible and softer, but might be porous so needs extra care when cleaning.
While we strive to stock sex toys that are free from phthalates and totally body safe, it's always worth double checking that what you're buying her is top quality. You can do this by checking the description and Additional Info tab when on a product page. It will be noted there what material the sex toy is made from.
It's also important to try and find out if she has any allergies. For example, latex allergies are not uncommon, so if you know latex causes her irritation you'd want to avoid any sex toys made from this.
A pleasure shared
If you're really not sure how she'll react to being given a sex toy just for her to use, then picking one that's suitable for couples means you can explore and enjoy it together. This removes any potential pressure as the onus won't totally be on her. Vibrating cock rings and finger vibrators are perfect as you can easily use them together and on each other.
Or if you really want to go for the shared stimulation, try a couples vibrator like the We-Vibe Chorus. Its larger arm bends around the body to sit against the clitoris while the smaller arm fits inside the vagina resting against the g-spot with enough space to allow the penis to slide alongside and experience new levels of stimulation!
Do you want a toy that can be used long-distance?
Many couples, especially during the recent pandemic find themselves separated for long periods of time. But that doesn't stop you from sharing intimacy, even when you're miles apart. There's now a fantastic range of remote control sex toys that can be operated via an app, allowing you to connect through mutual masturbation and control your partner's toy from your own phone.
Need more help?
If you're still unsure what sex toy to buy her and need some more advice, then you can email us at enquiries@harmonystore.co.uk. Alternatively, visit one of our London sex shops and our expert Sales Assistants will be able to help you find the perfect sex toy gift.
---