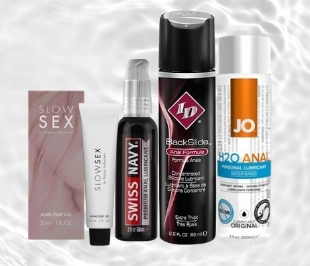 When engaging in any kind of anal play, a good personal lubricant is an absolute must.
Not only does a smooth glide make everything much more pleasurable, but the anus and rectum don't naturally self-lubricate like the vagina does, so you're gonna need a quality lube, LOTS of it, and preferably one designed specifically for anal play.
Why use anal lube?
As with any penetration, keeping things sliding with some extra lubrication makes the whole experience so much more enjoyable and can be the difference between a body-shaking orgasm and a tingling tease. Whether you're having anal sex with a partner, using a butt plug or vibrator, the liberal use of lube will reduce friction, preventing painful tears or damage to the delicate rectal tissue.
Anal lubes are designed to be a bit thicker making it easier to apply and stay where you want it. Plus, being a bit thicker, it lasts a little longer so you won't need to keep reapplying. A lot of people say that anal lubes feel more "buttery" and "cushioning", leading to a much more comfortable experience for both partners.
Which anal lube to choose?
There are generally three types of anal lubricant.
Firstly, water-based lube. This is your general, all-rounder. Safe to use with latex condoms and silicone sex toys, and being water-based, it's really easy to clean up. On the downside, it often isn't as slippery as silicone or oil-based lubes and can dry out after a while, so if you're in for a long session, a little reapplication is all that's needed.
Secondly, are silicone lubes. These offer a much smoother glide and are also great if you're taking your play somewhere wet like the shower, bath, or even the pool! Most of these can still be used with condoms too (just double-check your final choice before you purchase), but they can't be used with silicone sex toys as they can break down the material. So if you're playing with toys, be sure to go for something glass or metal, or stick with the water-based lube.
Last up are oil-based lubes. Which are really slick and long-lasting, but are a definite no if you're using condoms as it will erode the latex causing breakage which can lead to the spread of STIs.
Here's a quick rundown of some of the best lubes for anal play.
from £8.99 for 30ml
Thick, cushiony, smooth, and long-lasting; ID Backslide has been specifically designed for anal sex and pleasure. This silicone lubricant not only has super slip but also contains clove and spilanthes that act as a mild muscle relaxant. This makes penetration easier but doesn't dull any of the pleasure.
For added ease, try the pack of Anal Insert Tubes that are shaped for easy application and getting the wet and slippy stuff right where you want it!
£12.99
With its velvety slickness, this silicone lube comes very highly rated for its soothing and moisturising properties. The long-lasting formula includes natural clove leaf oil for a very gentle numbing effect making for a more comfortable experience.
£16.99
With its handy pump dispenser and slick, oil-based formula, Doc Johnson's Anal Glide is a popular choice. Thick and long-lasting, a little goes a long way making it a really economical choice. Made with natural petroleum, it's non-sticky and super slick, ensuring maximum comfort. Plus it's free from parabens, glycerin and sugar, so great for sensitive skin too. (Just remember this one can't be used with condoms due to the oil-based formula!)
From £9.99 for 60ml
Whether it's your first time or you're an anal sex expert, the thick, water-based Anal H2O by Jo is a great choice. Perfect for use with latex condoms and all sex toys, it washes away for easy clean-up and won't stain clothes or bed sheets either.
£12.99
This thick, water-based gel is safe for use with silicone toys and condoms, plus it features an all-natural vegan-friendly formula, that's paraben-free and cruelty-free, for sensual guilt-free pleasure!
Containing arnica, chamomile, and aloe vera to increase hydration, this gel feels fantastic on the skin and actively encourages anal elasticity for reduced friction. With its delicious coconut aroma, this sensual anal gel smells, and tastes, great, making it the perfect accessory for long and intimate couple play!
A few no-nos
Whether you're introducing the idea of anal into your sex life for the first time or you're an anal aficionado, a bit of backdoor fun can be a highly pleasurable experience. However, your sexual health and wellness must always come first.
Whilst it might be tempting if you've got nothing else to hand, don't reach for the Vaseline! It might be great for chapped lips, but petroleum jelly wasn't intended to be used as a sex lube. It doesn't absorb into the skin and if your partner has a vagina, its sticky texture can invite bacteria to hang around leading to a possible infection.
Similarly, coconut oil isn't particularly recommended either. Whilst it seems like a more natural lube choice, it may not be vulva friendly due to its high pH - whereas the vagina has a low pH. So if it strays near the vulva, you could be in for a bit of a yeast infection. Which is never pleasant!
Avoid going from anal to vaginal sex. It's natural for the rectum to hold some bacteria from your stool, but transmitting this to the vulva and vagina can increase the risk of infections like bacterial vaginosis, yeast infection, or UTIs. If you do want to switch things up, just be sure to wash the penis, finger, or toy that was introduced to the anus first.
Don't go rushing straight in. It's important to be fully relaxed before inserting anything into the anus, so make sure you get plenty of foreplay in first and work up to it. Warm things up with some anal massage (using plenty of lube!) and if it's your first time, just take things slowly. Before you introduce anal play with a partner, it's often a good idea to try things out yourself beforehand so that you know what you like and can communicate this. So if it's something you're keen to try, see how things feel with some masturbation first.
---