MythBusters – Sex and the Menopause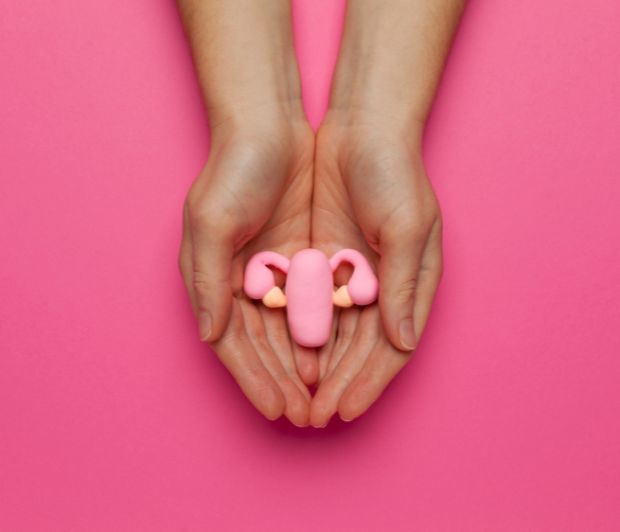 Welcome back to Harmony's regular MythBusters series. Here, we look at common misconceptions surrounding sex, give them the once-over, and shine a light on what's really happening under the covers and beyond the bedroom.
SHRIVELLED VAGINAS, DISAPPEARING LIBIDOS?!
Women's health and the health of those AFAB (Assigned Female At Birth) have been somewhat neglected over the years so as part of an effort to open up dialogue, we're tackling a subject that directly affects over 50% of the population. It has the power to reduce people with vaginas to wobbling messes, and not in the way we're fans of here at Harmony.
That's right, everybody give a hot hello to The Menopause. We thought it was high time Harmony took The Menopause to task because you better believe, sex only gets better with age!
With the amount of misinformation around, it's perfectly understandable that those of us who will go through it – or who are in the thick of it right now – think our sex lives have reached the end of the road and our vaginas are destined to shrivel like dusty old prunes. Time to dispel those myths!
MYTH 1 – MENOPAUSE ONLY HAPPENS TO OLDER PEOPLE WITH VAGINAS

While the average age to start menopause – perimenopause – in the UK is 51, it's not uncommon for people to experience early menopause in their mid-to-late 30s (or with extremely premature menopause even earlier), or as late as their 60s. So, there's no cookie-cutter formula for menopause, it's as individual as our vaginas are. It comes when it's ready (like our vaginas...) even if that's when we're at the height of our sexual prowess. A handy tip is to speak with the other people in your family who've been through it already - family history is a great indicator of how your own journey might pan out.
MYTH 2 – MENOPAUSE HAPPENS OVERNIGHT

Symptoms of menopause are varied and can go on for months, sometimes years before periods stop and you become postmenopausal (usually a year after your last period). One of the first signs is a change in the pattern of your menstrual cycle. You may start having unusually light or heavy menstrual periods or go from being like clockwork to irregular periods, one every two weeks, or every two months.
If you have a sneaking suspicion that menopause may be on the horizon, take stock of other changes to your usual demeanour. These could include menopausal symptoms like anxiety, low moods (or mood swings), changes in your skin's complexion, problems sleeping, hot flashes, night sweats, hair loss or thinning, weight gain, 'brain fog', discomfort during sex, lower libido, increased frequency of urinary tract infections, migraines, or just an overall sense of not being your usual self. Yep, she's a doozy, but the more aware we are of the common symptoms menopause brings to the table, the easier it is to take control.
MYTH 3 – MENOPAUSE ENDS SEXUAL DESIRE AND PLEASURE

There is some foundation of truth here, but it's not the whole story. Of all the women and AFAB people who experience menopause, around 75% will experience some kind of fluctuation in their sexual desire (and not necessarily a dip – hands up who's currently taking full advantage of Empty Nest syndrome?). A lucky 25% of us won't experience any symptoms at all!
If you are experiencing a lower libido, this may be down to hormonal changes in testosterone and/or estrogen levels or because, quite frankly, when you're going through mood changes and hot flushes, you might not feel like the energetic little minx you previously had been.
During menopause, it is natural for FSH, progesterone and oestrogen levels to fall. To counteract this drop in hormones and to help treat menopausal symptoms, oestrogen and progesterone are often provided by doctors.
Whatever cocktail of menopausal witchery your ovaries are unleashing on you a) you're not alone and b) there are plenty of ways to combat it. From speaking to your doctor about HRT (hormone replacement therapy) to exploring new and different ways to engage your brain and your body for a higher sex drive, leave no stone unturned in your quest for sexual pleasure – you're worth it!
MYTH 4 - MENOPAUSE IS ALL BAD

Believe it or not, despite the hormonal chaos, there are some positives.
Firstly and most obviously, you can wave goodbye to periods and cramps. No more ruined underwear, the freedom to float about in white trousers whenever the urge strikes and potential yearly savings of up to £128.
What's more, people who partner with men who make sperm don't have to worry about contraception. Yep, that's right, throw your birth control pills out the window! Or do something a little less dramatic and just stop taking them. One of the shiniest silver linings of menstruation ending is the joy of no longer worrying about unintended pregnancy. So although your hormones temporarily take a battering during menopause, there is light, the prospect of carefree sex and some semblance of hormonal balance at the end of the tunnel.
Sex is an important aspect of life even when the body is going through ch-ch-ch-ch-changes so before you go reaching for your reading glasses and a good book, stop! We've got some incredible products at Harmony that can help your menopausal sex life go from strength to strength…
SLIP AND SLIDE INTO GREAT SEX

Great for all kinds of sex play, lube seriously comes into its own for anyone who needs that extra bit of wetness. With so many different types of lubes, in all sorts of colours, flavours, sensations and consistencies, there really is something for everyone.
The main difference between most lubes is down to the base ingredient: water or silicone. If you have a magnificent collection of silicone dildos for strap-on sex or pegging, you do not want to get silicone lube. Silicone-on-silicone equals damaged dildos, which in turn equals tears in the bedroom! Keep it water-based only for any toys made from silicone, including vibrators. With that in mind, we've plumped for water-based lubes only here.
SHOP NOW
SILKY THRILL

Durex Naturals Intimate Gel is great for all kinds of play, reliable and from one of the most trusted brands in Britain's bedrooms. Made from natural ingredients, it also contains prebiotics that moisturise your skin for an extra silky thrill – what's not to love?!
If your skin is of a sensitive persuasion, then System JO's Agape Water-Based Lube is the one for you. With an extra-gentle formula that's pH-balanced, glycerine-free, and oil-free, this won't cause any irritation, leaving you free to enjoy lengthy sensual sessions with your significant other or your favourite vibe.
TINGLING SENSATIONS

Taking it to a totally different level is ON's Natural Arousal Oil Ultra. Made from 100% natural botanical ingredients and essential oils, this bottle of pure joy delivers incredibly powerful warming and tingling sensations wherever you place it. Just a couple of drops on the lips of your vulva or your clit and in two minutes you'll be squirming delightfully under its unique buzzing, vibrating sensation.
NATURAL HIGHS

Made from 100% natural ingredients and hemp seed oil is High On Love's Stimulating Oil. This beauty can increase blood flow to your vagina and vulva, promoting the production of your natural love juices and heightening spine-tingling sensations. Specifically designed for anyone experiencing vaginal dryness, discomfort or a decreased libido, just a few drops will get you off... to a flying start.
KEGELS

Pelvic floor exercises – or Kegel exercises – are a menopausal person's best friend. Not only do they help strengthen the muscles that support and control your bladder and bowel, but they also get the blood flowing to the glands that produce your natural vaginal lubrication. And, by getting the blood pumping to these areas, you're also encouraging the healing of any damage caused by vaginal atrophy, which can make sexual intimacy painful.
There are plenty of Kegel balls at Harmony but one of our favourites has got to be the waterproof Bloom from We-Vibe. With three different weights and 10 vibration settings, this little beauty is USB charged and comes with a training app for your phone that lets you customise the experience and track your progress!
VIBRATORS

Another way to get the blood pumping is – of course – vibrators. Coming in a glorious array of different shapes and sizes, vibrators aren't built for penetration alone but can be used on the outside of the body, perfect for anyone dealing with discomfort or pain because of menopause.
FLUSH TO THE FLESH

Ergonomically designed to lie flush to the body's natural curves is the sensational Frida Lay-On Vibrator. Pretty in peach and made from body-safe silicone, the Frida Lay-On targets your vulva with knee-trembling vibrations in four separate modes. Lie back and enjoy, or slip it inside your panties for some al-fresco naughtiness! Another of our app-controlled Bluetooth toys, connect your Frida to Vibio's phone app and control it yourself or hand it over to your SO.
(AIR) KISS YOUR CLIT

The Womanizer Liberty Clitoral Stimulator will get your blood pumping, your eyes crossing, and your head thrown back like you're suing for whiplash. With its Air Pleasure technology and six different settings, the Liberty is a sure-fire way of maximising orgasmic sensations. Small enough to fit into the palm of your hand, the patented Pleasure Air Technology stimulates the clitoris with gentle suction and soft massaging airwaves, all without touching the actual clitoris. Mind and body-blowing!
So, there you have it. Menopause absolutely doesn't mean the end of your sexual identity. In fact, it's just the start of a whole new chapter at a time when you know yourself better than you ever have before. With a little bit of help from yours truly, you can have the best sex of your life!
MENOPAUSE. MYTHS. BUSTED!
As with any subject that's associated with your health and potential medical conditions, Harmony recommends you speak to a healthcare professional or gynecologist about lifestyle changes and treatment options, including hormone replacement therapy. Menopause and a change in hormone levels can lead to several health conditions, including an increased risk of heart disease, autoimmune diseases, cardiovascular disease, osteoporosis, urinary incontinence, thyroid problems, sleep problems and more. For more information, visit www.menopause.org.