How to use a vibrator for the first time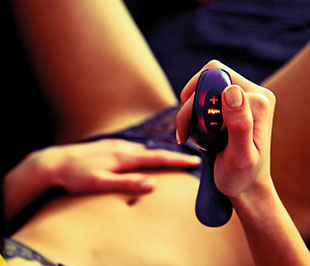 So you've bought your first vibrator? Congratulations! You're about to embark on a mind-blowing journey of sexual self-discovery.
As many a sex expert will agree, your own personal wellness is paramount and masturbation is the ultimate in self-care. Not only does it feel good, but also brings a range of positive side effects to your physical and mental wellbeing. Orgasms release oxytocin, dopamine and endorphins; the happy hormones! Helping reduce stress, relieve tension and improve your mood. However, many people find it difficult to reach orgasm every time from masturbating manually. Turning to a vibrator to help you along your way offers a great way to get to know your body and understand it. Not to mention it can have a very positive impact on your sex life. If you know what sensations and stimulating which erogenous zones bring you sexual pleasure and reach orgasm, it will also help make you more confident in bed and more vocal with a partner. When you know what you like, you can tell them how and where to touch you.
So before you get carried away with your new buzzy best friend, here are a few steps to get you started.
What's in the box
This is one of those occasions where reading the manual is actually a pretty good idea. There are some handy hints and information here that first-timers will need to know, so take the time to give it a quick read. Being sure of what it's made from and whether it's fully-waterproof are really important features to know when it comes to the cleaning and care of your toy (more on that below).
Understand how to turn it on - and off! Seems simple, but different toys and brands operate in very different ways. Most will turn on by holding down a particular button for a few seconds and similarly for turning it off.
Give it a full charge. When getting to know your vibrator, it's important to know its full capabilities from the start. Some may lose some of their intensity as the battery goes down so you want to learn what it's like with its full power. If it's rechargeable, most vibrators will come with a residual charge, but it's always best to get it fully charged up before the first time you use it. If it's battery-operated, be sure to get a fresh set of batteries.
Get to know your new toy
Not all vibrators are created equal, so before you put your new vibe anywhere near your genitals, get to know how it works and its different functions. Whether you've bought a vibrator for external or internal stimulation, take some time to test the different vibration patterns and intensities. Try them on your hand or arm first to get a feel for its different settings.
If you've bought a rabbit vibrator, these often have two motors that can be controlled separately for clitoral stimulation and internally against the g-spot. Similarly the same for prostate vibrators that stimulate internally and against the perineum too. So it's best to learn which button does what beforehand so that you're not suddenly reaching for the manual when you're trying to orgasm!
If you've gone for a simple bullet vibrator, these are great for targeted vibrations against the clitoris, whilst wand massagers and palm vibrators give more broad stimulation across the entire vulva.
A vibrating cock ring is a common choice as a first-time toy for couples. For the person with the penis, they will feel the deep rumbly vibrations down the shaft plus it will keep the penis harder for longer. Then during penetrative sex, it vibrates against the clitoris or perineum for double the orgasmic pleasure. This is definitely one to get to know first to make sure it's comfortable and you know how to operate the vibration settings before using it with your partner.
If you've opted for a 'clit sucking' toy, these give a different type of external stimulation entirely, so definitely give the manual a quick read! These use the push and pull of air suction to gently simulate sensations felt during oral sex. Carefully separate your labia and position the circular head over the clitoris. Then as you turn it on, you'll feel the pulsations of air against your clit.
Give it a wash!
Cleaning your sex toys is essential. So before you use it for the first time, give it a wash with a sex toy cleaner or some gentle soap and rinse off thoroughly. Just double-check the material it's made from and how it's motorized before you go submerging it into hot water. The last thing you want to do is break it before you've even used it. For more details, read our post on cleaning your sex toys.
Set the mood
The first time you use a vibrator should be a fun and liberating experience. It isn't something that should be rushed. Make sure you have plenty of time and that you're not going to be interrupted. Do things that will make you feel sexy - put on some music, sexy lingerie, soft lighting or candles, fantasize, read erotica or turn on some porn. Whatever gets you in the mood.
Give yourself some foreplay
Heads-up, your genitals aren't your only erogenous zones! Yes, there's no denying that using your vibrator directly where it was intended will result in some great orgasms, but even when you're on your own, it's important to warm your body up and give yourself some foreplay. Try the different vibration patterns across your neck, stomach, inner thigh, nipples and perineum too. The more you learn about your own body, the better sex with a partner will be too.
Use some lube
Keeping things sliding can be the difference between a tingly tease and a thigh-crumbling orgasm. A good lube will cut down on friction or any uncomfortable rubbing and just make everything so much more pleasurable. An important thing to remember is not to use a silicone lubricant with a silicone toy as the silicone in the lube will break down the rubber of the toy. A good water-based lubricant will serve you well for all eventualities.
Start off slowly
If you've come this far and invested in a vibrator, we're going to assume you've experimented with your own manual masturbation already. Be prepared for things to feel very different! The first time you use a vibrator, things can feel quite intense. There is such a thing as over-stimulation, especially on the clitoris which can leave it feeling numb. So be sure to start on the lower, rumbly vibration settings then as you get used to the different sensations, you can crank things up a notch if you want to.
Once you've mastered the different settings and intensity levels, how and where you position the vibrator also has different effects and sensations. Some people like targeted pressure against their clitoris, others find this too much and like a broader sensation across their labia and vulva. You can try laying on top of the toy or 'riding' it, tapping it against your body, grinding against it, or use it lightly over your genitals to tease and tickle. How you hold it is also up to you and what feels comfortable. Try slipping it into your underwear if you don't want to hold it with your hands, or once you have it in a place you like, squeeze your thighs together to hold it there.
The important thing is to experiment and see what works for you.
Clean and store it
It may well be the last thing you want to do in the glow of a mind-blowing orgasm, but it's vital to wash your vibrator and store it away safely. Silicone can attract a lot of hair and dust, so keeping your sex toys clean will prevent the material from harbouring any harmful bacteria that could cause an infection. So as before, give it a wash with some toy cleaner or soap and water. Some vibrators will come with their own satin storage pouch to keep it free from dust and lint, but if it doesn't, find another cloth or silk bag to store it in.
At the end of the day, there's no wrong way to masturbate with a vibrator. Take your time, try it in different ways and see what works for you!
---