How to have better foreplay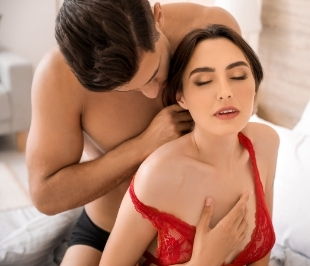 12 ideas and tips for your best foreplay
Good sex starts with good foreplay.
Foreplay gets the juices flowing - literally! Your heart rate quickens, increased blood flow causes the clitoris, labia and penis to swell, and the vagina to lubricate.
Unless launching into a quickie, foreplay shouldn't be something that's rushed. It should get you both in the mood, heightening anticipation as you build towards the main event. That said, a hot and heavy foreplay session can be all the main event you want. Intercourse doesn't always need to be on the menu - some of the best sex can be in the build-up beforehand.
Foreplay should be fun and exciting. It should have your body buzzing and lusting for more. Whether you're in a long-term relationship or it's your first time with a new partner, taking the time to engage in good foreplay often gets forgotten. If you find yourself going through the same old routine, it's definitely time to spice things up with a few of these foreplay tips. And you never know, you may even find that these are enough to leave you satisfied so sex isn't even required!
1. Start before you get to the bedroom
You don't even need to be in the same room to get things going. If you know you're getting together later that day, try sexting them a naughty message or a teasing pic (but only ever if you have their consent). A sext telling them what you're looking forward to, or what you're planning on doing to them, is sure to get things stirring below the belt.
If you're feeling really adventurous, use a wireless remote control sex toy and hand the controller over to your lover. Something like the We-Vibe Jive that can be controlled using a smartphone is perfect. The anticipation of letting your lover choose when you get to experience a burst of vibration will keep you on your toes and create a very sexy tension between you.
2. Kiss me like you mean it
A long, deep, slow sexy kiss is the perfect starting place for foreplay. It lets your partner know exactly what type of mood you're in without a single word passing between you. Kissing has a chemical reaction in your body too, releasing oxytocin, dopamine, and serotonin, increasing feelings of affection, bonding, and euphoria.
Vary the pressure of each kiss from light, barely-there lip caresses to gentle nibbling and fuller, open-mouthed kissing, letting your tongues roam and explore.
3. Keep the clothes on (for a while at least)
Not just for horny teenagers, dry humping can actually be a hugely erotic experience. Build the anticipation as your bodies rub together or stroke each other's genitals over their clothing.
4. Talk dirty
A little bit of dirty talk can be a huge turn on. Not sure where to start? Don't overthink it. And there's no need to start uttering a load of expletives. Just start by telling your lover, exactly what you want them to do, which body parts you want them to touch and how, in your most seductive voice.
5. Touch and explore their whole body
Spending time touching is an important aspect of foreplay because it helps to create a greater connection and physical bond. Let your lips and hands roam over your partner's body exploring all of their erogenous zones. Nibble their earlobes, neck and shoulders, kiss your way down their torso, over their hips and inner thighs.
Go a step further and give your partner a sensual massage. Not only does this feel great, but showing how much you love every inch of your partner's body helps reduce inhibitions and relaxes any nervous tension. Erotic massage is also a great way of discovering what your partner likes and which parts of their body are particularly sensitive.
6. Cool things down to heat things up
Adding a bit of temperature play into your sex life can enhance all those thrilling sensations to new heights. A common trick is to suck on an ice cube before giving oral sex but as an alternative, why not try a cooling or warming lube instead.
When giving a massage, try dripping the wax from a massage candle onto your partner's body or use a warming massage oil like the Slow Sex Warming Massage Oil. Glide the oil over your lover's body, heating things up with every stroke then for an added thrill, gently blow on their oil-covered body to enhance the effect!
7. Out of sight
Taking away a person's sight heightens all their other senses, making them more responsive to touch, taste, smell and sound, bringing new levels of anticipation and eroticism to the bedroom.
Make this part of your foreplay by asking your partner to close their eyes, or even sexier, use a blindfold. Ask them to focus on their other senses and then stimulate each and every one in turn. A favourite food for taste, whisper sexy thoughts in their ear, or tickle different areas of their body that don't usually get much attention during sex. Ask them to tell you how it makes them feel as you test each sense.
8. Keep playing games
If you've had a long week, finding the inspiration and energy to try something new might put you off intimacy altogether. That's when dice or card games come into their own. With the roll of a die, or the pick of a card you could be trying something completely different and exciting in the bedroom. Play as many times as you want. Hopefully, after a few rounds, your sex drive will be on the up and you'll both be in the mood for more.
9. Create a big sensation with some light bdsm
Rather than only touching your lover with your hands, using extra tools like a feather tickler, flogger or spanking paddle can enliven all of the sensitive nerve endings in the skin. Gently trailing, tickling or flicking these items over their body means they'll become more sensitive to any touch you bestow on them afterwards.
10. Sweet like chocolate
Chocolate and sex are a match made in heaven. Both are sweet, enjoyable and can cause our brains to release the feel-good hormone, dopamine. No wonder using body chocolate is such a popular foreplay choice for many couples and, thankfully, the days of over-sweet, super sticky body chocolate are gone. Rich, smooth body paints like Poeme or chocolate flavoured lube such as System JO Chocolate Delight are perfect for licking off your partner's naked body, allowing you to really slow down the action. Alternatively, if you don't like the idea of getting completely wet and messy, you could just dab small amounts on your body as a guide to let your partner know where you want them to focus their attention.
11. Dress to impress
Nothing quite says sex like some seductive lingerie. Not only is it a sure-fire way to drive your partner wild, but can give you a fantastic confidence boost. Whether you prefer the look of classic lace or provocative PVC, when you feel good about how you look, your inhibitions will be reduced, allowing you to get lost in the moment and explore new sex positions you might previously have been too nervous to try.
At the right moment, give your partner a sexy striptease, tantalizingly revealing that sexy outfit. You can always take it a step further and explore your sexual fantasies with a costume.
12. Play with toys
Who says vibrators need to be limited to women and only used on the clitoris? There's a whole range of sex toys that can be used together for your foreplay.
Get hold of a smaller bullet vibrator with a rounded tip and there's no reason why this little buzzing beauty can't be used all over the body. Don't go straight for the obvious erogenous zones like the vulva or his perineum. Instead opt for thinner areas of skin that are still full of sensitive nerves, such as the backs of knees, the fold of the arm or around the nipple area. Take your time working up to the more sensitive erogenous zones and before long, your partner will be begging for more.
For deeper, rumblier vibrations, try a massage wand like the Doxy Die Cast. Use with a water-based lube over the body to releive aching muscles as part of an erotic massage, before moving towards the genital area for more direct stimulation.
To enhance a handjob or oral sex, try a dedicated couples toy like the Satisfyer Endless Joy that can be used around the shaft of the penis or used to tickle the nipples or clitoris. With its ergonomic shape, it can even be used internally to stimulate the G-Spot.