X Factor singer demos penis pump in NSFW video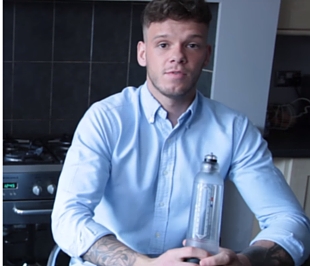 Former X Factor contestant finds online fame thanks to Bathmate penis pumps
Even though Naval Engineer Ellis Lacy didn't manage to find fame in 2015's X Factor competition, flopping out during the audition rounds with his cover of Blackstreet's No Diggity, he's come back strong and found some Internet fame. All thanks to Bathmate penis pumps and a very graphic voyage into his tub.
Posted on his YouTube channel, in the series of matter-of-fact review-style videos for the Bathmate Hydromax penis pump range, Lacy demonstrates how to use the aquatic penis enlargers and documents his progress.
In the most watched video now at over seven million views he begins by explaining how to use the pumps and what differences he's noticed to his manhood after using the Bathmate pump for just seven days. My flaccid penis is fuller. My erect penis is harder, admits Lacy.
To demonstrate how well it works, after giving us his vital penis stats using a flexible ruler, he strips off and jumps into the tub.
In probably one of the best demonstration videos we've seen, he then begins to use the Bathmate Hydromax, providing a running commentary on how you should pump it, when to release the pressure and how to monitor the progress of your growth. It's a first-hand experience with a male sex toy that you don't get to witness often.
The real question though, is whether his next acoustic cover will be Pump Up The Volume by MARRS.
Try your own Bathmate
If you like the look of the Bathmate Hydromax penis pumps, then you can find the collection on our official Bathmate page.
Contact us if you'd like any further information, or visit our stores and our trained Sales Assistants will be able to talk you though the Bathmate pumps and help you pick the right one for your needs.