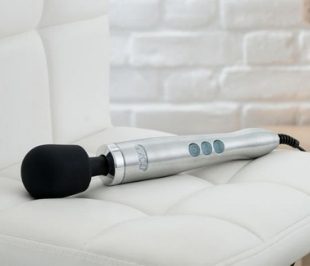 Can you have a more sustainable sex life?
Whether you're an avid recycler, embracing more of a plant-based diet or just being a bit more conscientious about your travel choices, there are lots of little ways we can all make a big difference in tackling climate change and progress towards a greener way of life.
If you're looking to make more eco-friendly choices, there's no reason that should stop with your sex toys.
Sex toys often get a bad reputation for not being very eco-friendly. So many rely on disposable batteries, are made of plastic which end up in landfills or contribute to CO2 emissions from being shipped all over the world. But thankfully, there is no need to sacrifice your orgasms in an effort to be more environmentally friendly.
Which sex toy materials are eco-friendly?
There are lots of things to look out for when it comes to being kinder to the planet. Toys made from silicone are preferable. Not only are they the most body-safe material but silicone lasts longer, isn't toxic to soil or ocean life and can be recycled.
If you're opting for a toy with a motor, choose one that's rechargeable to avoid those disposable batteries. Thankfully, USB rechargeable vibrators are pretty much the norm these days. Added bonus - these are usually fully waterproof meaning you can take your pleasure play into the bath or shower too!
If you want to go all-out, go for all-natural materials like glass or wood. Yes that's right, wood. And that isn't a euphemism. Glass and wood dildos are perfect eco-friendly options as they're naturally latex and Phthalate-free making them completely body-safe and friendly to the planet too.
To help you choose, we've gathered a quick list of some eco-friendly sex toys.
Always at the forefront of technology in the sex toy industry, Womanizer have launched the first-ever biodegradable eco-friendly Pleasure Air clitoral stimulator, and just in time for World Earth Day!
They've taken their famous Womanizer Premium and reinvented how it's made to create a completely biodegradable and recyclable sex toy. Instead of plastic, the main shell is made from biolene, a bioplastic made from renewable raw materials, mostly corn starch!
With a removable rechargeable battery, the whole piece can be disassembled to recycle each of the elements individually and even the free storage pouch is made from fair-trade organic cotton. Going one step further, for every Premium Eco sold, Womanizer will donate to One Tree Planted, helping to offset their environmental impact even further.
Combining style and sustainability, glass toys are arguably the ultimate eco-friendly sex toy. Made from a naturally abundant raw material (sand!), forever recyclable, nonporous for easy cleaning and they look pretty damn beautiful too. Just be sure to choose something specifically designed as a sex toy like one of our Glass Dildos which are made from toughened glass that won't break or shatter. We particularly like the Icicles No.66 Wand which is perfectly curved for G-spot and P-spot stimulation. There are lots of different shapes and textures to choose from and they're brilliant for temperature play. Simply immerse the dildo in hot or icy cold water for a few minutes for a thrilling new sensation.
The famous Doxy Die Cast Wand Massager ticks several boxes when it comes to being good to the planet meaning you don't have to give up on power for a greener sex life. Firstly, it's manufactured in Cornwall, contributing to a much lower carbon footprint when it comes to air miles. The beautiful metal body of this magic wand is made from an aluminium and titanium alloy which are lower in toxicity and will be easy to recycle. Plus, it's mains operated, meaning there's no battery to recharge or dispose of.
If you're keen to keep avoiding anything plastic and you're into anal play, give these metal anal beads a try. Made from solid, weighted metal with a fabric cord, they tick all the boxes when it comes to sustainable materials without sacrificing on any pleasure levels. In fact, because they're made of metal, these are brilliant for temperature play - especially chilled. Drop them in the freezer for 20 minutes or so before insertion and send your lover into a tailspin!
Arctic Anal Wooden Plugs by teatiamo
Not only are they a sustainable choice, but these wooden butt plugs are a work of art. Handmade in the Arctic Circle under the Analis Borealis, these plugs are completely chemical-free and finished with a non-toxic lacquer for a sumptuously smooth finish and to avoid grazes, scratches or even splinters.
These Arctic Anal Plugs aren't available online but can be purchased exclusively in our London shops.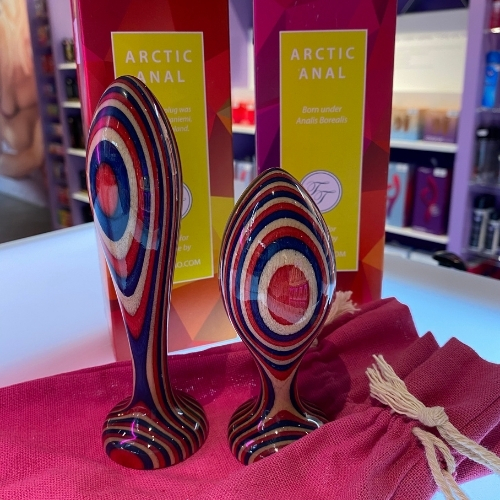 System Jo Organic Naturalove
Let's not forget the lube - an essential partner for any sex toy play. We love the System Jo Organic Naturalove lubricant, cruelty-free and made from over 95% organic ingredients including naturally preserving chamomile which gives it a beautiful amber hue. Water-based, it's safe to use with any toy or latex condoms, it's paraben-free, glycerin-free and glycol-free.