Best Vibrators for Long-Distance Relationships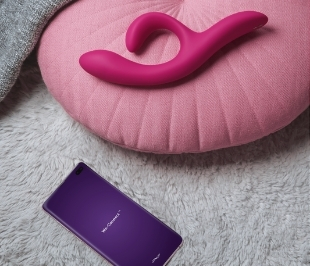 Distanced doesn't mean disconnected
Making a long-distance relationship work isn't easy at the best of times, and with the current challenges caused by the global pandemic, more and more couples are finding themselves geographically separated or apart for longer periods of time. Whether you're separated by a few miles or a few continents, it takes a lot of creativity to keep the magic alive and maintain a deep emotional connection when you're not together.
As anyone in an LDR will tell you, the first and most important thing is to make time for each other to connect. Yes, speaking on the phone or exchanging messages throughout the day are all very well and good, but just like you would make time for sex when you're together, it's vital to do the same when you're apart.
Secondly, you need to find what works for you. Zoom, Skype and FaceTime calls have made it easier than ever to get close to each other whilst apart. But not everyone is confident enough to engage in a steamy conversation over the phone telling their partner what to touch and how that makes them feel, however brazen they may be in the heat of the moment when they're physically together. Equally, if you happen to find yourself quarantined back at your parents, that probably isn't a phone conversation you want them to overhear!
Well thanks to that wonderful world of technology, app-controlled vibrators have taken mutual masturbation for long-distance couples to a whole new level.
Using sex toys together are a powerful way to increase intimacy with your significant other, especially if you're in a long-distance relationship. Sometimes referred to as teledildonics, there are now a host of toys with Bluetooth connectivity that can be controlled via a smartphone app over wifi, allowing your lover to control the vibrations (and your orgasms!), even if they're thousands of miles away.
What's more, the app allows you to fully-personalise the experience for both of you with in-app text chat and interactive video calling along with the ability to set the vibrations to music or whatever tempo and pattern your lover decides.
Here are a few of our favourite app-controlled vibrators that make perfect long-distance sex toys.
We-Vibe Moxie Satin Black Clitoral Vibrator
We-Vibe's Moxie is one of the most popular wearable panty vibrators, thanks to its handy pebble-shaped magnet that keeps it firmly in place. Simply slide the moxie into any underwear you choose, position it against your vulva and the magnet will keep it there, whether you're lying, sitting, standing or even walking. Designed to be discreet, Moxie is whisper-quiet so the only sound you will need to worry about is your own excitement. Ideal if you're stranded at your parents' place or concerned about your flatmates overhearing it! Sync it to your phone and using the We-Connect app, your partner can set the tempo and choose from over 10 deep rumbly vibration modes to bring you to a powerful orgasm.
Svakom Ella Neo Bluetooth Bullet Vibrator
Petite yet powerful, this beautifully textured little bullet packs a punch with 11 different vibration patterns to explore. The Ella Neo is particularly versatile, use it to tease the clitoris, inside the vagina as a g-spot vibrator, or even anally as a butt plug, giving you a multitude of sensations to enjoy. Sync it to the Svakom or FeelConnect 3 apps and allow your long-distance partner to take you on a journey of pleasure, no matter where they are in the world. Thanks to its discreet shape and flexible silicone cord, you can even use it as a wearable vibrator when you're out and about - meaning you can still indulge in some naughty foreplay!
We-Vibe Vector Vibrating Prostate Massager
The Vector by We-Vibe is the ultimate male massager, stimulating not only the p-spot, but the perineum as well. And stimulating both these highly- erogenous zones together makes for a mind-blowing orgasm!
The Vector's uniquely adjustable shape, allows you to get the perfect fit for your body. Angle the internal arm to press pleasurably against the p-spot and while the flexible base can be moved to allow the ridged bulb to sit against the perineum. Just be sure to use plenty of water-based lube. Now you can hand over control to your partner using the We-Connect app and let them decide which of the 10 intensity and vibration modes to use or they can create their own. All while you're in touch through the in-app text or video chat.
We Vibe Nova 2 Rabbit Vibrator
If you love the dual stimulation of a rabbit vibrator but want to involve your long-distance lover in your play, the Nova 2 by We-Vibe is the sex toy you need. Highly flexible and bendable to fit your unique shape, the Nova flexes with you, keeping constant contact with your clitoris while stimulating your G-spot.
With its two powerful motors, using the We-Connect app your partner can tease you with just the clitoral stimulator or add in the deep rumbly vibrations against your g-spot as well. For added personalization, your partner can choose 'Beat Mode' in the app to set the vibrations against a favourite tune or the sound of their voice - meaning their words will literally bring you to orgasm!
Svakom Emma Neo Interactive Warming Wand Vibrator
With its gold detailing, smooth black silicone body and detachable bunny ears, this award-winning vibrator is as beautiful as it is versatile. With a self-heating core that heats to 38C for a deliciously warming and natural feel, its powerful vibrations can be enjoyed across the body as a wand massager. Attach the ears and it turns into a brilliant rabbit vibrator for intense clitoral stimulation! To give your partner control, simply sync the Emma Neo to your phone via Bluetooth and through the smartphone apps they can choose from 5 vibration and speed settings or set their own intensity level for you to enjoy.
Svakom Alex Neo Thrusting Masturbator
Whilst not a vibrator as such, this remote-controlled toy for penis-owners is definitely worthy of mention. Designed with a super-soft stroker sleeve that is textured to create a lifelike grabbing sensation, the Alex Neo features 7 auto-thrusting modes. For fully interactive play, connect to the Svakom or FeelConnect 3 apps and your partner can take control of the powerful thrusting motor instead, setting the speed and edging you to a mind-blowing climax!
Fancy something different?
These are just a few of the many remote control vibrators we have available at Harmony.
For more, take a look at our range of We-Vibe and Svakom products.
All of the sex toys listed are fully rechargeable and use smartphone apps that can work on both iOS and Android devices. For added pleasure and comfort, we always recommend the use of a good water-based lube. (Remember not to use silicone lubes with silicone toys).