Beginner's Guide to Strap-On Sex
Curious about strap-on sex but not quite sure where to begin? Strap in...
Quite simply, a strap-on is a harness worn around the waist with a dildo attached to it. The beauty of using a strap-on, aside from the obvious intrigue of suddenly having an imitation penis between your legs, is that it leaves your hands free to caress and stimulate your partner as you penetrate them. Rather than holding and thrusting a dildo, which can be a strain on the wrists and hands, strap-ons allow you to make the most of the power of your legs, hips and buttocks, keeping your fingers free for added stimulation.
An increasingly popular choice of sex toy for couples, strap-ons can be enjoyed by Every Body for penetrative vaginal sex or pegging (when someone wears a strap-on and performs anal sex).
Anatomy of a strap-on
There are several parts that make up a strap-on set: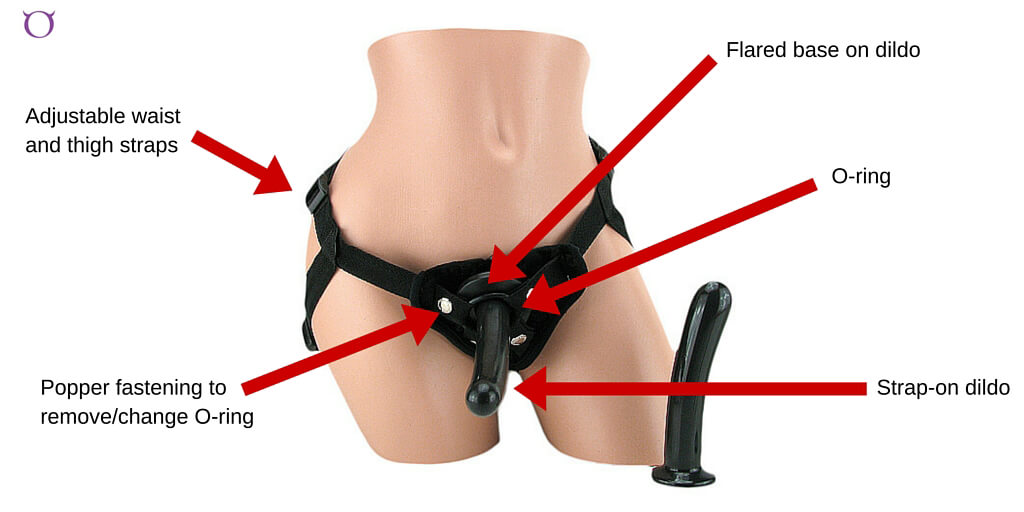 Harnesses
The strap-on harness is the main bit that's worn around the hips, slipping over the legs and will either be crotchless with fastening straps running around the thighs or designed like a G-string or thong with a gusset.
Getting a good harness is a key part of satisfying strap-on sex. Finding one that fits and feels comfortable for you is really important. Ideally, it needs to be able to fasten tightly and securely, so that it doesn't slip in the middle of the action throwing you off your rhythm. For this reason, many strap-on harnesses come with adjustable waist and leg bands that let you tighten and loosen as required. This is also handy if you plan on both you and your partner using the harness as it means you can get one and adjust it easily for whoever is wearing it.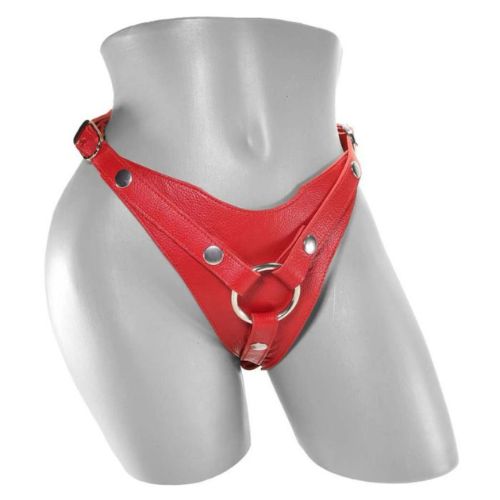 Strap-on harnesses are crafted of many different materials, including leather, latex, nylon webbing and sometimes even faux fur.
Which material your harness is made of will come down to personal preference and what you think you'll find comfortable, but it's also important to consider hygiene. With lubricant and natural fluids bound to come into contact with the harness, it's important to think about how you'll keep it clean. Typically sanitising wipes and sex toy cleaner do the job, but there are washing machine-friendly harnesses for quick and easy cleaning.
Part of the fun of strap-on sex is that you have the opportunity to play with a range of different dildos. While we'll get onto dildo choice in a minute, if you're seeking a strap-on harness that can be used with lots of different dildos then the harness should have a popper front panel that lets you remove and change the sizes of the O-rings.
Our top strap-on harnesses
O-rings
An O-ring is a circular metal, silicone or rubber ring that slips over the strap on dildo and fastens it to the front of the harness. Most harnesses come with at least one O-ring already, making it easy for you to attach a strap-on dildo. However, as long as you have a harness with an interchangeable O-ring option then you can choose rings with bigger or smaller diameters offering greater versatility in the size of the dildo you can attach.
Strap-on dildos
Strap-on dildos come in two forms: either realistic in appearance, or non-phallic. The beauty of strap-on dildos is that there are so many to pick from, so you can have a different sexual experience every time. Pick from a range of materials like silicone, rubber or even glass and experiment with different shapes, sizes and textures.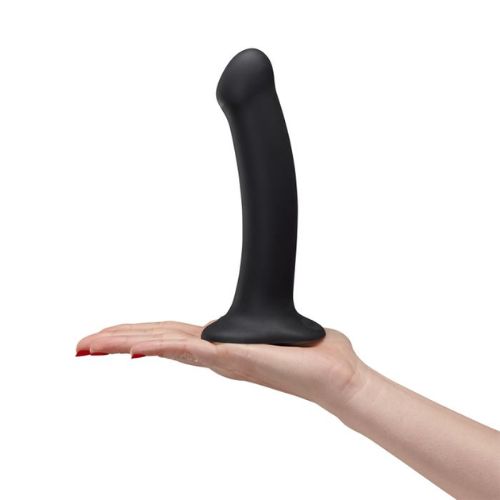 If you're new to strap-on sex you might want to begin with a small, thin strap-on dildo. Not only will the smaller, lighter dildo be easier for the wearer to control, but it may also feel more comfortable if the receiver is not used to penetration or pegging. You may decide to increase girth and length as you become more experienced and desire a fuller sensation.
One design feature all strap-on dildos have in common is a flared base. This allows them to sit flat against the harness and be easily anchored by an O-ring.
Our favourite beginner strap-on dildos
Beginner strap-on sets
Rather than shopping for a separate harness, O-ring and dildo, it is often easier and more cost-effective to buy a strap-on set that includes it all. Below are our favourite beginner strap-on sets, ideal for testing the waters without breaking the bank.
How to use a strap-on and get the most from it
Whenever a new sex toy arrives it's tempting to dive straight in and give it a go. But if you don't fully know how something fits or works then chances are it could ruin the intimate moment if you're trying to figure it all out mid-session.
Get the most out of your strap-on sex experience by following these simple tips for a more pleasurable first (second, and third) time.
Get to know your strap-on
If wearing a strap-on is a new experience for you, then before jumping between your partner's legs, spend time getting to know your strap-on set-up one-on-one. From a practical point of view trying on your strap-on before the big moment means you'll be familiar with the harness and how best to adjust it for the perfect fit.
From an erotic viewpoint, the most powerful sex organ is the brain. While you can't feel your strap-on in an anatomical way, you can learn to imagine the sexy sensations and build up a connection with your strap-on. Think about how you would like it to be touched, kissed or sucked. Would you want it done differently or the same way as your partner touches your other erogenous zones?
While the wearer may not get much physical stimulation out of their strap-on unless it vibrates, is double ended or the harness includes an internal plug for the wearer, it can provide very sexy arousal of the mind. The better you know your new appendage, how it moves, its weight, and its texture, the more likely you are to deliver satisfying stimulation when with a partner.
Communicate with your partner
Communication during any sex act with a lover is important, but if penetration or pegging is new to your sexual repertoire, then it's even more important to communicate during strap-on sex. The harness wearer won't be able to feel the sensations like you typically can with the mouth, fingers or penis, so try to ask the receiver how it's feeling. Perhaps you need to go slower, or the dildo is too firm, or the position needs adjusting. The more you know, the more satisfying your experience will be.
Practise thrusting
Maintaining a rhythm when thrusting isn't as simple as it might seem. If this is a movement you're not used to, then you may find it tiring when doing it for a sustained length of time. Spend some time practising your thrusting and don't worry if you find it tricky the first few times when with your partner. Practice really can make perfect.
It's also worth bearing in mind that 'thrusting' doesn't have to mean going at it like a jackhammer. Dildos can feel a lot firmer than an actual penis and may not bend as easily. Going slowly will allow your partner to adapt to the sensation, as well as give you the chance to build up a steady, maintainable tempo.
Lube up
This is especially important if you're pegging because the anus isn't self-lubricating. Make sure you use plenty of water-based lubricant on the dildo and insert it slowly.
Even if you're not using your strap-on for anal sex, lubricant can help ease unwanted friction between the dildo and your partner, providing extra satisfying glide. Just remember to clean the harness as well as the dildo after play.
Need more help and advice?
If you feel confident and ready to put together your perfect strap-on combination, then head to our Strap-Ons section to find a harness and dildo to your tastes.
If you have extra questions email our customer services team [email protected] or visit our London stores, where our team will be happy to talk you through our range of strap-ons so you can find the perfect fit.