Beginner's Guide to Bondage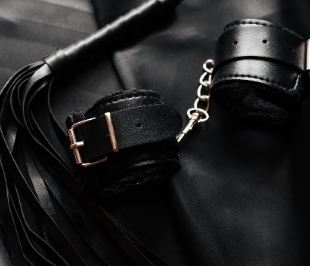 If you've ever found yourself indulging in erotic fantasies about being tied up, you're not alone. And it certainly isn't something to be ashamed of. Since Fifty Shades of Grey was first released 10 years ago, interest in bondage and the world of BDSM has risen substantially and become much more mainstream. Once deemed equipment owned only by a dominatrix, sales of all bondage accessories from handcuffs to hogties have increased all over the world. Especially after that spreader bar scene in Fifty Shades Darker!
Don't be scared into thinking that bondage automatically means whips, chains and dressing up in skin-tight PVC. As with all sexual experiences, there are varying degrees of intensity and we all need to start somewhere. If you're interested in adding a bit of kink to your sex life, read on.
First off, what is Bondage?
The 'B' in BDSM, bondage refers to the practice of consensually tying or restraining a partner for erotic, aesthetic, or tactile stimulation. Put simply - it's the tying-up bit! And the pleasure that brings for both partners. The idea is that limiting your senses in some way, heightens your other senses and your body's response.
Somewhat ironically, the act of bondage gives you the highest level of sexual freedom you can experience. Freedom to play, to explore, to just let everything else go and get lost in the moment.
With your eyes covered, your arms and/or legs bound in some way, you are completely at your partner's mercy. Theirs to tease and please as they wish. This can be a hugely liberating and intensely erotic experience; giving yourself entirely to someone and trusting them with your body.
Equally - for the dominant partner (the one doing the tying up), being in complete control of their lover, knowing they are the one responsible for their partner's pleasure is a huge turn on.
Start off slow
If you're just embarking on your BDSM journey, there are some easy places to start. The key thing is to give things a go and see if you and your partner like them. Start out with a blindfold or restraining wrists, then ankles. Then both wrists and ankles. There's no need to go straight in with a leather collar and hogtie on your first encounter. If you enjoy the experience, gradually build on it with new restraint methods and positions at your own pace.
Red, yellow or pineapple?
If you're thinking about bondage, you'll have almost certainly heard about the use of a neutral safe word. This may sound daunting. Because "if 'no' isn't enough, is this really something I want to get myself into?" Well in the heat of the moment, you may find yourself saying "no", when what you actually mean is "yesss!". The sensation may feel slightly painful or a bit wrong at the time, but deep down you're actually enjoying it and "no" just feels like a natural reaction.
Sex should never exist without consent. And consent is fluid, something that can be given and taken away at any time. As with all sexual encounters, either partner has the absolute right to stop whatever is happening whenever they want without having to give any kind of explanation. And that's why a safe word is important. It's a neutral word that whenever spoken, both parties immediately stop what they're doing, no questions asked. Anyone from the BDSM community would recommend you use a safe word that would never normally be uttered during a sexual experience. Something so strange and jarring, that when you hear it, you know it's not part of the play.
A lot of people will go for a traffic light system, where green means "oh yes, that feels good!". Yellow can mean "I'm OK, but nearing my limits" and red means "stop right now!".
But you don't always need a full-on system - just a simple word that means a hard "no" will suffice. Popular choices include foodstuffs like potato, pineapple or pickle. (quite why they all start with P we're not sure!) Or other random words such as Teletubby, umbrella, or unicorn are popular choices too.
What if I'm gagged?
Well yes - there's no doubt that shouting "spaghetti" with a ball-gag in your mouth is somewhat challenging. In these cases, when you're taking away someone's ability to speak, you might need to think a bit more creatively to agree on what means stop. This could be a double-click of the fingers or a quick double-stamp of the foot for example depending on how else you're bound. But there are also a few words that you can still mutter through a gag, which is why "aardvark" is often a popular safe-word choice.
Who's who?
When you first start talking about dominance and submission, you'll be thinking about who plays which role. In some couples, you'll know this automatically based on the tempo of your relationship already, but it's often a good idea for each of you to give both roles a try in the beginning to see which feels most comfortable. You might hear a lot of people referring to being a 'sub' or a 'dom', but you'll also come across many known as a 'switch'. This is someone who happily flits back and forth between being the dominant and submissive depending on their mood or partner, which is equally fine.
Share your fantasies
Exploring the world of bondage can be a little less daunting if you turn it into some role-play. Having a scenario to play out might make it easier and more playful, such as "I want you to be a police officer and handcuff me for doing something naughty!" And if role-play's your thing, we've always got a few costumes that can help!
Where to start?
For your first time, a simple blindfold is a great place to start. Without your sight, your senses are heightened, making you much more sensitive to every touch as your partner caresses your body. Experiencing a massage whilst blindfolded makes for some very sexy foreplay. Or take it to the next level and instead of your hands, use a vibrator across their body and erogenous zones.
The blindfold can also help liberate the dominant partner. If this is your first time in control, you're likely to feel nervous and perhaps a little self-conscious. With your partner's eyes covered, you don't need to worry about your own facial expressions or planning what you're going to do. You can just see how their body responds and go with what feels good for you both.
Choose a blindfold that fits with your personality to start with. If you're more a lace and satin kind of person, start there. Or if you like the cool feel of leather, we've got plenty of those too.
Moving on to restraints
For the next stage in your kinky play, try some restraints. We always recommend using some proper wrist and ankle cuffs that do up with a buckle, clip or soft velcro. It's important to use something you can remove quickly and easily in the heat of the moment if you need to. Silk ties and stockings might be handy if you have them at home, but any form of cloth material, especially anything stretchy like stockings, could end up with a tight knot that you can't undo. Which isn't particularly sexy, nor is it going to make your first time very comfortable.
When you do want to move onto some rope bondage, it's probably worth checking out a few video tutorials to get your knot-tying up to scratch. You and your partner's wellness is always the most important factor so you need to be sure you're using knots that will hold, but undo nice and easily too!
Add in some spanking
If you know you like a good spank from time to time, you're probably ready to add a little whipping action to your sex life. There are lots of different implements you can use, start off with a flogger or paddle, then move on to crops and whips for a more intense sensation.
You don't need a playroom
When you're starting out, there's no need to go building yourself a red room of pain like Christian Grey's. There are some excellent bondage kits that you can use in your very own bedroom. So if you want the full-on spreadeagled effect but don't have sturdy bedposts, we have some excellent under the bed kits that rest under the mattress instead.
Beginners Bondage Kits
To make it easier when you're first entering the world of BDSM and trying a bit of kink, we've got a great selection of ready-made kits to get you started.
These all include a few restraints and a blindfold, plus a few implements to stimulate your pleasure-pain receptors.
Some bondage kits also include a few sex toys such as a bullet vibrator or butt plug to add extra stimulation. (Just don't forget the lube!)
Here's a selection of a few of our favourites
Ultimately, as with all sex play, entering the world of bondage and bringing a bit of fetish play to the bedroom is about having fun. So just go with the flow and enjoy yourselves!
---