Avoiding 'The Drop': A Helpful BDSM Aftercare Plan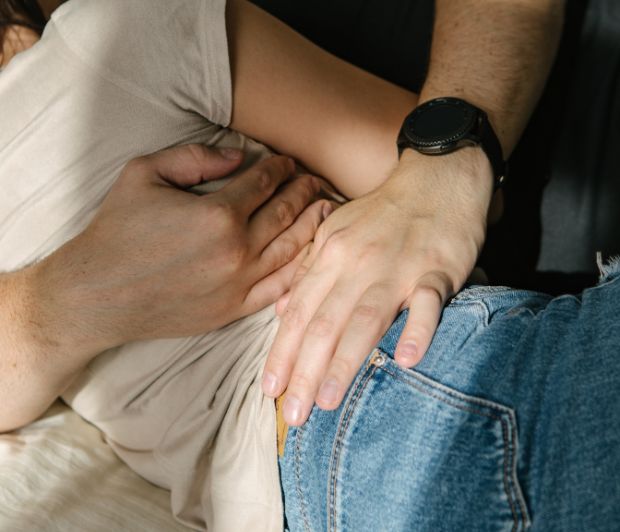 When discussing safety in BDSM play, there's a tendency to focus on all the preparation that needs to be done before play in order to keep all involved parties safe during play. While conversations about hard and soft limits and safe words are a large part of keeping things safe and consensual so, equally, is having an aftercare plan once play has ended.
Why does Aftercare Matter?
Particular acts during your BDSM scene mean you might want to consider aftercare. Spanking, paddles or impact play is a common one, bondage is another. Even simple roleplay may require some aftercare especially if it is an intense scene. Once post-sex playtime is over, it's a good idea for dominant partners to check in with submissive partners to see if they need aftercare. Dom drop is also a real possibility so that's something else to watch out for.
What is BDSM Aftercare?
Kinky play and BDSM games can be physically and emotionally demanding. With adrenaline and endorphins firing off all around your body, things can get intense. Euphoric even.
'Aftercare' is exactly as it sounds: it's the physical and emotional care you provide to each other once BDSM play has ended. It allows you to steadily bring yourself or each other, back down from those feelings of euphoria. If you're in a sexual relationship with someone, then you might recognise aftercare as the time you spend cuddling or enjoying pillow talk. This can help you reinforce your bond as a couple and acknowledge the physical and intimate experience you've just shared. Aftercare in BDSM is very similar and can be something that both Dominant and submissive are in need of.
How it Helps Avoid 'The Drop'
During play, the heady mix of pleasure and euphoria and state of mind someone might reach is called 'sub space'. But, as sex and kink educator Morpheous, explains: "What goes up must come down—and this is especially true in BDSM." The 'down' is sometimes referred to on the BDSM scene as 'the drop' and no Dom or sub is completely immune to it.
Morpheous says that "All individuals in a fetish scene are engaging in shifting power dynamics and heightened emotions, and a good, reactive aftercare plan should be about bringing everyone back to a level, stable ground—not just the submissive. Deal with any physical stresses or abrasions (doctors and nurses!) then make everyone comfortable, hydrated, listened to, cuddled and appreciated. Let emotions run their course. Top drop is as real as sub drop, so your aftercare should include both physical and mental support and comfort for all parties."

Thoughtful BDSM Aftercare Techniques to Consider
As with a lot of aspects of sex and kink, one person's aftercare requirements might be very different to another. This is why it's important for the Dominant and submissive to include 'aftercare' as a topic of conversation before play.
If you're completely new to the idea, some aftercare techniques could include:
· Hugging and holding each other
· Chatting about the session — what did you like or dislike?
· Gentle strokes or a massage with lotion to soothe the body
· Preparing a shower or bath
· Having something comforting to eat or drink
· Putting on soothing music, or providing a quiet chill space
· Offering a blanket, or warm, comfortable clothing to slip on
Acts of aftercare for your partner's well-being don't have to be grand or complex. Just thoughtful. It's about showing mindfulness towards the needs of your play partner.
Want to Know More about BDSM?
A good place to start is to take a look at the Ultimate Guide to BDSM. There you'll find more advice and ideas for BDSM play from professional kinksters and sex educators in the BDSM community.
Alternatively, browse our bondage range to shop for the finest BDSM kit and for advice on using specific kinky tools like whips, bondage rope, blindfolds and sexy gags.
At Harmony, we stock a wide range of sex toys, from vibrators to dildos and all the latest trending sex toys for your own needs and for the pleasure of your partner.