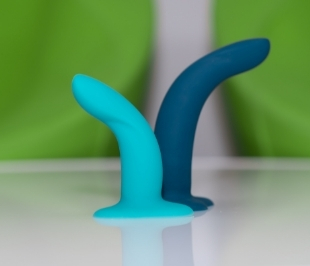 We know - the sheer amount of dildos on offer can be quite overwhelming! Realistic vs non-realistic, flexible vs hard, vibrating vs non-vibrating, it's difficult to know where to start. So we've put together a quick guide to help explain the different types of dildos to help you choose.
But firstly, exactly what is a dildo?
The word dildo covers all types of sex toy designed for penetration - vaginally, anally, or orally. It doesn't have to look specifically penis-like, though so many often do.
Some are straight, some are slightly curved to help stimulate the g-spot or prostate. Some will be textured, possibly ridged for different sensations, or textured in a way to look and feel like real penises.
Considerations when shopping for a dildo
There's no such thing as 'the best dildo'. Every person's preference is different. So the first thing you need to decide is what you like and what sort of stimulation you're after. Are you looking to use it vaginally, or to simulate anal sex? And are you looking for P-spot or G-Spot stimulation? If you're using it alone for masturbation, do you want a way of securing it for some hands-free fun? Or do you want to use it on a partner with a harness?
Two of the basics are the insertable length and girth. And this comes down entirely to personal preference. If you're looking to grind on your dildo to benefit from clitoral stimulation at the same time, perhaps opt for a shorter length. Otherwise, we'd suggest starting with a large dildo with which you can control the depth of penetration yourself.
Whatever you're after - there's most definitely a dildo for you.
Here's a quick list of the different types of dildo on offer.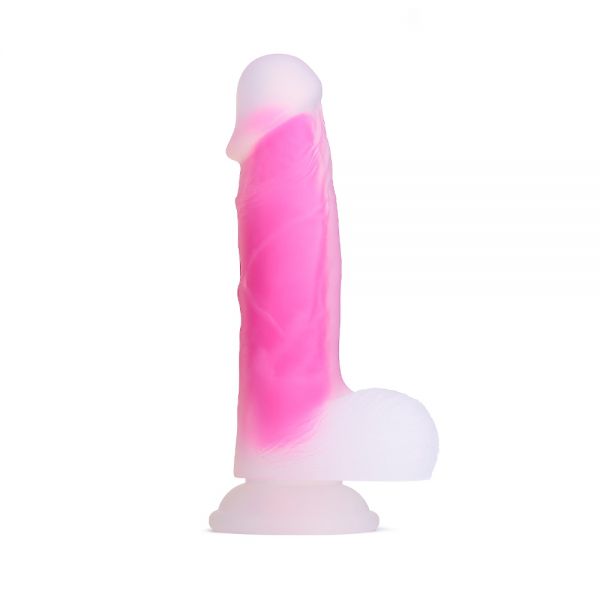 Suction Cup Dildos
As the name suggests, these dildos come with a suction cup base, allowing them to be secured to any smooth, flat surface such as a chair, table, floor or even the tiles of a shower wall.
Once secured in place, you're all set for some hands-free fun, leaving your fingers to explore the rest of your body or stimulate your clitoris.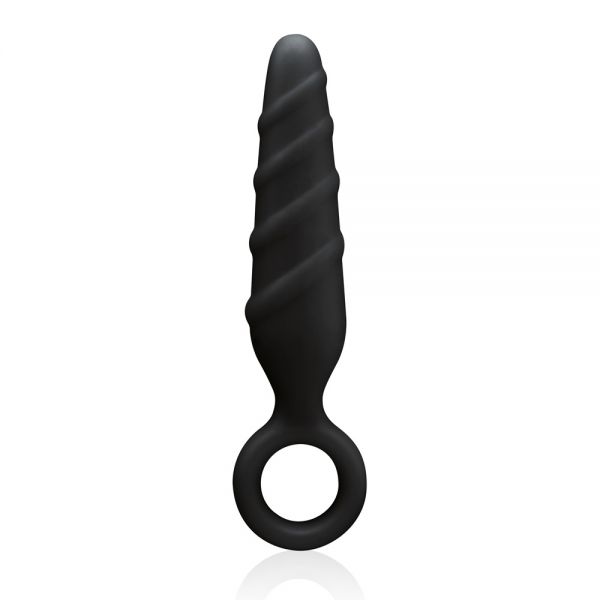 Anal Dildos
Most dildos are versatile enough to be used both vaginally and anally, but if you are looking for anal penetration, look for a dildo with a flared base or handle. This is really important to stop it going too far and getting stuck in your rectum (because no one wants that trip to A&E!) If it's your first time trying anal play, opt for an anal toy that is shorter and slimmer like a butt plug. Many of these even come with a bullet vibrator inside for added sexual pleasure.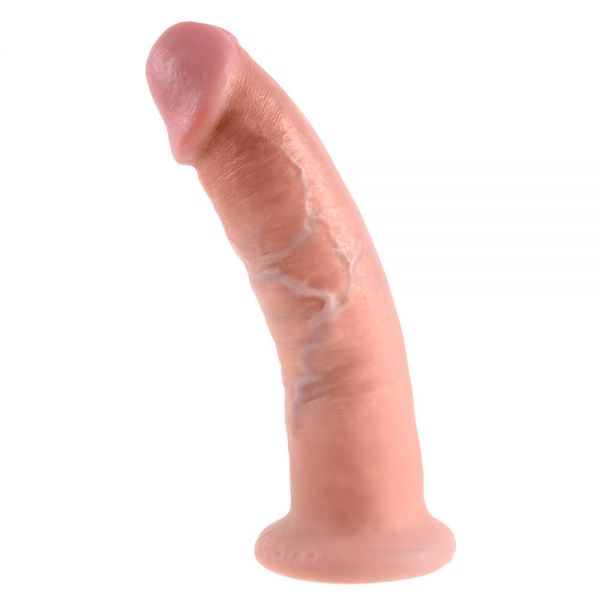 Realistic
There are varying degrees of realistic dildos. Some are shaped just like a real penis, complete with veiny shaft and bulbous glans, but still come in bright colours or even clear and transparent silicone. But if you want the full-on realistic look and feel, there are plenty that are designed to perfectly replicate the real thing, even down to different skin tones, varying girths, testicles and super-soft liquid silicone for that skin-like feel.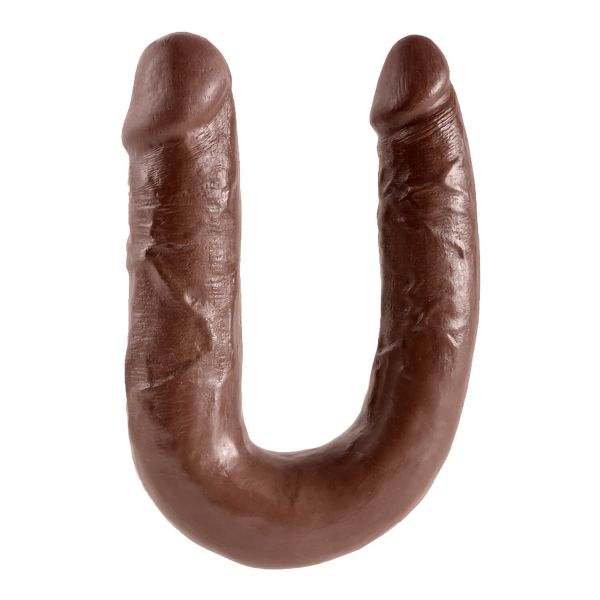 Double-ended Dildos
With a shaped head on each end, double-ended dildos are particularly versatile. Use them solo for double-penetration or with a partner, vaginally or anally, for simultaneous stimulation. Some are noticeably intended for solo use, shaped with a girthier dong for the vagina and a slimmer piece for anal stimulation. While others are a fully-flexible length that moves with your bodies in whatever position you want.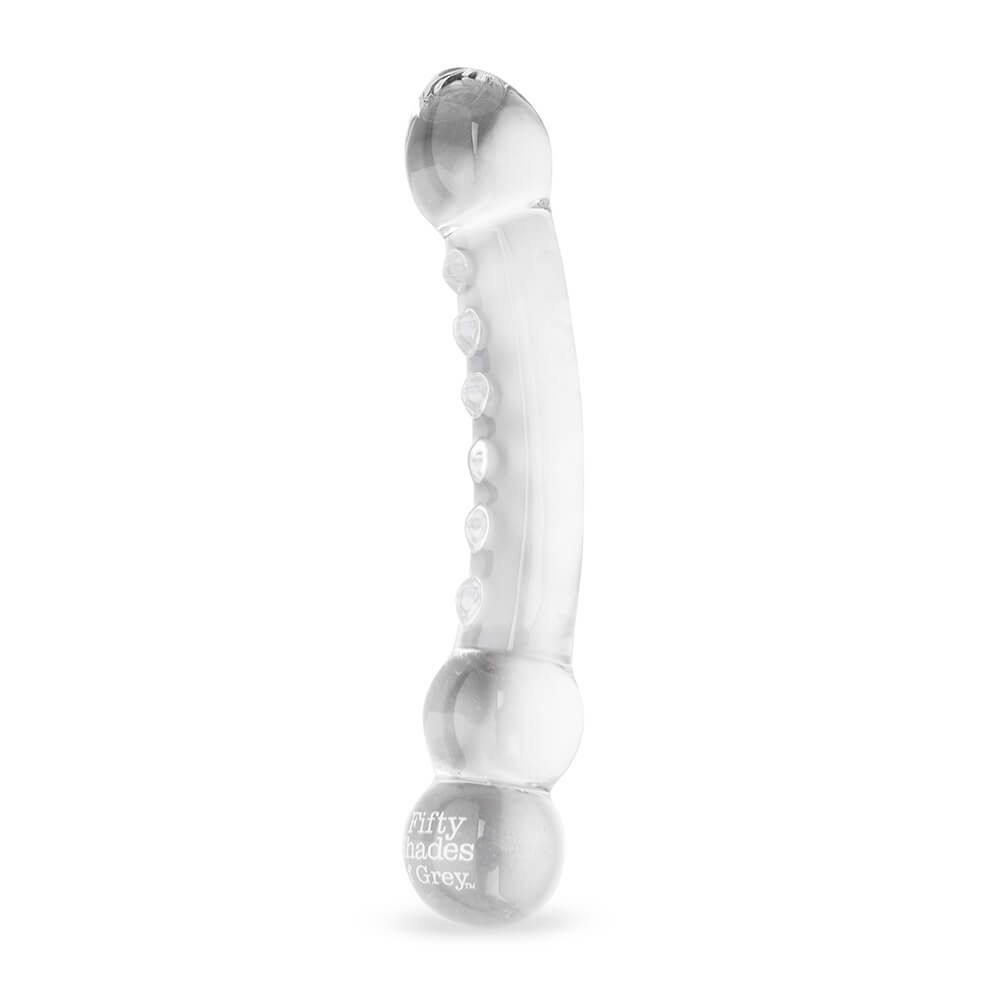 Glass Dildos
A lot of glass dildos are a thing of beauty, shaped and coloured to look like a work of art. But don't be alarmed, they're not as delicate as they look. Made of solid borosilicate glass, they're strong and durable so they won't break easily, scratch or chip. Their firm feel makes them a great massager for the G-Spot and P-Spot, plus their smooth texture makes for a super-comfortable glide. One of the key things that people like about glass toys is their use for temperature play. Dip them in hot or cold water for a few minutes and the toy will heat or chill, adding a completely new sensation to your play.
Added bonus - their non-porous texture makes them super-easy to keep hygienically clean!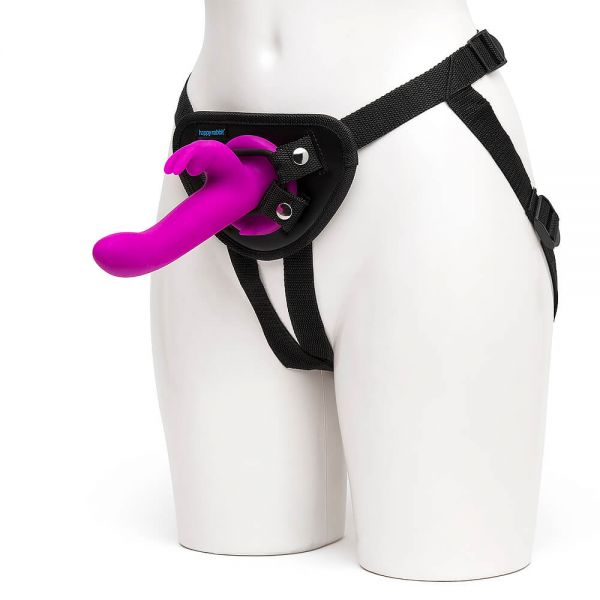 Strap-On Dildos & Harnesses
From straight couples who like pegging to lesbian couples who enjoy the experience of penetrative sex, there's a lot of fun to be had with a strap-on.
Strap-on harnesses come in a variety of designs - some are quite literally a harness, others look more like underwear. Ultimately they're all designed to securely hold a dildo with which you can penetrate your partner.
Some strap-ons come as a kit, including both dildo and harness, or you can buy them individually. If opting to purchase the dildo separately, be sure to get one with a wide, flared base so that the 'O' ring of the harness will hold it securely in place.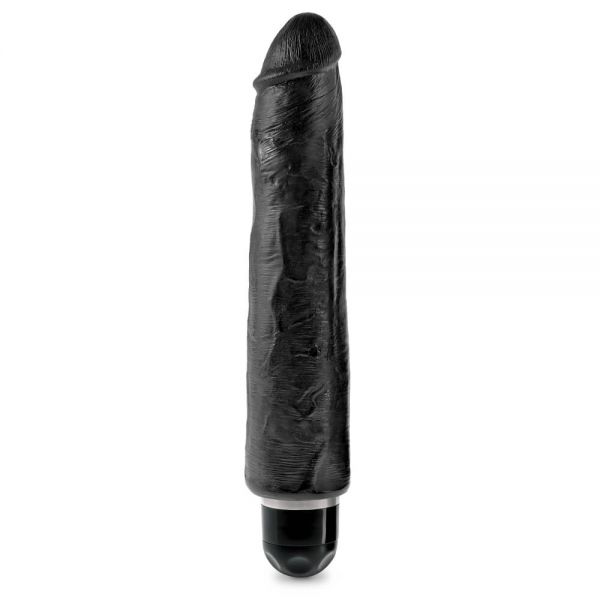 Vibrating Dildos
Not to be confused with your standard vibrator. Though technically, any straight vibrator kinda falls into this category. Specific vibrating dildos are usually real-looking, complete with balls and often come with a suction cup base for hands-free fun, allowing you to enjoy the penetrative pleasure of the dildo along with stimulating vibrations to send you over the edge to a mind-blowing orgasm.
Don't forget the lube!
As with any penetration, you can't just go diving in there and need to warm up your body first. So take the time to give yourself some foreplay and use plenty of lube for a smooth and comfortable experience.
If you're using anything anally, plenty of lube is an absolute must, as the rectum doesn't naturally self-lubricate the same way a vagina does.
Just remember, silicone lubes cannot be used with silicone dildos as the two will react and break down the silicone in the toy. For that reason, we always recommend a water-based lube as these are safe to use on any toy, no matter what the material. If you're using a glass or metal dildo however, then you're safe to use a silicone lube.
Short, long, realistic or brightly coloured, whatever dildo you're after we've got hundreds to choose from. Head over to our Dildo Section and choose the best one for you.
---