13 Reasons why you shouldn't be embarrassed to go into a sex shop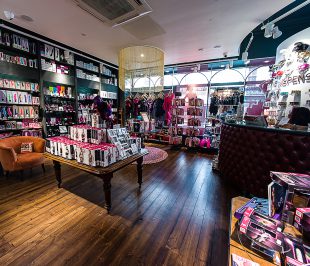 Don't be embarrassed to visit a sex shop!
Visiting an actual, physical sex shop doesn't come easy for everyone. While we totally get the advantages of shopping for sexy items online (discreet, quick, you don't have to negotiate crowds of people), there's still a lot to be said about the benefits of popping into an actual store, like Harmony, to buy sex toys or lingerie. You get to physically touch and see the products before buying them and having trained sales staff on hand means you can talk to real people to get all of the info you need in one fell swoop.
This week Buzzfeed contacted us, and two of our fellow sex shop high-street companions, to quiz us on why you shouldn't feel embarrassed going into a sex shop and why going in store can offer you a great sex toy shopping experience.
Read the full article: 13 Things You Should Know About Sex Shops
We were really keen to get across the fact that walking into a sex shop, like Harmony, should feel as natural and as comfortable as popping into any other store on the high street. All different types of people come into Harmony Store Oxford Street or Charing Cross Road, looking for advice and help when buying their sex toys. Staff are trained and professional and we would never judge anyone on their purchases. As long as they enjoy what they buy (and use harder items like bondage accessories safely) then all we want is for you to have maximum fun in the bedroom every time.
We're easy to get hold of for more help and advice
While we try to provide as much information as possible on product pages and in our blog, we know that there may always be more questions out there that we simply haven't thought of.
If you can't get to one of our stores for a IRL sex toy shopping experience, but find you still want some help and advice on products, then don't be shy about contacting us. You can leave a message on any blog; email enquiries@harmonystore.co.uk and get a response from our Online Sales Assistants; Tweet us or Facebook us with your questions if you'd rather. We'll always try to get to the bottom of your queries as quick as possible!